CSUSB student aspires to bring Native American history to his future classroom
Understanding the history of our country – both the good and the bad – is important to Alex Espinoza. He is, in fact, a history major with an emphasis in Native American history.
And the Cal State San Bernardino student, who is part of the Chemehuevi tribe, plans to someday bring his knowledge – and the truth – to his own classroom.
"I'd like to teach how things really were," said Espinoza, who will graduate with his bachelor's degree next year. "A lot of my teachers in the past, they did a good job, and I learned a lot from them, but they always taught it from the perspective of looking for manifest destiny and looking for United States expansion."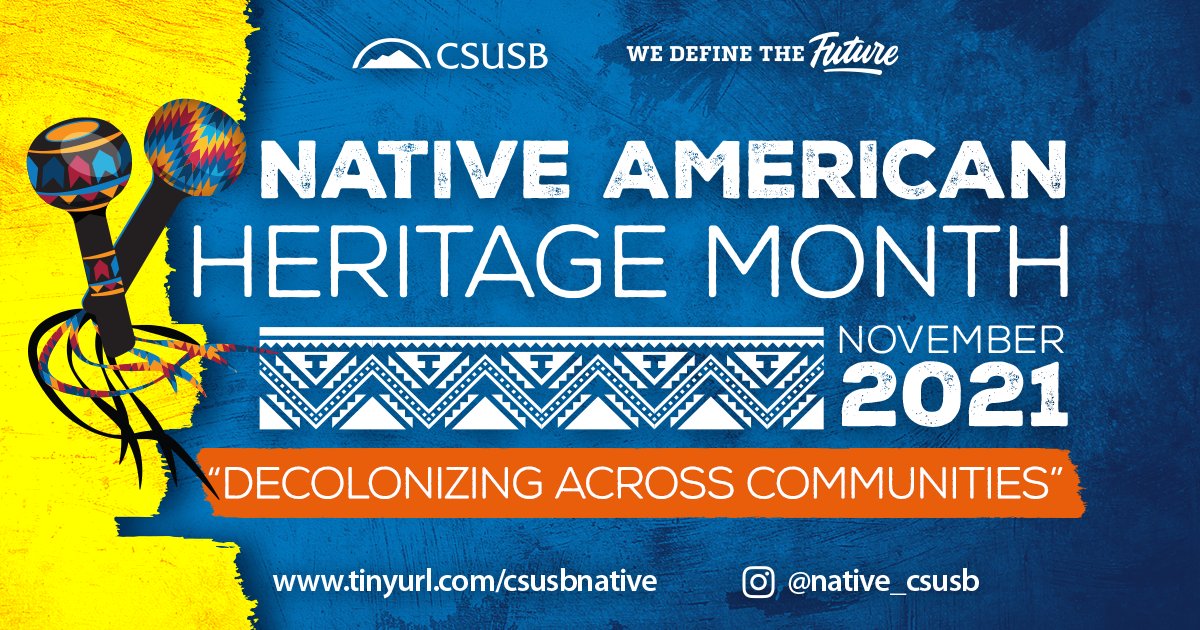 It was during these times in school, and as a Native American, that Espinoza realized that teachers weren't educating them about the people who were already on the land, with lessons only grazing over topics such as the Trail of Tears.
"I would like to tell the history from a Native perspective, no doubt," he affirmed.
As a member of the Chemehuevi tribe, Espinoza and his family frequently celebrate and honor their Native American heritage and culture. One of their traditions involves singing Salt Songs, which are primarily performed at funerals.
"It's basically our version of what happens after life – once a person dies," said Espinoza, noting that he and his family sing at several funerals a year. "I practice these songs every single day and my family and I get together to sing and practice at least once a week."
Espinoza and his family also participate and sing at various gatherings with local tribes, such as a repatriation ceremony for the San Manuel (Serrano) people that took place just a few years ago as part of the Native American Graves Protection and Repatriation Act of 1990. The Act provides for the ownership or control of Native American cultural items (human remains and objects) excavated or discovered on federal or tribal lands. In this case, archaeologists discovered bones in the San Bernardino Mountains and through DNA testing, revealed that they most likely belonged to Serrano Indians, which were then reburied during the ceremony.
The San Manuel Serrano people are closely related to the Chemehuevi people, which is why when Espinoza found out that he was a San Manuel Opportunity Scholarship recipient, he was "ecstatic."
"Just being so closely related to them and then they were able to help me out through my journey through school – was definitely a great experience," he said. "They've helped me more than I can even describe."
And he was not only awarded with the scholarship once, but twice, making a "complete difference" financially for Espinoza.
"Having that money in my back pocket was crucial – it saved me from probably having to take out another loan," he said, adding that he used the money to buy all his textbooks and school supplies this semester.
"In a way, what goes around comes around," he said. "We helped them out and now they're helping me out. They really are doing a good thing and I hope they continue to do it for the students at Cal State San Bernardino because it really helps out more than they probably realize."
Espinoza is actively involved on campus, particularly with CSUSB's Native American programs. He participated in the Coyote First summer bridge program, designed specifically to support Native American students transitioning into CSUSB; is part of the Native American Pacific Islander Association (NAPISA), an organization that plans campus events, supports fellow CSUSB students and volunteers in tribal communities; and is a frequent visitor to the First Peoples' Center, dedicated to supporting the academic achievement and personal success of First People students while promoting and celebrating their traditional heritage.
"I go to all of the events they have on campus," he said, noting that he appreciates all the university programs available to the Native American community, especially after transferring from another school that did not offer much for Native students like himself.
"I definitely feel welcome and have been able to relate and feel comfortable around peers and even the outreach coordinators," he said about CSUSB, affirming that he feels like he has found a family here. "I really enjoy going to Cal State San Bernardino for sure."
The CSUSB Native American programs are particularly meaningful to him, because "a lot of times as a Native person, you kind of feel alone," as only a small percentage of Native people make up the total population. This is why Espinoza says it is important to celebrate Native American Heritage Month.
"It's important to celebrate Native American Heritage Month to show people that we are still here and we're still thriving. We survived, specifically here in California, we survived two separate genocides," he said. "The fact that we're still here, and even now, students like myself and others who are successful in modern society, is a testament to how strong and determined our people really are."