QTRC coordinator strives to create safe spaces for the LGBTQ+ community
Lee Stovall (she/hers & they/them) joined Cal State San Bernardino as the Queer and Transgender Resource Center coordinator at the Santos Manuel Student Union in June 2021. She has made it her mission to create safer spaces for the LGBTQ+ community by providing a safe space for queer and transgender students in the QTRC.
"The Queer and Transgender Resource Center is a place for queer and transgender students to gather in community and celebrate what makes them unique" says Stovall. "My role is to lead to create the vision and oversee operations to make sure they align with CSUSB's mission, too, while also providing mentorship and continuing to advocate for our students' safety on campus."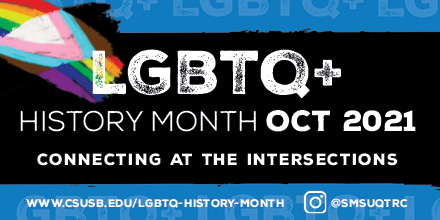 The center is equipped with resources like a kitchen with snacks, access to computers for homework or attending class virtually, mental health wellness and healthcare information and more. Additionally, the center also provides resources for external recommendations such as LGBTQ+ friendly veterinarians and businesses.
The mission to develop a safer space for LGBTQ+ communities on campus is something they hope to accomplish during their term as coordinator, but more importantly, they hope to leave a legacy that inspires the CSUSB community to continue fighting for social justice.
"Spaces have been hostile to communities in the past, so having a space is helpful to be inclusive and welcoming and will benefit their overall college experience" explains Stovall. "Making things easier and safer is the ultimate goal, and this includes giving Black and Brown queer and trans folk more access to resources."
Lee hopes to leave their pawprint at CSUSB by starting with making change internally.
 "There is a lot of building and reworking that needs to happen, but first we need to get out of survival mode from the pandemic" says Stovall, who discusses the future of the QTRC. "To build a strong foundation for the future, I would like to see more safety, education, access to tangible goods, fund more transitions, life-saving initiatives, provide gender affirming garments and leadership opportunities specific to the intersections of race and ethnicity and gender and sexuality to really make a difference in their lives."
CSUSB is celebrating National LGBTQ+ History Month from Oct. 1 through Oct. 31 with a variety of events taking place on both the San Bernardino and Palm Desert campuses. The goal of LGBTQ+ History Month is to enhance public awareness of lesbian, gay, bisexual, and transgender (LGBTQ+) individuals, their history, lives, and experiences, as well as their contributions to society. Additionally, the month-long celebration will honor and educate the campus community about issues of social justice and the LGBTQ+ community and raise awareness of these issues among the general public.
Moreover, it is concerned with ensuring that educational and other institutions are safe spaces for members of all LGBTQ+ populations. CSUSB will celebrate LGBTQ+ History Month by highlighting student leaders, faculty, and staff in various activities and special events throughout the month. In this year's annual celebration, the theme is "Connecting at the Intersections."
The first LGBTQ+ History month was organized in October of 1994 by Rodney Wilson and Kevin Jennings, who are members of the Gay and Lesbian Education Network, known as GLSEN. They selected October because public schools are in session and existing traditions, such as Coming Out Day (Oct. 11), occur that month. In 2006 Equality Forum assumed responsibility for providing content, promotion and resources for LGBT History Month.
The Santos Manuel Student Union Queer and Transgender Resource Center is here to serve the greater campus community, through education, advocacy and social justice. The QTR Center focuses on creating an inclusive and supportive environment for all university community members, including lesbian, gay, bisexual, transgender, queer, questioning, and intersex students and their allies. As well as educating and advocating on issues such as homophobia, heterosexism, inclusive language, and other sexual or gender identity issues.
The Queer and Transgender Resource Center provides education and advocacy in order to develop a more equitable and inclusive environment by addressing issues of homophobia and heterosexism throughout the campus community. The center provides a platform for social justice as it is related to the rights of LGBTQQIA and faculty as a safe comfortable and open academic environment for all persons on the CSUSB Campus.
For more information about The Santos Manuel Student Union Queer and Transgender Resource Center, contact the coordinator for the Queer and Transgender Resource Center, Lee Stovall, at lee.stovall@csusb.edu