CSUSB assistant professor serves as program chair for international conference, students and faculty represent CSUSB
Luba Levin-Banchik, Cal State San Bernardino assistant professor of political science, served as the program chair for the International Studies Association West Region (ISA-West) and was responsible for organizing its annual conference.
The three-day conference in late September, which was both in-person and virtual, included 40 panel sessions on a wide variety of topics, issues and events related to international relations and world politics.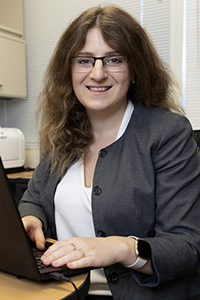 "I keep receiving very positive feedback from many of the participants who came to Pasadena for the in-person part of the conference and those who participated remotely from across the world in the virtual part of the conference," said Levin-Banchik, noting that organizing both a virtual and in-person event was "a challenging task, especially under the circumstances of the ongoing health crisis and pandemic-related uncertainty."
More than 200 participants registered to attend and present their research, including scholars from Austria, Brazil, Canada, China, Colombia, Croatia, France, Germany, India, Israel, Japan, Morocco, Pakistan, Philippines, Poland, Russia, South Africa, South Korea, Sweden, Turkey, United Kingdom, and the United States.
"Our campus, CSUSB, had a visible representation at the conference," Levin-Banchik said.
Four faculty members from the Department of Political Science, three graduate students from the National Security Studies (NSS) and Social & Globalization Studies, and three undergraduate students in political science attended the conference as participants, discussants, panels chairs and conference volunteers.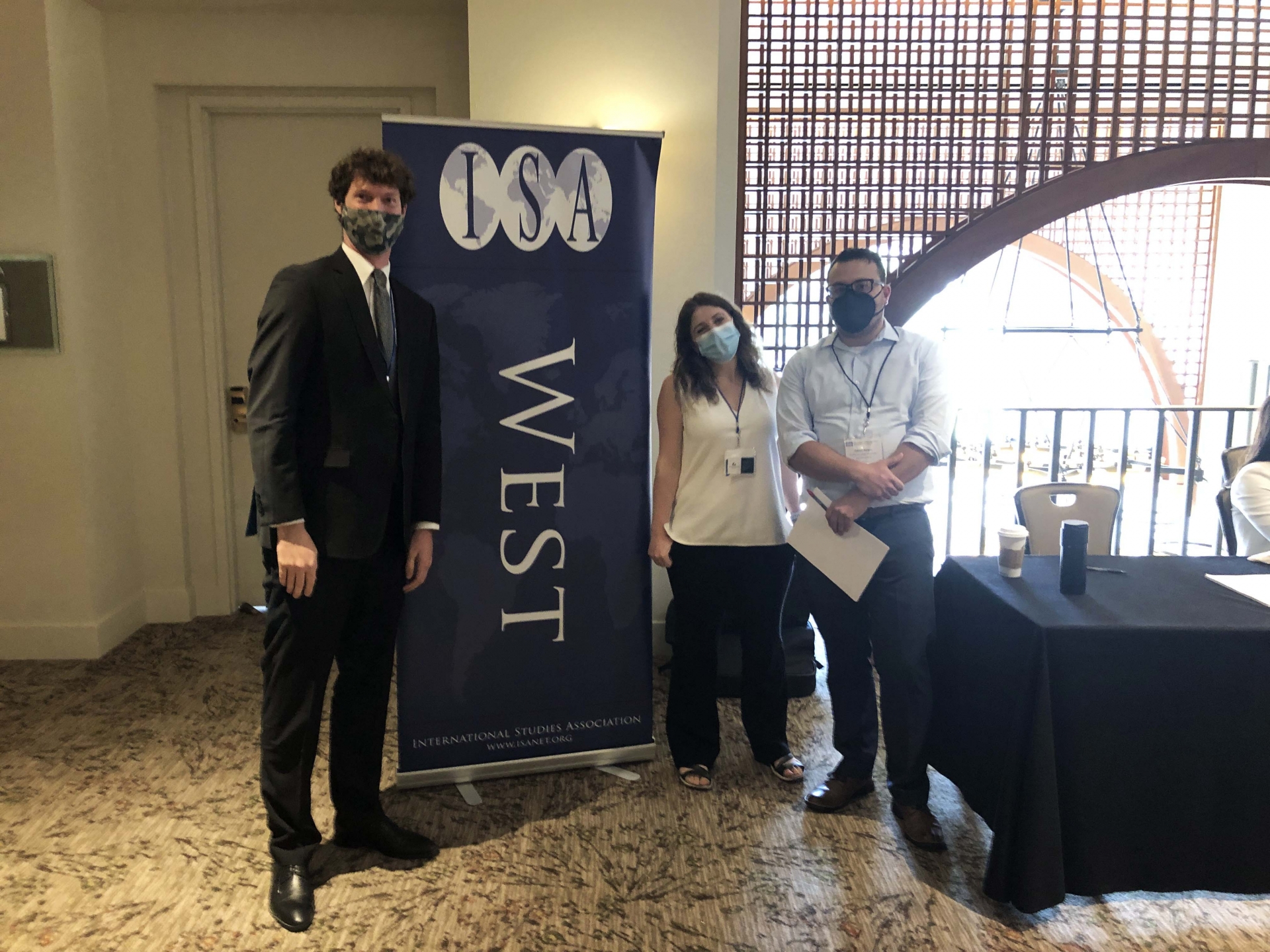 CSUSB faculty was represented by Steven J. Childs, associate professor of political science, who served as the panel chair and discussant on the topic of "Foreign Policy, Geopolitics, and Power Dynamics"; Antony Field, associate professor of political science, who served as the panel chair and discussant on the topic of "Extremism, Terrorism and Counterterror"; and Fabian Borges Herrero, associate professor of political science, who served as discussant on the undergraduate research panel on "The View from the Next Generation."
CSUSB graduate students Savannah Arana, Arlan Meacher and Keith Lockhart participated in the roundtable on the "National Security Challenges in the Age of Uncertainty." CSUSB undergraduate student Simeone Miller presented his research paper "Assessing the Diplomatic Deadlock in the Israeli-Palestinian Conflict: The Case of Kerry 2013-14 Mediation Efforts."
In addition, Arana, Meacher, Miller, as well as CSUSB students Cassandra Hipolito and Kinana Hamwi, served as student volunteers on the multi-campus team of volunteers who welcomed all conference attendees, online and in-person, and helped to make sure the conference ran smoothly.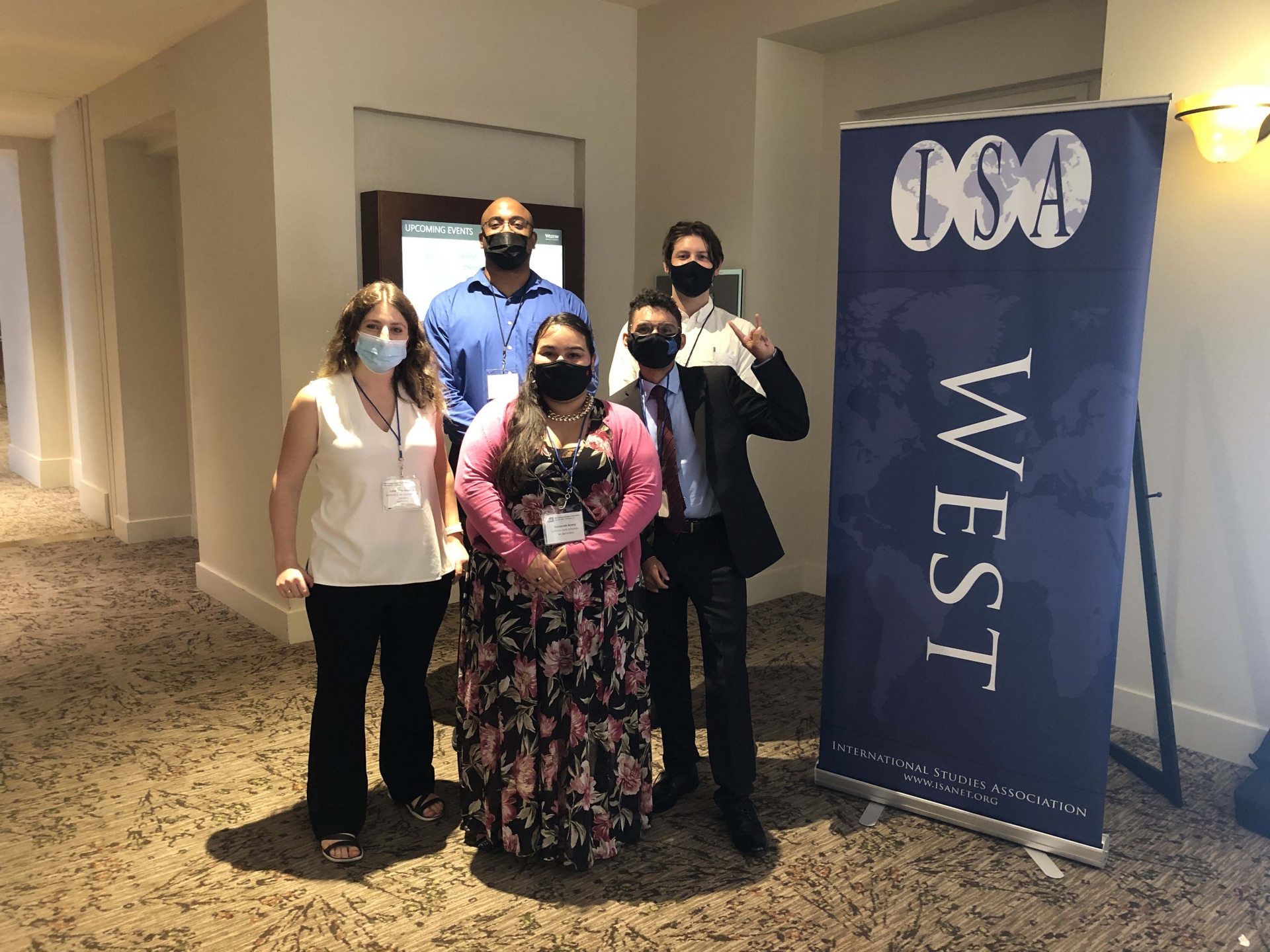 The ISA-West program included a variety of research panels and special events, including professional development panels and innovative workshops. The event offered self-care in academia panels for female-identifying scholars, a diversity statement workshop for early-career faculty, and simulation workshops for faculty interested in using simulations in their teaching and research. The keynote speakers were Kristian Skrede Gleditsch, ISA president and professor from the University of Essex, and Cameron G. Thies, the dean of James Madison College at Michigan State University.
"It was a privilege to serve as the program chair and organize the West region annual convention for the association. I was especially glad to see such a great interest, involvement and support among the colleagues and students at CSUSB," said Levin-Banchik. "Now, as my work as the program chair is nearly complete, I will be assuming the role of the ISA-West president. I am glad to represent and promote our campus in this new leadership position!"
To learn more about ISA-West, visit the International Studies Association website.