Science rapper will use hip-hop's beats and rhymes to explore global warming
Science is communicated in many ways: academic journals and news articles; lectures and seminars; documentaries, television and streaming services; video and social media.
But hip-hop music?
New York-based performer Baba Brinkman has made a career out of doing just that: using beats and rhymes – the building blocks of rap – to disseminate scientific concepts and why understanding them is critical to society. Through his live shows and albums, Brinkman rocks a mic to address topics ranging from evolutionary biology, climate change, advances in neuroscience, and the origins of disease and medicine.
Brinkman will bring his unconventional brand of "peer-reviewed rap" to campus from 4 to 6 p.m. at the Santos Manuel Student Union Theater on Friday, Oct. 15, as part of the university's Homecoming Week 2021 celebration. The event, Baba Brinkman's "Rap Guide to Climate Chaos," is part of CSUSB's College of Natural Sciences' Gerald M. Scherba Lecture Series, and is free and open to the CSUSB community. Attendees must register for the event at the registration page.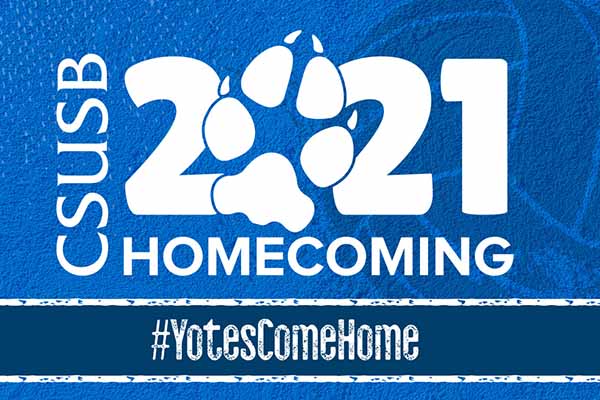 "Baba Brinkman's approach to talking about science and scientific thinking is unique and refreshing," said Sastry G. Pantula, dean of the College of Natural Sciences. "I'm very excited to see how our students react to this innovative way of making science entertaining, interesting and engaging. Hip-hop music is a powerful, compelling musical expression for many of our students. Science is fun, science is impactful, science is hip – come hop with us!"
Participants who wish to view Brinkman's special lecture remotely can use this Zoom link (Password: 703079) or click on the event's Coyote Connection post.
Brinkman's artistic repertoire includes his "Rap Guide" series of science based-albums and live presentations, including his "Rap Guide to Climate Chaos" and "Rap Guide to Evolution." He was commissioned in 2015 by Arizona State University – in partnership with the Society for Applied Microbiology and other institutions – to produce the "Rap Guide to Medicine," a collection of songs that explore themes of health and disease as a teaching resource. Brinkman has also produced a "Rap Guide to Human Nature," and in 2017, he premiered his "Rap Guide to Consciousness" to explore several neurobiological theories of consciousness.
He shared stages with Neil deGrasse Tyson in 2018 at the Brooklyn Academy of Music and Stephen Hawking in 2012 at the Seattle Science Fest. In 2010 the UK's largest biomedical charity provided grant funding for Brinkman to make a series of educational music videos as a resource for biology teachers.
In 2013, he was named a recipient of a Friend of Darwin award by the National Center for Science Education for his "Rap Guide to Evolution," and his presentations were praised for connecting "with audiences scientists rarely reach." Brinkman's lyrics to "Rap Guide to Evolution" were also fact-checked by a University of Birmingham biologist who later described his work as "peer-reviewed rap."
In 2016 he produced a new song and video entitled "Erosion," summarizing data from the National Climate Assessment on the U.S.-based physical impacts of climate change.
Brinkman's Oct. 15 "Rap Guide to Climate Chaos" show will look at the carbon cycle, the energy economy, and human psychology to explore global warming for a "refreshing take on the world's hottest topic," according to his website. His songs include "Greenhouse Effect" and "Make it Hot."
All in-person attendees must wear face masks inside at all times.
The Gerald M. Scherba Endowed Program Lecture Series at CSUSB offers the public a clear understanding of the natural sciences and what they contribute to the world.
The science speaker series is named after Cal State San Bernardino founding faculty member Gerald Scherba, the first science professor hired in 1962 by then-San Bernardino-Riverside State College founding president John M. Pfau. The college opened in 1965.
Scherba first served as chair for the Natural Sciences Division. In 1968, he became the first dean of academic affairs at Cal State San Bernardino. In 1984, he was named director for the California State University Field Station for Research and Education in the Mojave Desert town of Zyzzx, Calif. He retired in 1994 and passed away in 2001.
Previous Scherba speakers included Alan Trounson, a pioneer in human in vitro fertilization and fertility drugs; Keith Comeaux, an engineer and manager for NASA's Jet Propulsion Laboratory who led the team that oversaw the landing of the Mars Curiosity rover; and Scott "Dr. Scott" Sampson, the host and science advisor of the Emmy-nominated Dinosaur Train television program.
For more information, contact Yolanda Thomas at YThomas@csusb.edu.