Author of 'How to Be an Antiracist' speaks at CSUSB
During a question-and-answer session of an event held by the CSUSB President's Diversity, Equity and Inclusion Board on Sept. 17, Ibram X. Kendi, author of "How to Be an Antiracist," explored the topics of race and racism in higher education and in society as a whole.
Moderated by Rafik Mohamed, dean of the College of Social and Behavioral Sciences, Mohamed related to Kendi's book, where Kendi traced the evolution of his own thinking about race, explaining that many lessons did not come from formal school curricula but from his experiences and relationships. With that, Mohamed opened the session with the question, "What is the potential and the responsibility of higher education to change the way people think about race?"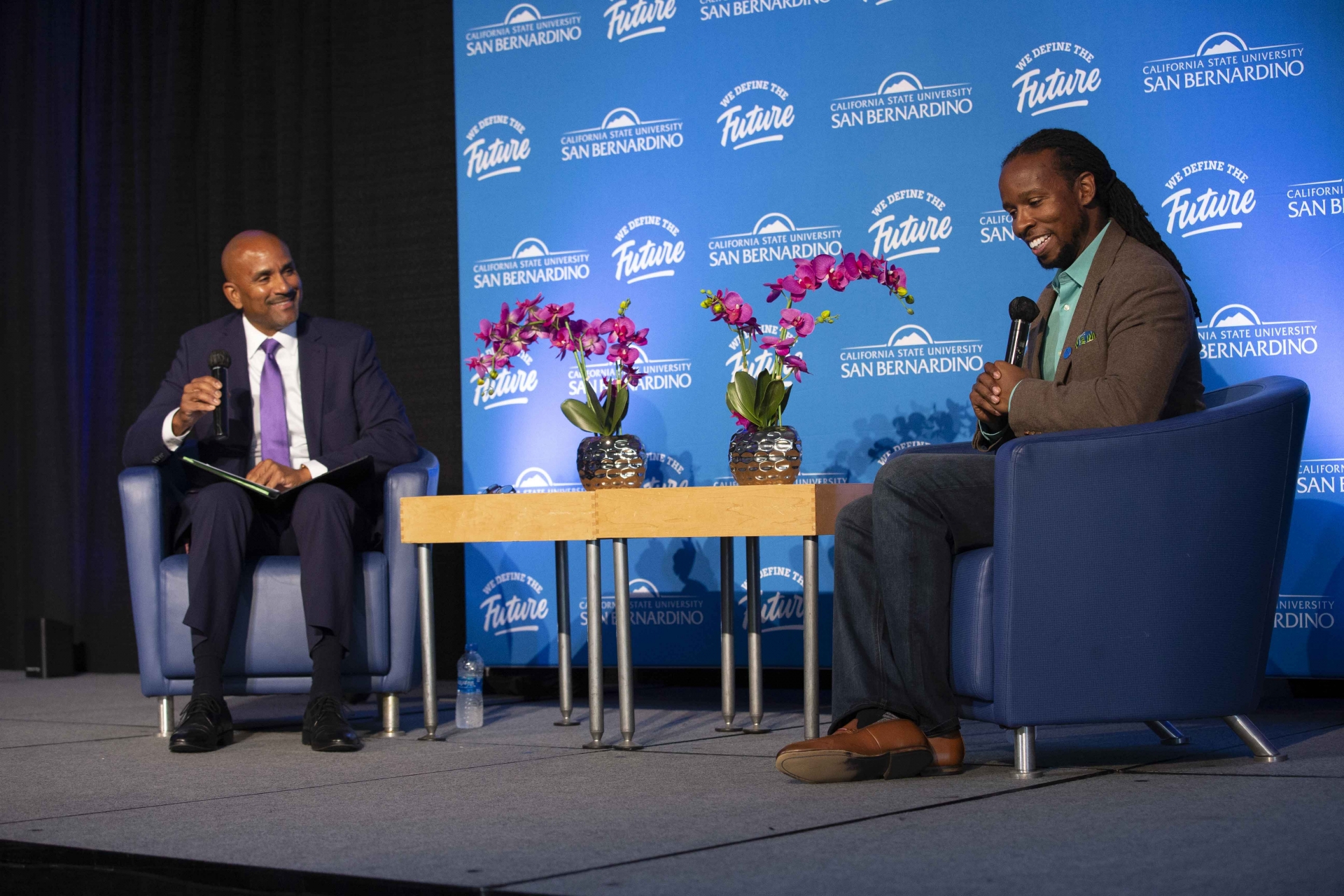 "Why can't higher education systematically train and educate our students to be antiracist?" asked Kendi, who said it is important for us to know that, historically, higher education has systematically trained students to be racist.
"Those of us as higher education officials and those of us in this community, we have to decide which type of education are we going to provide for our students," he said. "We should also recognize that, historically, when we were educating students to be racist, we were imagining that the education was neutral, not racist. There was some form of denialism going on because to not teach about racism in a society of racial inequities and disparities is to teach students that the cause of those disparities and inequities are not racist, because you're not teaching that."
Mohamed described Kendi's book as one with an element of hope despite its heavy topic and quoted a passage that compares racism to cancer. Read aloud by Mohamed, Kendi wrote: "Racism is not even 600 years old. It's a cancer that we've caught very early. But racism is one of the fastest spreading and most fatal cancers humanity has ever known. What gives me hope is one simple truism. Once we lose hope we are guaranteed to lose. But if we ignore the odds and fight to create an antiracist world, then we give humanity a chance to one day survive."
Kendi revealed that he references the relationship between racism and metastatic cancer, because he was diagnosed with Stage 4 colon cancer, "which is a disease that kills 88 percent of people within five years."
"Racism, like metastatic cancer, is going to inflict consistent pain," he said. "So if we don't fight, then we're guaranteeing a life of pain and we're guaranteeing to die in pain … I don't know how you fight against a goliath like racism if you don't believe you can win, if you don't believe you can defeat it … So that's why I believe that we can overcome this racism that indeed has spread to every part of our body politic because I don't feel like we have any other choice."
Kendi is the Andrew W. Mellon Professor in the Humanities at Boston University, a No. 1 New York Times best-selling author, and the youngest-ever winner of the National Book Award for Nonfiction. He is also a 2020-2021 Frances B. Cashin Fellow at the Radcliffe Institute for Advanced Study at Harvard University. Kendi is a contributing writer at The Atlantic and a correspondent at CBS News. His first book, "The Black Campus Movement," won the W.E.B. Du Bois Book Prize.
Learn more about antiracism and Ibram X. Kendi at these links – Podcast Episode – The Ezra Klein Show "Nikole Hannah-Jones and Ta-Nehisi Coates on the Fight Over U.S. History" and Podcast Episode – The Ezra Klein Show "Ibram X. Kendi on What Conservatives-and Liberals-Get Wrong About Antiracism."
Visitors to the Spotify site can sign up for free to listen to the podcasts.