CSUSB assistant professor and students to launch virtual exhibit of Sherman Indian Boarding School
The virtual museum, "Brave Hearts: A Virtual History of Sherman Indian Boarding School," will feature the history of Sherman Indian Boarding School, the students who attended, and its legacy in Native communities as well as the larger Inland Empire.
"Brave Hearts," set to launch on California Indian Day, Friday, Sept. 24, at 1 p.m., will open with a special message from CSUSB President Tomás D. Morales and a recorded message by CSUSB alumnus and state Assemblymember James Ramos (Serrano/Cahuilla), the first California-born Native American elected to the state legislature. 
"Brave Hearts" is a yearlong collaborative partnership between students of Cal State San Bernardino's public history program, the Sherman Indian Museum in Riverside, Calif., and Sherman community members. It is being led by Daisy Ocampo (Caz'Ahmo Indigenous Nation of Zacatecas), CSUSB assistant professor of history. 
"The Sherman Indian Museum holds the stories of each student that has attended since we were in Perris, California, starting in 1892. We honor and respect each individual's experiences and look forward to sharing our rich and relevant history with the community," said Lorene Sisquoc (Apache and Mountain Cahuilla), one of the museum's curators.
Last academic year, Ocampo received a $5,000 grant from CSUSB's Office of Community Engagement to create the virtual museum for Sherman Indian Boarding School, an off-reservation Native boarding school. She completed the project with the help of students in her Exhibition Development and Design course this past spring semester.
Collectively and individually, students adopted a methodical approach to their museum "rooms" by integrating multiple learning styles. They used a combination of photographs, material objects, oral histories with Native community members, videos and more to tell the story of Sherman Indian High School.
The school was originally Perris Indian School (1892-1904) in Perris, Calif., but administrators decided to expand its operation, move the school to Riverside and rename it Sherman Institute (1901-1970). During this period, the Bureau of Indian Affairs (now Bureau of Indian Education) removed Native children from their families residing on reservations, the remaining areas of their traditional homelands.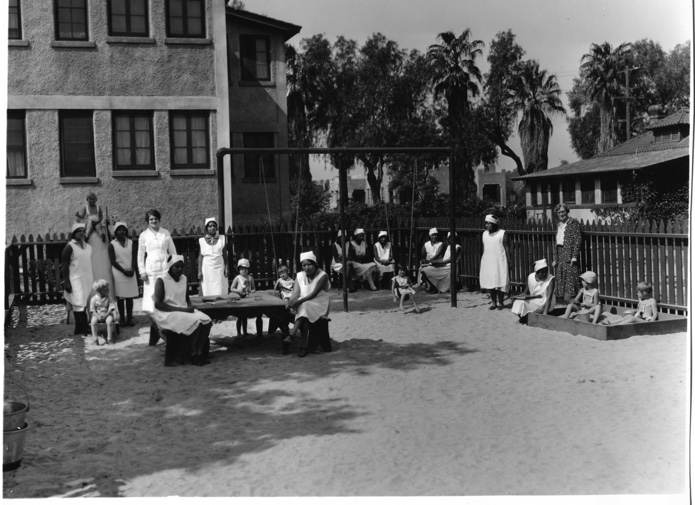 Sherman instituted an assimilationist education meant to "Kill the Indian, Save the Man," said Ocampo. Schooling policies consisted of prohibiting the use of Native languages, outlawing cultural practices, imparting a military regimentation, religious conversation and instituting exploitative work programs. Students in Ocampo's class carefully selected a theme of this history as the topic of each museum room.
This past June, Secretary of the Interior Deb Haaland announced the Federal Indian Boarding School Initiative, which will investigate this period of the 19th and 20th century. Sherman Indian Cemetery, located near the school, is included as a site for investigation.
"Education is critical during this period of learning, reflecting, and responding to this silenced period of history," said Ocampo. 
The Sherman Indian Museum was established to document and disseminate the history of the Perris Indian School, Sherman Institute, and Sherman Indian High School (1970-present). Materials relating to the boarding school experience are a critical part of the museum's collection, which serves as an educational resource for students, researchers and relatives of alumni.
"Telling this story through our museum is critical," said Ocampo. "As guest curators and exhibit designers, students were introduced to the challenges, possibilities and agency that inform the cultural practices of museums as they interact with both communities and larger audiences."
Ocampo and her students worked with the museum's curators Sisquoc and scholar Amanda Wixon (Choctow). Ocampo said the project was designed to promote professional and ethical responsibility with the Sherman Indian Museum in a way that fosters community self-determination and empowers the museum's efforts toward preservation, accessibility and connectivity.
 "This proposed virtual museum exhibit will increase accessibility and connectivity," Ocampo said. "The museum profession is a difficult field to enter, requiring experience, knowledge and cultural responsiveness. The project is designed to prepare students to enter museum work by providing them an enriched 'on the ground' professional experience and a meaningful opportunity to work in partnership to raise awareness of the Native boarding school experience."
To learn more about the museum, visit the Sherman Indian Museum website.