CSUSB Modern China Lecture Series hosts two talks this week
A discussion of high socialist China and an examination of a historical impact of the World War II "comfort women" will be the focus of two talks presented by the Modern China Lecture Series at Cal State San Bernardino.
"A Sensational Encounter with High Socialist China, Book Talk," with Paul G. Pickowicz, Distinguished Professor Emeritus of History and Chinese Studies at UC San Diego, will take place at noon on Tuesday, March 23.
"What the World Owes the Comfort Women," with Carol Gluck, George Sansom Professor of History at Columbia University, is scheduled for noon on Thursday, March 25.
Both talks, open to the public, will be on Zoom and can be accessed from a PC, Mac, Linux, iOS or Android at https://csusb.zoom.us/j/388207496.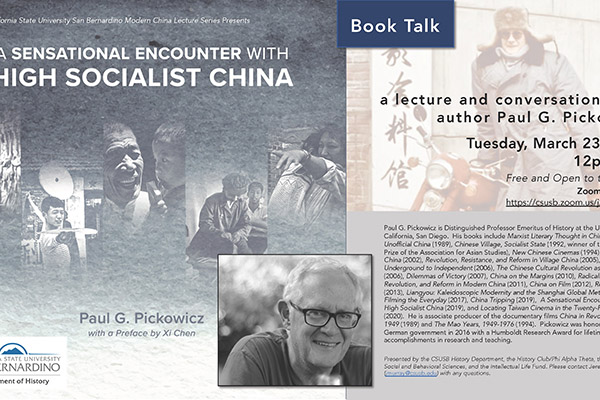 Pickowicz's talk takes its title from a book he wrote, "A Sensational Encounter with High Socialist China" (Hong Kong: City University of Hong Kong Press, 2019). The book is a recollection of the historic visit of 14 American students (and one Canadian) to China in 1971. The visit was one of the first approved for American scholars after the Chinese Communist Party came to power in 1949 and occurred prior to President Richard Nixon's famous trip (as well as that of a second group of scholars) in 1972. One of those students was Pickowicz, who kept a journal and a photographic record of the trip.
Pickowicz has written numerous books on China. They include "Popular China: Unofficial Culture in a Globalizing Society" (New York: Rowman and Littlefield, 2002); "New Chinese Cinemas: Forms, Identities, Politics" (Cambridge: Cambridge University Press, 1994); and "Chinese Village, Socialist State" (New Haven: Yale University Press, 1991, co-authored with Edward Friedman and Mark Selden), which was awarded the 1993 Joseph Levenson Prize of the Association for Asian Studies.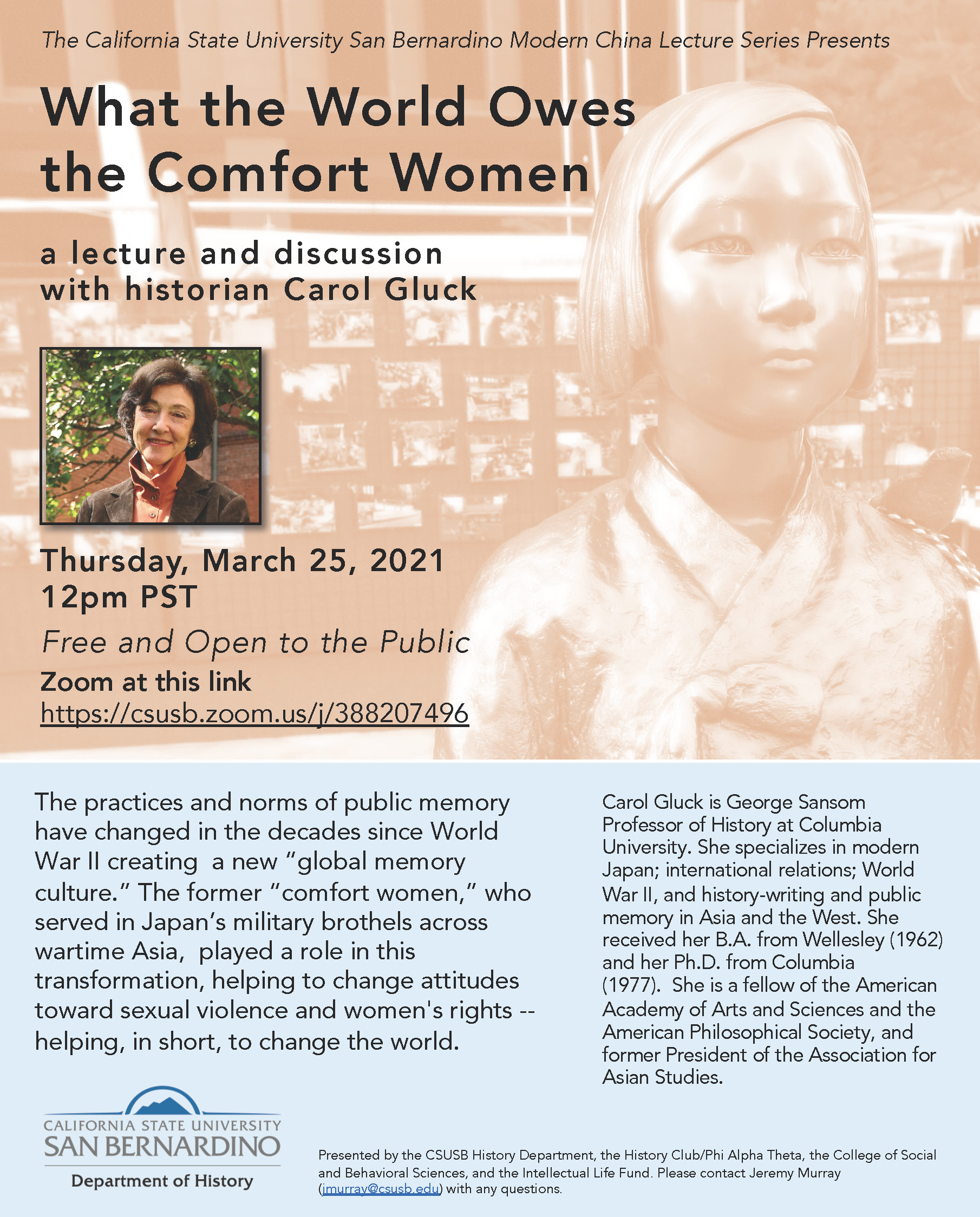 Gluck's talk center on the "comfort women" who were held in Japanese military brothels across Asia during World War II. The practices and norms of public memory have changed in the decades since World War II, creating a new "global memory culture." The former "comfort women" played a role in this transformation, helping to change attitudes toward sexual violence and women's rights – helping, in short, to change the world.
In an interview with NPR in November 2020, she said the women who made their brutal treatment known to the world shaped a new body of human rights. "They are a vivid and vicious instance of systematic sexual violence against women, and they became an international icon or sign of sexual violence against women in war," she said.
Gluck specializes in modern Japan, from the late nineteenth century to the present; international relations; World War II, and history-writing and public memory in Asia and the West. She is a fellow of the American Academy of Arts and Sciences and the American Philosophical Society; former president of the Association for Asian Studies; currently co-chair of the Trustees Emeriti of Asia Society and member of the Board of Directors of Japan Society. She is a founding member and now chair of Columbia's Committee on Global Thought.  
Also, upcoming on April 6 will be "Unveiling China's Surveillance State: How a dictatorship maintains power?" with Minxin Pei, the Tom and Margot Pritzker '72 Professor of Government and George R. Roberts Fellow at Claremont McKenna College.
The Modern China Lecture Series was initiated to promote awareness of important issues related to China for those on the CSUSB campus and in the community. In the series of more than 50 lectures, workshops, film screenings and roundtable forums since January 2014, China scholars from UC San Diego, UC Riverside, the Claremont Colleges, UCLA, USC, UC Irvine and other institutions have visited the CSUSB campus to share their expertise and opinions.
Speakers in the series have included specialists in history, economics, political science, philosophy, finance, security studies, literature, anthropology and other fields.
The series cosponsors this year are the CSUSB Department of History, the History Club/Phi Alpha Theta, and the College of Social and Behavioral Sciences.
See the CSUSB Modern China Lecture Series online listing of past and upcoming presentations.
For more information on the Modern China Lecture Series, contact Jeremy Murray, associate professor of history, at jmurray@csusb.edu.