Joe Gutierrez | CSUSB Office of Strategic Communication | (951) 236-4522 | joeg@csusb.edu
CSUSB formally kicks off Native American Heritage Month

Cal State San Bernardino kicked off Native American Heritage Month with a special virtual opening event of traditional prayer and bird songs and featured one of the university's prominent alumni – Assemblymember James Ramos, the first California-born Native American elected to the state assembly.
Ramos, who served as the event's keynote speaker and gave the opening prayer, was reelected to a second term of the 40th Assembly District on Nov. 3.
CSUSB President Tomás D. Morales welcomed the viewers to the opening event on Nov. 6.
"As a university, we embrace diversity, which we know benefits not only our students but also the community, the country and our global society," Morales said. "We are proud to acknowledge the many tribal nations and Native American people in our region that we call friends and partners."
Morales said the university has a very important relationship with Native American cultures, especially with the San Manuel Band of Mission Indians.
"Recognizing that this campus is located on traditional Serrano ancestral land, we, as an institution of higher education, believe it is essential to keep Native American cultures alive and increase understanding and appreciation for native histories and customs," Morales said. "Doing so fosters the sharing of information, preserving it for future generations."
"We are truly grateful for the significant relationship we enjoy with the San Manuel Band of Mission Indians," he said. "The San Manuel Band of Mission Indians is an incredible tribal community. The most philanthropically minded community of its kind that I have known throughout my career. They not only support this great university, but they support so many nonprofit organizations throughout the region, so we are blessed to be associated with and be a partner with the San Manuel Band of Mission Indians."
Morales said the tribe's philanthropic effort is working to increase the enrollment of Native American students.
"Their generous $1 million dollar gift helped to establish our Native American Enrollment and Achievement Initiative, continuing our objective to increase the college-going rates and successful degree completion of Native American students," Morales said. The San Manuel Band of Mission Indians "also sponsor an annual student scholarship at CSUSB."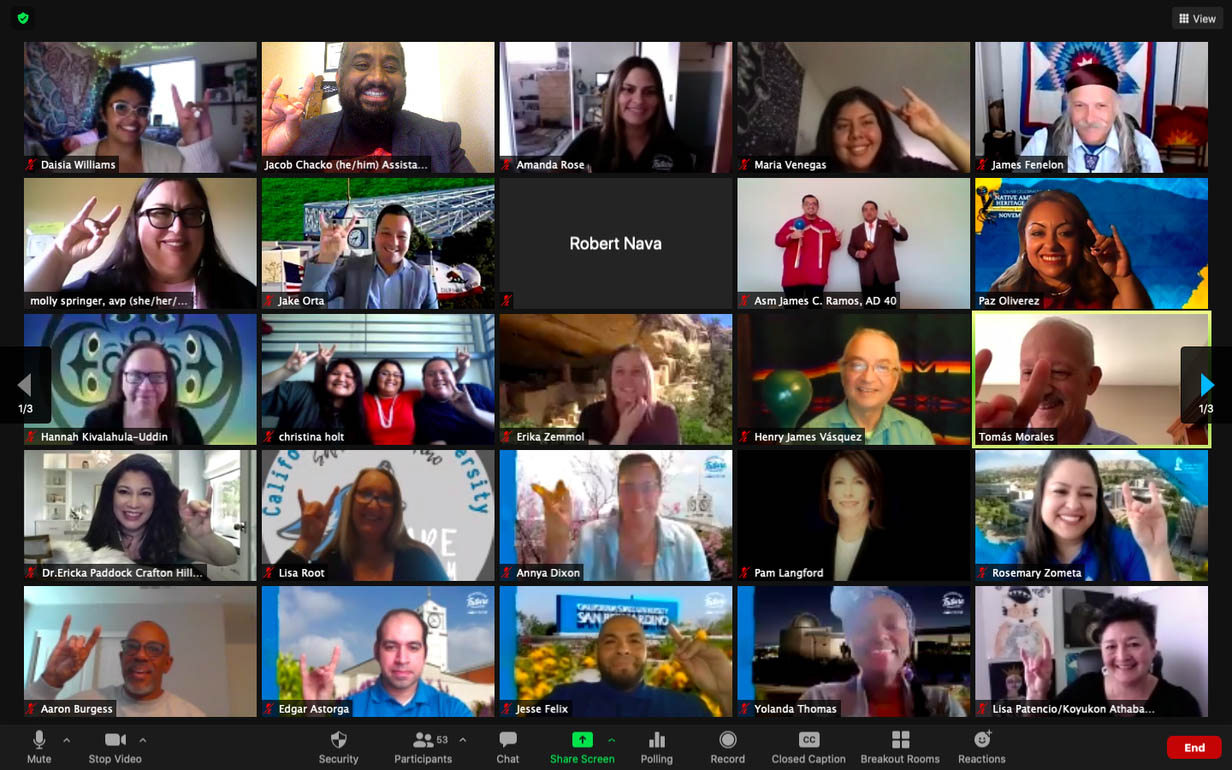 As part of its work with the Native American community, the university opened its First Peoples' Center in 2017 to support the academic, personal and professional success and development of indigenous students while celebrating their traditional heritage, said Paz Maya Olivérez, the vice president for Student Affairs.
"The First Peoples' Center also provides our students with who identify as American Indians, Alaska Natives and Native Hawaiians with a place to find a sense of community and supportive peers, staff and faculty during their time in college," Olivérez said.
In fact, in 2003, the San Manuel Band of Mission Indians gifted the university $3 million to make the student union a hub of native culture and education.  
Ramos talked about how he and other Native Americans gathered locally to show that there are many different cultures with the Native American community such as the use of musical instruments.
"We worked together on making sure that people understood, at least here in our area in San Bernardino County, Riverside County, that when you talk about Indian people and you talk about the musical instruments that they use, that you would know that here in our area, Southern California, that Southern California bird singers that we sing with a rattle, not a drum," Ramos said.
That work in promoting Native American culture eventually led with the support of county and local superintendents of education to the first California Indian Culture Awareness Conference held at CSUSB in 1999 during a weekend, said Ramos, who added that the conference, which works primarily with third and fourth graders, has been held annually for more than 20 years.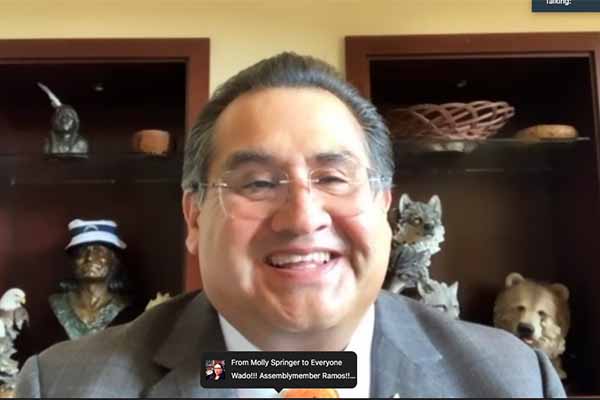 "This was the first year that we weren't able to have it in person, but we had some type of event now knowing that we're continuing to do the education conference," said Ramos, who added that he has held a similar event on the capitol grounds in Sacramento for the state legislature, where 22 legislators attended.
Ramos talked about how the San Manuel Band of Mission Indians began supporting Cal State San Bernardino, which eventually led to the naming of the university student union after Ramos' great-great grandfather, Santos Manuel, who led the tribe, who refer to themselves as Yuhaaviatam, or "People of the Pines," but were called Serrano by Spanish settlers, to safety from militias from the city of San Bernardino. The militias initiated a 32-day campaign of killing Serrano men, women and children. The tribe is named in Manuel's honor in recognition of this act of leadership.
Ramos said it was important that school children learn the truth.
"Why it's important is because once we start to go that far back in history and start to give that an account from those from California's first people, then you can truly start the healing of our people moving forward, a healing that I believe needs to be done," Ramos said.
"Because when you look at the statistics in Indian country across the board, alcoholism, domestic violence, suicide are higher than any other ethnic group out in this country. We ought to be able to tell the truth of what has happened here. And it starts with being able to form those relationships with a Cal State University, San Bernardino, to be able to have a building named after my great-great grandfather," Ramos said.
The assemblyman said that it was important to remember the determination and fortitude of Native Americans in dealing with attacks and discrimination.
"It's now that we stand up and honor all Native Americans in the United States on November to make sure that November stands and continues to be told that it's national Native American Heritage Month," Ramos said. "We need to show that resilience of our people, make sure that everybody in the United States understands that November is not just about Thanksgiving. November is about honoring all Native American people in the United States for national Native American Heritage Month."
For more on the events planned for November, see the article "CSUSB celebrates Native American Heritage Month."