What do we mean by "student learning outcomes" (SLOs)?
Student learning outcomes (SLOs) are statements that capture what a student will know and be able to do after completing an educational experience.  They capture the essential learning that is expected in the exchange between the student and the learning environment.  SLOs refer to the many different levels of learning that exist in the university experience, such as institutional, program, and course levels.  The development of SLOs can provide more intentional design of the learning environment, and improved achievement of essential learning for all students.
Identifying essential SLOs is critical to designing academic programs that provide meaningful learning experiences, but they are also used in the assessment of programs to provide feedback on ways programs can be improved to better serve students.  While the process of assessment is not meant to reduce education to concrete concepts, efforts to fulfill accreditation requirements and organizational requirements quickly can lead to development of SLOs and assessment practices that seem to remove what is most important in student learning. Developing SLOs that truly reflect essential points of learning and identify what a student will acquire through education not only avoids the reduction of education, but provides clear and intentional direction to enhancing student learning.
Relationship between threshold concepts, disciplinary ways of thinking and practicing, and student learning outcomes
To benefit from the creation of SLOs and avoid concerns about reducing learning through meaningless statements faculty should develop SLOs  through a collaborative process of exploring what is essential to thinking and learning in their fields of study.  Discussion of the "big ideas" or essential concepts aids the development of quality SLOs that then guide meaningful curriculum design.   By exploring disciplinary ways of thinking and practicing within fields of study and threshold concepts, faculty members and other members of the teaching community can achieve the development of quality SLOs.
Part 3 of this guide defines threshold concepts providing a further understanding the disciplinary ways of thinking and practicing that are different across fields and majors.  These concepts can then be translated into student learning outcomes or expectations for what a student should know and be able to do after participating in an educational experience.  Quality programs don't need many outcomes, just a few statements that capture what is essential learning.  Faculty members can work collaboratively to identify what is most essential to their field of study to write statements of expected student learning outcomes.
What are ILOs, GLOs, PLOs, and CLOs?
Student Learning Outcomes (SLOs) exist at many levels of the educational process and can be written to capture the nested nature of universal design.  
At the broadest level of the university exists Institutional Learning Outcomes (ILOs).  ILOs are mutually agreed upon SLOs that reflect the university-wide goals for all CSUSB students.  They are a collective expression of what all graduates of CSUSB will be able to know, do, and express upon graduation.  During 2014 – 2015, CSUSB worked collaboratively across the campus community guided by the Assessment Working Party to create ILOs for CSUSB.  (See CSUSB ILOs.)
General Education Learning Outcomes (GELOs) are learning outcomes written for the general education program. They differ only in the interdisciplinary nature of GE, and the impact of GE for all undergraduate students. During 2015-2016, CSUSB worked collaboratively across the campus community guided by the Faculty Senate GE committee and the GE Think Tank to create GELOs for CSUSB.  (See CSUSB GELOs.)
Program Learning Outcomes (PLOs) are student learning outcomes written to reflect the essential learning outcomes for a program or major.  They capture what students will know, can do, or show awareness of after completing the program as a whole.  They are not written to capture every learning opportunity or acquisition provided by the program, but rather the defining outcomes for all students completing the program.  While there is no predetermined number of outcomes that is appropriate for every program, having more than 10 may indicate that the outcomes include more than what is most essential to the program.  PLOs will help demonstrate the concepts or "big ideas" students will acquire when studying that field's disciplinary ways of thinking and practicing. The challenge in writing PLOs is in identifying what is most essential.  Programs of study provide a tremendous number of learning opportunities, many of them are important to the field, but are secondary to and tied to what is most important.  A first attempt at writing PLOs may yield too many outcomes that then need to be refined to a smaller list of outcomes.
Some questions to consider in designing around PLOs:
What is the mission of the program?
What are the most important things a student should know or be able to do after completing the program (stick with what is most critical)?
What are the core concepts that students must understand before being competent in the field?
After writing the outcomes, do the outcomes contribute to the objectives of the program (a reverse review of the outcomes)?
Course learning Outcomes (CLOs) contribute to the overall achievement of PLOs for the program offering the course, but may be expanded to include student learning outcomes provided specifically in that course.  CLOs may include the specific PLOs acquired in that class and concepts unique to that course.  Course syllabi should list the SLOs acquired in the class which can include both PLOs and CLOs.
Aligning learning outcomes across levels (institution, program, course) and programs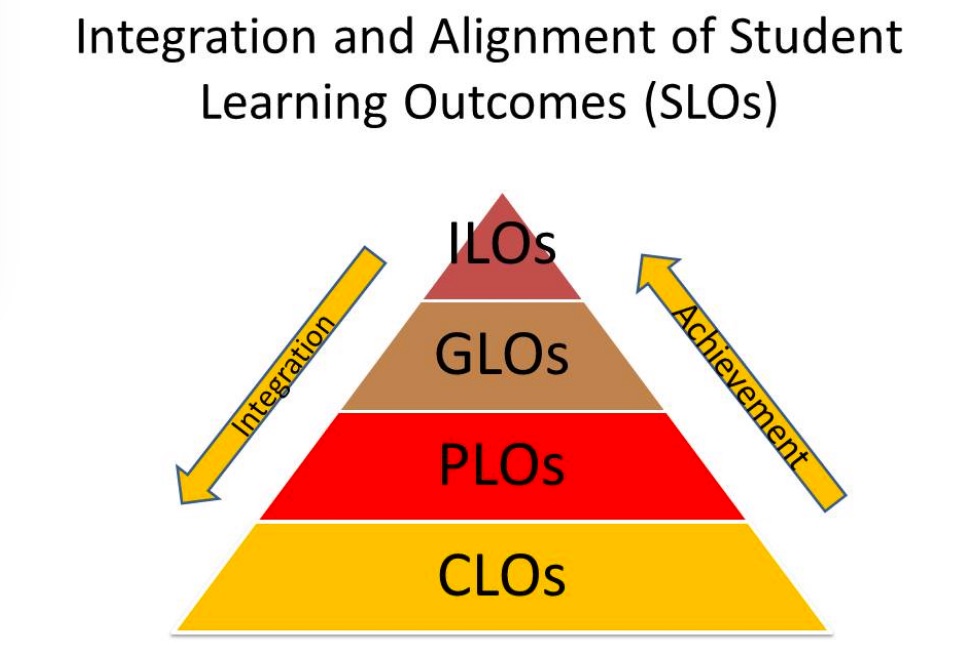 While each level of outcomes will provide unique information about student learning opportunities, they are related in the culmination of what is most essential for students graduating from the university and stated in the ILOs.  The GELOs align closely with the ILOs and support the achievement of institutional goals.  GELOs support the intentional achievement of interdisciplinary breadth, and provide introductory and developmental learning opportunities related to achieving critical literacies, integrative learning, diversity, and other ILOs.  They are not identical to the ILOs as they add dimensions specific to the interdisciplinary nature of general education and the commitment that all CSUSB graduates acquire a liberal arts education.
PLOs also align with the ILOs, but are more specific to the disciplinary ways of thinking important to each program.  They contribute to achieving ILOs, and are expected to include some elements of the ILOs, but in ways that are unique and appropriate to each field of study.  PLOs also continue the development of many of the outcomes introduced in the general education program, and together with the GELOs culminate into achievement of the ILOs.  CLOs are expected to align with the PLOs for the program offering the course.  They include some overlap with the PLOs, but may also have outcomes unique to the course.  CLOs should still be limited to what is most essential in the class, but an analysis across the many different courses and their CLOs would demonstrate the complexity of offerings at the university and the many ways CSUSB provides learning opportunities to achieve the ILOs.
While this alignment is natural in some ways, programs need to be intentionally designed to ensure that all students in a program or major receive the opportunity to achieve all of the PLOs.  Similarly, the integration of university programs including majors, minors, GE, and co-curricular opportunities needs to be intentionally designed to ensure that all students receive the opportunity to achieve all GELOs and ILOs.