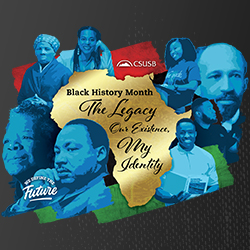 Welcome
On behalf of the Black History Month planning committee, we want to thank you for visiting our website. Black History Month is an annual celebration of the achievements and accomplishments made by African Americans within our local, national and global communities. It is a month dedicated to the recognition of individuals who have gone above and beyond and have been memorialized in United States History. It is also a month focused on highlighting key pieces of the African American culture in an effort to provide education to future leaders destined to make an impact in the world. 
Our committee encourages our students, faculty, and staff to participate in many of this month's festivities. We also want to take this time to showcase our leaders and their hard work in establishing critical programs and resources for our students. 
Why We Celebrate
Carter G. Woodson, inspired by having attended a three-week national celebration of the 50th anniversary of emancipation in 1915, joined four others in the founding of the Association for the Study of Negro Life and History (ASNLH) to encourage scholars to engage in the intensive study of Black history, a subject that had long been neglected by academia and in U.S. schools. In February of 1926 Woodson and the ASNLH launched Negro History Week to recognize two figures who had loomed large in the Black freedom struggle, U.S. President Abraham Lincoln (born February 12), who issued the Emancipation Proclamation, and African American abolitionist, author, and orator Frederick Douglass (born February 14).
By the time of Woodson's death in 1950, Negro History Week had become a central part of African American life and by mid–century, mayors of cities nationwide issued proclamations noting Negro History Week. The Black Awakening of the 1960s dramatically expanded the consciousness of African Americans about the importance of Black history, and the Civil Rights Movement helped Americans of all colors recognize the contributions of African Americans to U.S. history and culture.
Black History Month was first proposed by Black educators and the Black United Students at Kent State University in February 1969. The first celebration of Black History Month took place at Kent State a year later, from January 2 to February 28, 1970. The celebration was expanded to nationwide recognition in 1976, during the nation's bicentennial, as President Gerald R. Ford urged Americans to "seize the opportunity to honor the too-often neglected accomplishments of Black Americans in every area of endeavor throughout our history."