In response to the COVID-19 pandemic, the TRIO Upward Bound Program has transitioned to e-services and online learning opportunities until further notice.  The TRIO Upward Bound Program will continue to operate our office virtually during normal business hours (Monday-Friday, 8:00am-5:00pm) via email, text, phone, Zoom or other modalities. For up to date COVID-19 information, visit the CSUSB COVID-19 site, the CDC, or your local county's Department of Public Health site.
The TRIO Upward Bound Program is committed to maintaining the continuity of services and to the extent possible minimize the disruption of services. If you have any questions or need further information, please contact us at 909-693-2011 or via email at upwardbound@upwardbound.csusb.edu.
Stay safe, healthy and continue practicing social distancing!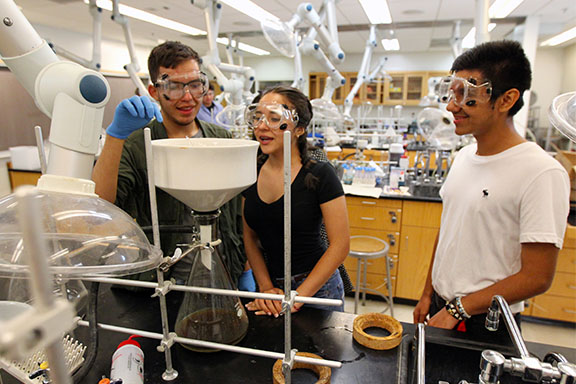 Inside CSUSB Daily News October 3, 2017
Upward Bound receives more than $4 million in federal funding over five years
CSUSB's Upward Bound and Upward Bound Math have been awarded $4,023,440 in federal funding for their programs to help students in San Bernardino and Rialto graduate from high school, and enroll and graduate from college.
Welcome
Welcome to California State University San Bernardino's Upward Bound Program! CSUSB's Upward Bound Program services to more than 150 high school students from San Bernardino and Rialto. Funded in 2007 by a grant from the U.S. Department of Education, Upward Bound is a TRIO Program designed to help provide high school students with educational and personal support services that will increase high school graduation and college enrollment and persistent rates.
Eligibility
CSUSB Upward Bound Programs serve students at Rialto, Eisenhower, Carter, San Bernardino, Pacific and Arroyo Valley High Schools. Once admitted into the program, it is expected that students will remain active participants through high school graduation. To be eligible for Upward Bound, a student must be
Services
Academic tutoring
Advice and assistance in course selection
Assistance in preparing for college entrance exams
Assistance in completing college admissions applications
Guidance in scholarships and financial aid
Financial and Economic Literacy
Personal & Leadership Development
Summer Program
Instruction in Mathematics, Lab Science, Foreign Language, Composition, and Literature.
Visits to colleges and exposure to cultural events