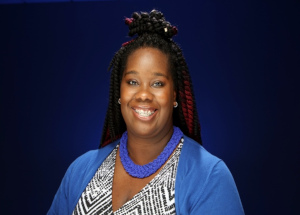 Evelyn Knox (PACS Program Coordinator)
My name is Evelyn Knox, and I am the Coordinator of the Pan-African Collegiate Scholars Program at California State University, San Bernardino (CSUSB). In my role, I provide academic advising to Pan-African/Black undergraduate students. My focus is on improving retention (making sure students come back to school year to year), reducing the time it takes for students to earn their degree, and resolving issues affecting graduation for freshman and transfer students. I was born and raised in San Bernardino, CA and I am a proud alumna of CSUSB. I earned both my Bachelor of Arts degree in Social Sciences, and my Master of Science degree in Counseling and Guidance at the university. In only my second quarter as an undergraduate at CSUSB, I began working for the university as a student peer advisor. I learned the importance of getting connected to a campus support system through my early years as a student and student leader.
One of my biggest passions is equity in education. It is a humble honor for me to serve in this particular role, and to be a supportive resource for students along their journey through this great university.
Justin Wells (PACS Ambassador)
Psychology
Senior (Grad '21)
I believe in the PACS program because of how low our representation is on campus. It is important that all of our black students are made aware of the resources available to them. Working and empowering our black students can reach down into our communities and increase our population on campus.
Tiwahna Whyte (PACS Ambassador)
Management (Entrepreneurship)
Senior (Grad '21)
The reason I work with PACS is because community outreach is something that I've always been interested in but never knew how to go about it and this was the perfect opportunity for that along with that the fact that I get the opportunity to possibly be mentors for students within the Black community is amazing.
Justyce Johnson (PACS Student Assistant)
Health Science & Human Ecology
Sophomore
I work with PACS to provide encouragement and support to those in need who are apart of the African American scholar community. PACS works hand in hand with our students to ensure success in their college years and provide any assistance they may need in order to help them overcome any obstacles that may come across.