A 2-day Virtual Conference Presented by CSU San Bernardino Information Technology Service (ITS)
Join the 5th annual ITS Tech Talks Conference and hear from academics, students, staff, administrators, and industry partners as they discuss and share their experiences in education, innovative pedagogies and research led XR projects to support diverse, equitable, and inclusive teaching and learning spaces.
We are committed to fostering unity and collegiality to build inclusive communities and learning environments that enhance educational success and support the Graduation Initiative 2025.
April 6th and 7th, 2021 | 9:00 am - 1:00 pm
Day 1:
Diversity, Equity, and Inclusion in Education
Join a cross-institutional panel of thought leaders in education as they share unique experiences, innovative pedagogies, and research to enhance teaching and learning within our region. Hear from leading experts as they challenge our teaching and learning paradigms and share ideas that support diverse, equitable, and inclusive communities and learning environments. 
April 6th, 2021 | 9:00 am - 1:00 pm
Day 2:
The Future of Creative Education
Reimagine teaching and learning and explore ideas on how disruptions in education today will redefine the future of education. Learn how virtual reality (VR) and artificial intelligence (AI) address pandemic challenges and experience immersive media.
April 7th, 2021 | 9:00 am - 1:00 pm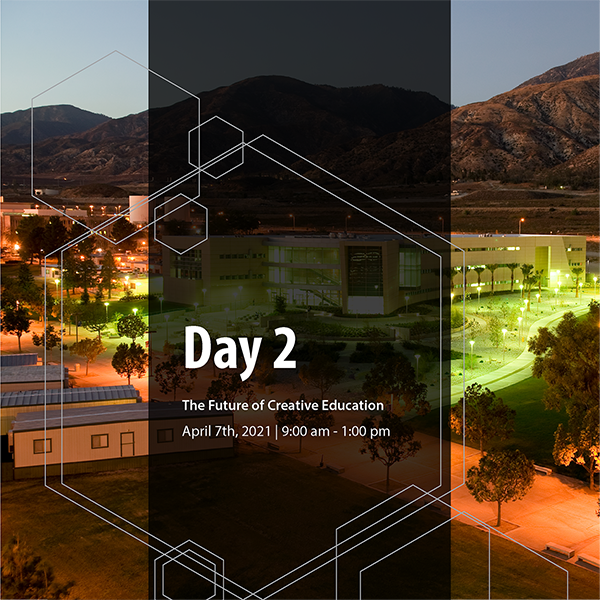 ---
CSUSB 2019-20 Highlights 
"A brief look back at some of the successes and inspirational achievements of last year. Enjoy the video, and let it remind us that great things and brighter days await us in the coming months."
- Tomás D. Morales, President of California State University San Bernardino