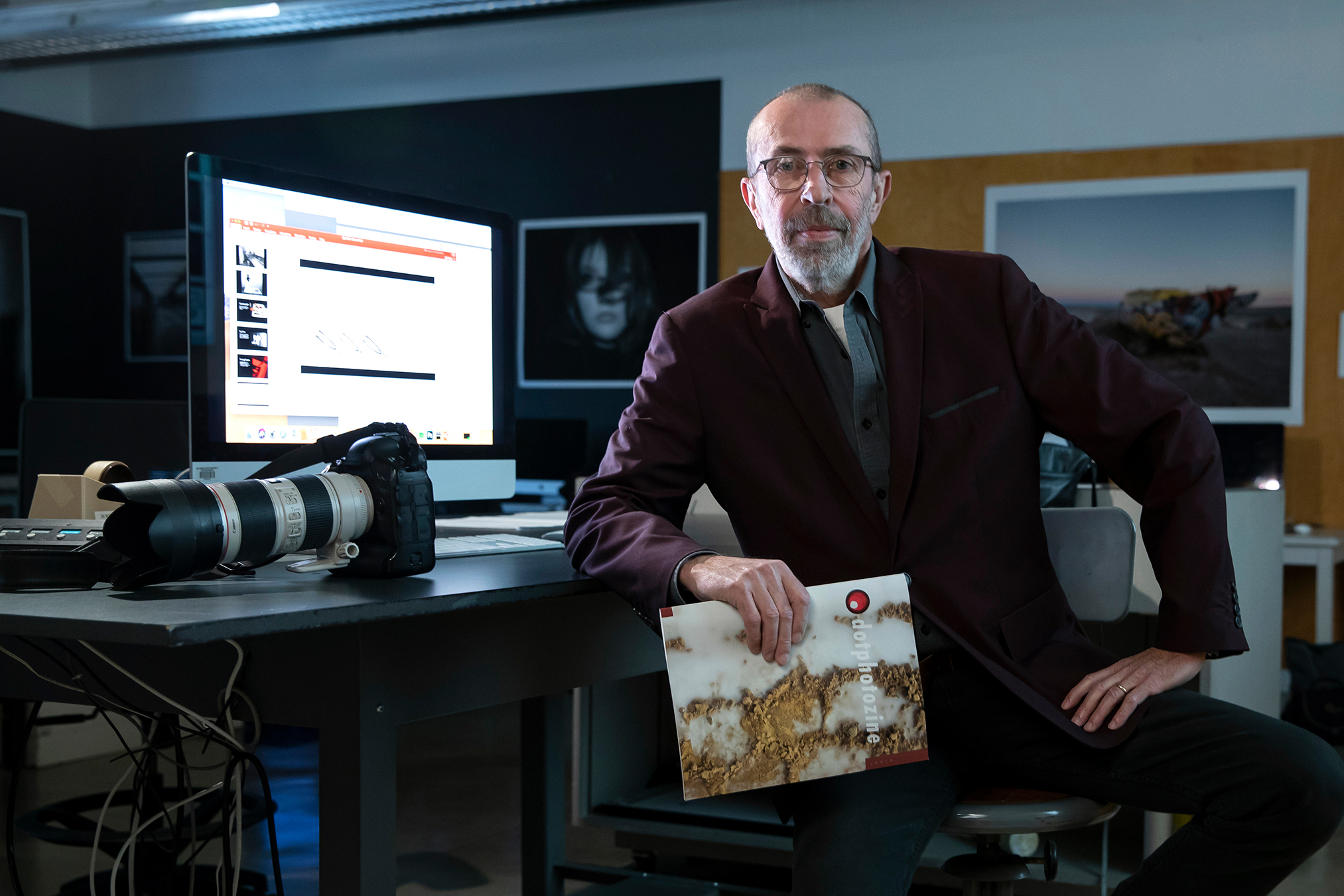 Thomas McGovern, MFA
World Languages and Literatures / photography
Founder of Dotphotozine, CSUSB's journal of photography
Thomas McGovern, professor and chair of the world languages and literatures department, is a distinguished photographer who founded Dotphotozine, a CSUSB journal of photography.
Dotphotozine
Thomas McGovern, professor and chair of the world languages and literatures department, began taking photographs in the late 1970s, where his first significant project was photographing strangers on the streets in Washington, D.C.
While in New York in the 1980s, he started a project about people with HIV/AIDS after losing friends to the disease. During the decade-long project, he met, photographed and interviewed more than 100 people with AIDS and mounted a fundraising exhibition at Neikrug Photographica in New York in 1988. This exhibition led to him working as a freelance photographer for the Village Voice and this experience expanded his AIDS work to include the cultural impact of the disease-political demonstrations, health care, fund raisers, memorials and funerals. His project spread by word-of-mouth and he gave prints to all the participants. McGovern became known as an AIDS resource and his photographs were mounted in many exhibitions and published in the Village Voice, The New York Times, and New York Newsday, among other publications. The Brooklyn Museum, Brooklyn Historical Society, Museum of the City of New York and others acquired some of these photographs.
McGovern eventually made his way to California where he received his Master of Fine Art degree from Cal State Fullerton and became a CSUSB assistant professor in 2000. He was promoted to full professor in 2009.
Moving to California in 1997 proved to be a major influence on his photography and he began to use color, initially making abstract images related to architecture and eventually mounting the 48" x 96" photographs on curved steel structures. This work was exhibited in 2001 at CSUSB's Robert and Frances Fullerton Museum of Art, and Art Resources Transfer in New York.
Some of McGovern's projects in the Inland Empire include "People in Cars," which showcases people who participated in the Route 66 Car Show and "Swap Meet: This is San Bernardino," where he photographs the hidden gems that are sold in swap meets.
In 2011, McGovern founded Dotphotozine, an annual magazine that showcases the best photography material from students and alumni from CSUSB.