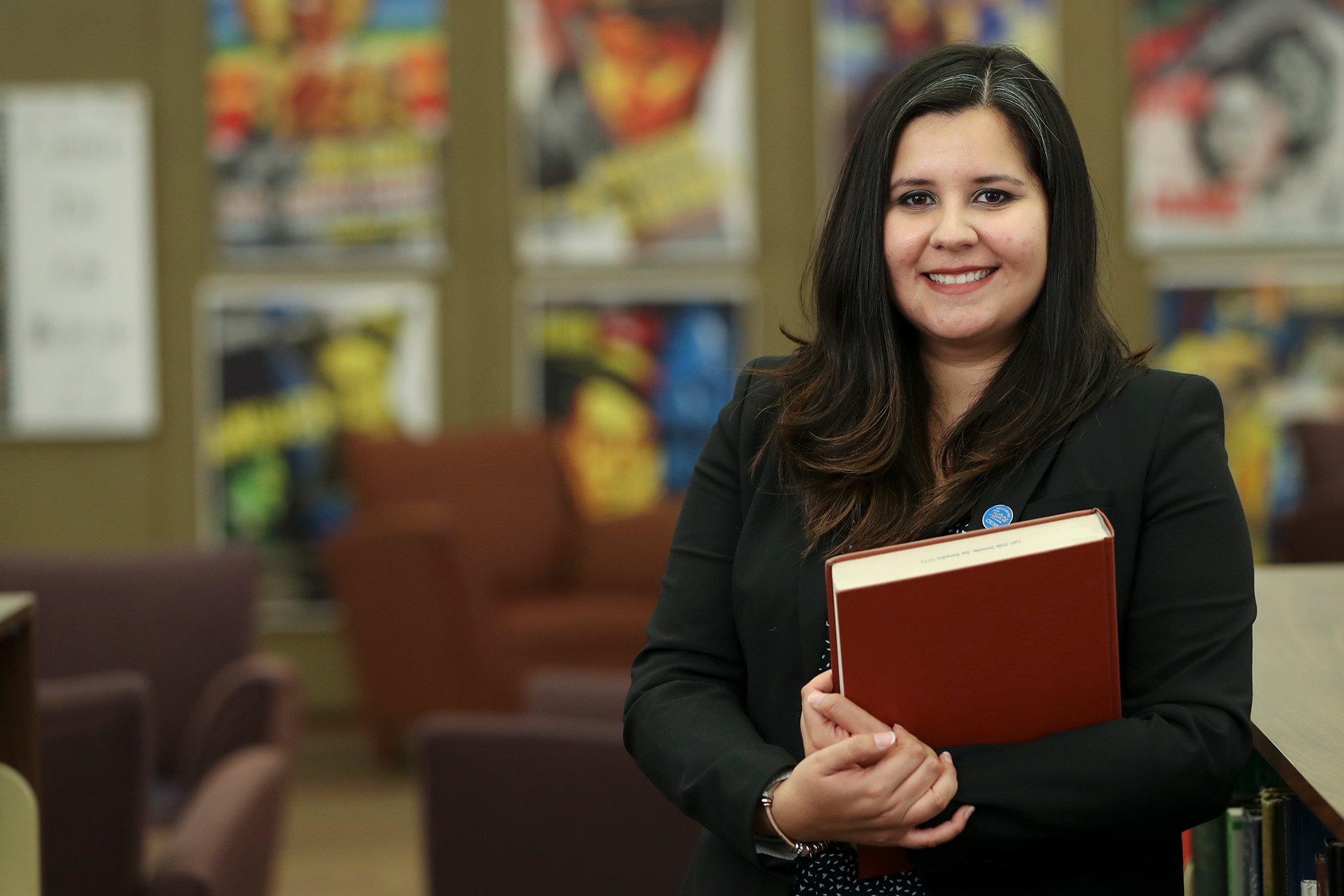 Miriam Fernandez, Ph.D.
English
Recipient of the Outstanding Dissertation Award
English associate professor Miriam Fernandez explored the cultural expressions of the rhetoric of Mexican nationalism in her dissertation, which was selected for a prestigious award in 2019.
CSUSB English assistant professor awarded for dissertation
Miriam Fernandez, associate professor of English, studies the construction of Mexican nationalism in the early 19th century, where she focuses on the rhetorics that helped create and support nationality. Rather than study the Mexican nation as a broad construction, she looks at the particulars and analyzes the ideological tropes that support the people's imagination of a nation. 
Fernandez was selected for the 2019 Conference on College Composition and Communication (CCCC) James Berlin Memorial Outstanding Dissertation Award for her dissertation, "Tropes of the Nation: Tracing the Colonial Origins of the Matriarcal Figures of Mexican Nationalism."
The CCCC James Berlin Memorial Outstanding Dissertation Award honors a graduate whose dissertation improved the educational process in composition studies, or adds to the field's body of knowledge, through research or scholarly inquiry. Fernandez was announced as the recipient of the award at the 2019 CCCC Annual Convention on March 15, 2019 in Pittsburgh, Pennsylvania.
In her dissertation, Fernandez explores the cultural expressions of the rhetoric of Mexican nationalism. She focuses on Mexico and three of its most important cultural/mythological figures: la Virgen de Guadalupe (translated as Our Lady of Guadalupe, a Catholic title of the Blessed Virgin Mary), la Llorona (the ghost of a woman who lost her children and now cries while searching for them in a river), and Malintzin (the indigenous woman who translated for Hernán Cortés). She argues that each of the three figures rhetorically persuades Mexican nationals to imagine themselves as part of the Mexican nation. She also argues that the three figures work to convert some of the colonial history and traditions of the past into stories and symbols that appear to value the indigenous.
Fernandez specializes in classical rhetoric; contemporary rhetorical theory; Mexican history; Latinx and Chicanx rhetorics; Chicana rhetoric; and epideictic rhetoric.
Fernandez earned her doctorate in English with an emphasis in rhetoric and composition from Washington State University, her master's in English from Fresno State, and her bachelor's in sociology from UC Los Angeles.