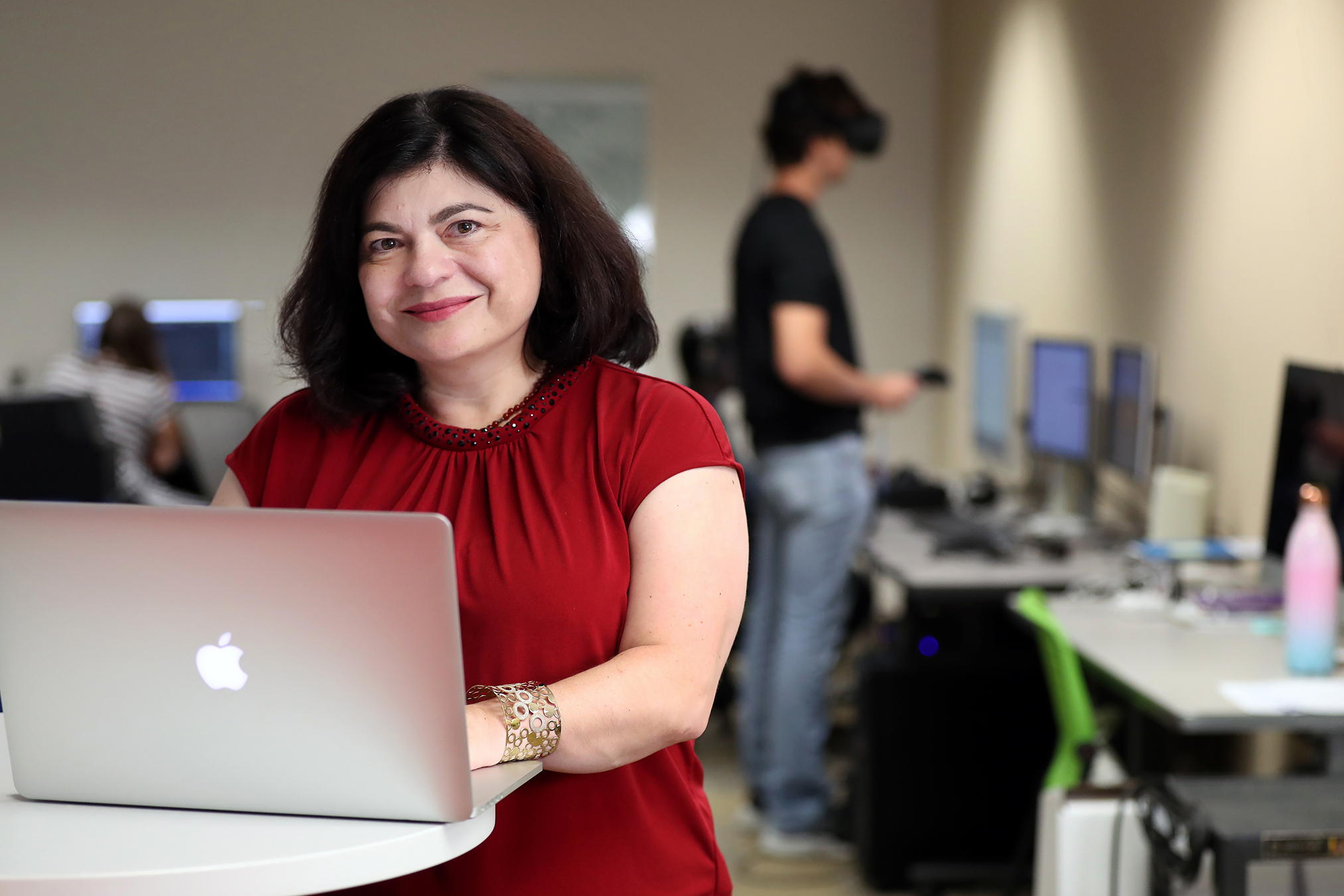 Mihaela Popescu, Ph.D.
Communication Studies
Co-founder of CSUSB's xREAL Lab
As the co-founder of CSUSB's xREAL Lab, communication studies professor Mihaela Popescu helps bring extended reality learning experiences to both faculty and students.
Expanding Learning Experiences Through Extended Reality
Mihaela Popescu is a professor of communication studies, faculty associate of the university's Academic Technologies & Innovation (ATI) department in Information Technologies Services, and co-founder and faculty director of CSUSB's Extended Reality for Learning (xREAL) Lab, which is housed in ATI.
With the xREAL Lab, CSUSB has been able to create immersive technology opportunities for various fields, including archaeology, nursing and journalism. According to Popescu, the lab has worked with faculty to create instructional 360-degree videos to bring to life rich environments otherwise inaccessible to students, used the power of 3D modeling and augmented reality (AR) to create virtual labs, and designed full-fledged virtual reality (VR) environments for experiential learning.
But what makes CSUSB's xREAL Lab especially unique are the principles behind its organization. According to Popescu, most extended reality (XR) labs in the CSU system (with some important exceptions) specialize in curating off-the-shelves products. In contrast, for CSUSB, the intention was not only to create an infrastructure that allows the lab to build XR learning experiences from scratch, but to do so in a project-based learning framework that ensures a student pipeline to the industry.
In addition to her work with the xREAL Lab, Popescu's specialization is in communication law and policy. Her research interests address the relationship between media policies (particularly digital media) and social inequality. She has published in the areas of First Amendment, cultural policies, and digital media policies.
Popescu holds a Ph.D. in communication studies from the University of Pennsylvania, a master's in society and politics from Central European University, a master's in communication from the University of Pennsylvania, and a bachelor's in sociology from the University of Bucharest, Romania.