What if I am missing an important e-mail?
Misclassified as Bulk or Spam
For those using the Quarantine as your Spam Detection Preference, any email classified by the system as spam or bulk is held in quarantine.  New spam and bulk messages will be reported the following day in your daily digests.  They are also available anytime through the 'Email Spam Control' link of the MyCoyote portal.
Held in Virus Quarantine
Some messages that cannot be scanned for virus because they are password protected (or otherwise encrypted) may be held in the Virus folder of the Email Spam Control quarantine page.  Often in these cases, you will also receive an email from the system 'End User Digest: Message Quarantined purportedly from ...'
Be cautious. This email may or may not be malicious.
Please review this message by accessing the MyCoyote portal and using the 'Email Spam Control' link under MyCoyote Self Service. The message will be quarantined within the Virus folder.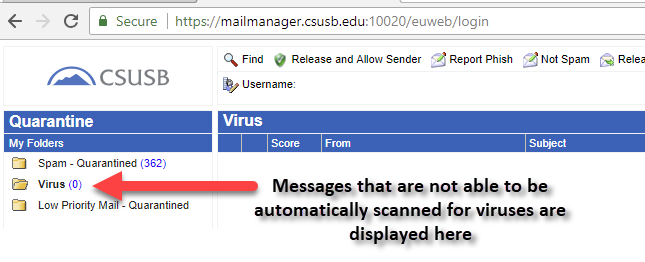 Still missing?
If you suspect you are still missing e-mail, please contact the Technology Support Center.