CSUSB's History Journal Wins Third Prize in National Competition
November 07, 2019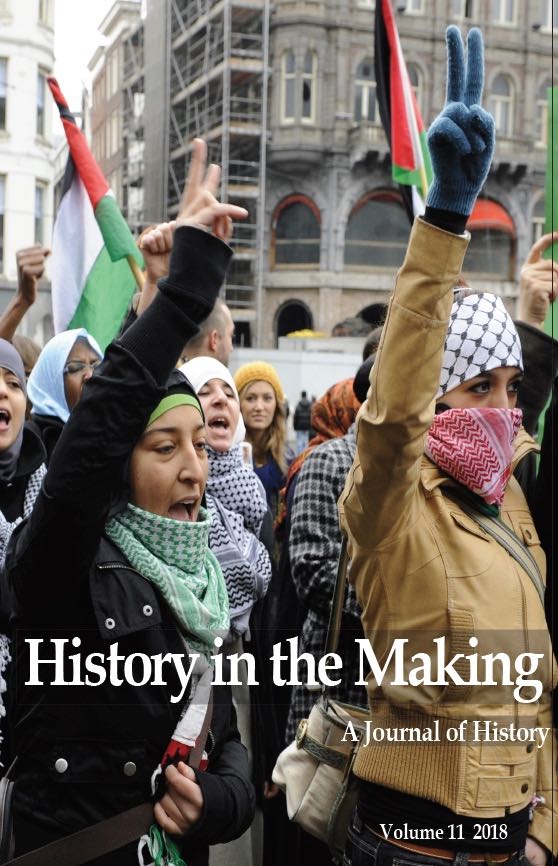 History in the Making: A Journal of History, CSUSB's student-run journal won Third Prize in the 2018 Gerald D. Nash graduate print journal national competition.  The journal, which is made up of research papers, travel pieces, reviews, and various other articles from undergraduate and graduate students and alum, is an annual publication of CSUSB's Alpha Delta Nu Chapter of Phi Alpha Theta.  This issue was overseen by faculty advisors Dr. Jeremy Murray and Dr. Tiffany F. Jones, and sponsored by the history department and Instructionally Related Programs at CSUSB.While the journal has won five previous awards in the undergraduate competition, due to the fact that many graduate students from the MA in Social Sciences participated in the journal, along with many undergraduate history students, this is the first year the journal was entered into the graduate level competition.  We are exceptionally proud of the work completed by the two chief editors, Athahn Steinback and Lark Winner, and the dedication and diligence of the editorial board, Alexander Serrano, Andrew Richter, Byron Williams, Danny Cervantes, Eric Lowe, Hannah Norton, Jacqulyne Anton, Jasmine Colorado, Jordan Hammon, Kyle Burke, Martin Votruba, Samuel Briseno, and Sarah Slawson.  Copy editors were Brittnie 'Bunny' Anglin, Jacqulyne Anton, Jasmine Colorado, Jordan Hammon, and Martin Vortruba.  This year's journal contained a diverse array of articles and reviews that reflects the global focus of our program. 
Articles
'Unconditional Surrender: The Rise of President Erdogan and the end of Kemalist Turkey' by Amelia Sullivan'An Exclusion and an Agreement: Comparing the Chinese and Japanese Immigrant Experiences, 1870–1942' by Eric Lowe'In Dependence: Haiti in the Period of Neoliberalism' by McKenzie Kelly'Present Tense: Indian Boarding School Resistance in the Twentieth-Century' by Casey Lee
Travels Through History'Summer in Berlin' by Esther Devai'An Ole Coyote's Tale: Life is a Journey, not a Destination' by Brock Barrows'Israel' by Allegra Glaviano
In Memoriam'The Life and Legacy of Norma McCorvey' by Jacqulyne Anton 
Public History
'Manzanar: Lasting Remnants and Reflections on an American Injustice' by Rocio Gomez 'The Irish Nationalist: Motivations, Experiences and Consequences' by Sarah Slawson'Western-Constructed Narratives of Hawai'i' by Megan Medeiros
Sources in History
'Continuity at Luxor Temple' by Matthew Unruh 'From Female Moneylenders to Church Shares: The Coptic Village of Jeme' by Marmar Zakher 'American Populism During the Ninteenth-Century' by Andrew Richter
Reviews and Analysis
'Film Review: Alfred Hitchcock—The Films That Reflected American Society from 1940–1944' by Amy Stewart'Film Review: 1948 Creation and Catastrophe' by Melissa Sanford 'Video Game Review: Kingdom Come Deliverance' by Eric Lowe 'Sargent's Mysterious Sitter: Objectification and Subjectivity in Madame X and Other Works By John Singer Sargent' by Silvia Lopez'Book Review: Loaded: A Disarming History of the Second Amendment' by Randy Stuart'Book Review: Assassination of a Saint' by Jasmine Colorado'Exhibit Review: In|Dignity' by Maia Matheu 'Exhibit Review: Empress Dowager Cixi: Selections from the Summer Palace' by Hannah Norton
Congratulations to all involved!  For the CSUSB's news article on the journal, see https://inside.csusb.edu/node/18771.For more information on the journal, see the journal website at https://csbs.csusb.edu/history-in-the-making.
(Nov 5, 2018)