Graduate students at CSUSB are involved in a wide range of academic, career, and personal enrichment activities, developing real-world skills while enhancing their personal and professional lives. Our students are involved in research, teaching, study abroad, business development, and volunteer programs. Each quarter, we profile one of our outstanding students, offering you a glimpse of student life at CSUSB and the many possibilities available that extend beyond the classroom.
Matt McMilon (MFA, Studio Art, 2016) and Heather Roessler, (MFA, Studio Art, 2018)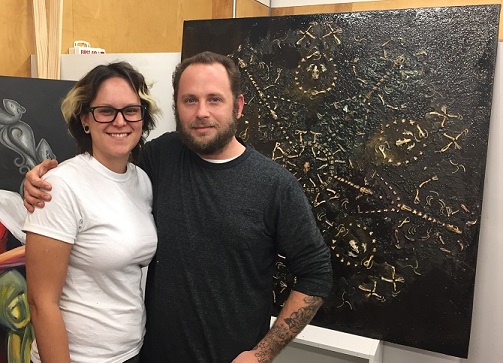 "There are tons of rewarding aspects of it," said Matt. "For the last three years, I have been presented with amazing opportunities and have benefited greatly from Professor Buckley's mentoring, support, and encouragement… This type of continued support has made my graduate experience amazing and my time as a Teaching Artist with the Community-Based Art program memorable and deeply fulfilling."
While one natural aspect of the program is the improved art skills of the inmates, the effects of the Community-Based Art program extend far beyond the realm of artistry. The program's primary emphasis is in fact using art as an avenue to provide inmates with life skills that support rehabilitation and personal development.
"We encourage them to share their feelings through their art," said Heather. "We're just trying to teach them, 'You can deal with whatever you're dealing with through your art.'"
Heather has great interest in psychology as well as art and is grateful for the opportunities to include psychology in her art teaching. "Art has always been therapeutic for me. It makes me feel better. And to see that we can give that to somebody else who needs it and have the same effect is the most rewarding thing for me. They love the art, and you can tell that it really changes them and makes their day brighter."
Matt described the program as a meditative practice for the inmates and said that it is "a huge hope for them. It's something that's really, really healing, and you're seeing them kind of dig into their pasts."
He is also very interested in statistical analysis of the benefits that art has, which both justifies teaching art and condones future utilization of art teaching practices as a form of rehabilitation.
"There is a science behind it," Matt said. "We're trying to raise visibility of the program so that academically it's being taken seriously and promoted, but also to show that the humanities are research-based—including the arts. We do everything: we analyze all of that data that goes through from the pre-surveys all the way to the end, and we're able to show tangible growth on paper."
Another significant effect of the CBA program is that it readily combats stereotypes about prison inmates and shows their side of the story. "It's not what people think," said Heather. "It's not as scary or intimidating or risky as people think."
It is clear that the Community-Based Art program is stunning: it not only allows the inmates to improve in their artistic abilities, but also provides them a safe place where self-expression is openly encouraged and gives them the opportunity to address their personal issues in a healthy, constructive way. "Being incarcerated can be overwhelming," said Matt—and indeed the CBA program helps the inmates handle the hostility so often found within the prison world.
"A lot of them aren't bad people," said Heather. "We bring the humanity into that place. We talk to them and treat them like they're regular people and like they matter. And, you know… they do."
While Matt and Heather teach primarily at the prisons, CBA volunteers teach art classes at a variety of locations, including the Waterman Boys and Girls Club, Our House, EngAge, and Job Corps.
"It's an amazing program," Matt said. "I would encourage anyone to participate in any way that they can. We want to start overlapping with some of the other humanities-based disciplines. Any creative mode of expression, they're looking for." In other words, volunteers do not need to be art students, but are encouraged to utilize whatever their pre-existing skills sets may be in their involvement with the program.
Matt McMilon and Heather Roessler's participating in the Community-Based Art program is absolutely commendable, and they are making indispensable differences in the lives of their students and beyond.
If you would like to volunteer, or would like more information about the wonderful opportunities awaiting you in the Community-Based Art program, please contact Professor Annie Buckley (abuckley@csusb.edu).
Previous Student Life Profiles