Study Abroad in Valladolid (3 weeks)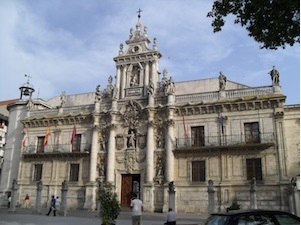 Stop by the College of Education at Study Abroad Office, CE 256, to find out more.
The University of Valladolid, whose history can be traced back to the 13th century, has been the inspirational foundation for numerous other prestigious universities in Spain. It has at all times upheld its firm commitment to teaching and research and, while forging links with Europe and the Americas, has remained deeply committed to its home region of Castilla y Leon. Four campuses, Valladolid, Palencia, Segovia, and Soria, offer over 100 degree options, including numerous postgraduate and Ph.D. programs, distinguished research centers, a wide range of cultural and sports activities, and a rich architectural and archival heritage. For more information about Universidad de Valladolid.

The faculty for the CSUSB Spain Summer Program is Dr. Arturo Fernández Gibert, Professor of Spanish. He will have the pleasure of accompanying CSUSB students in what was once the court and capital of the Spanish Empire, now a modern and captivating European city.
Date
May 27 – June 18, 2022
Courses
One of the following: 
SPAN 1111 (4 units)/ SPAN 1112 (3 units)/ SPAN 2111 (4 units)/ SPAN 2112 (4 units) 
SPAN 3307 Cultures of Spain (3 units) 
SPAN 4407: Special Topics in Peninsular Literature (3 units) 
Available upon approval
SPAN 5507 Seminar in Special Interdisciplinary Topics in Spanish Literature (3 units) 
SPAN 3308 Cultures of Spain Activity (1 unit) 
Presidential Study Abroad Scholarship Eligibility
Currently enrolled in a degree-seeking program at CSUSB 
Maintain a minimum GPA of 2.0 
Enroll for credit-bearing education abroad program
Estimated Program Fee
 $1,262 (before $500 Presidential Scholarship)
Funding Options
Summer Graduate Initiative Grant; Federal Pell Grant 
Excursions
Salamanca
Segovia 
Santander
Advising
Contact
Please visit the CISP Program website for more information or join us at the meeting to learn about your once-in-lifetime experience in Spain next summer!
Email: Emilio Rodriguez or the faculty coordinator, Dr. Arturo Fernández Gibert, if you have any questions. Study Abroad Office: CE 256, (909) 537-5212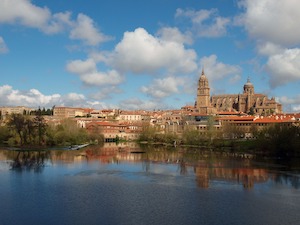 Study Abroad in Spain (2 weeks)
Certification program 
Criminal Justice Spanish or Healthcare Spanish
Dates
June 18 - July 3, 2022
Cities
 Salamanca and Barcelona​
Cultural Excursions
Salamanca
Ávila
Segovia
Barcelona
more​
Cost
$4,349 (before $500 scholarship)​
Minimum Requirement
Span 2262 (or consent from Program Coordinators)​
Courses
Span 5557 or Span 4401 (up to 6 units)​
Powerpoint Presentation – Spain Summer 2022
Contact
Professor Carmen Jany or Professor Nerea Marteache 
Application deadline
 March 15, 2022​