Study Abroad in Valladolid, Spain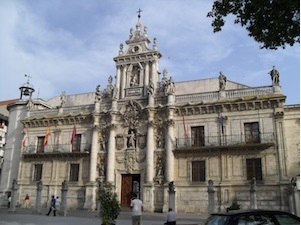 Stop by the College of Education at Study Abroad Office, CE 348, to find out more.
The University of Valladolid, whose history can be traced back to the 13th century, has been the inspirational foundation for numerous other prestigious universities in Spain. It has at all times upheld its firm commitment to teaching and research and, while forging links with Europe and the Americas, has remained deeply committed to its home region of Castilla y Leon. Four campuses, Valladolid, Palencia, Segovia and Soria, offer over 100 degree options, including numerous postgraduate and Ph.D programs, distinguished research centers, a wide range of cultural and sports activities, and a rich architectural and archival heritage. For more information about Universidad de Valladolid.
Two four-unit courses will be offered for credit in the Spain Abroad Summer Program: Lower Division (Span 101-103, Span 201-203, and Span 214) and Upper Division (Span 302/402, Span 410). Span 515 and Span 517 (Certificate as a Second Language for Spanish Teachers/ Instructors) are offered for the Spanish majors and graduate students. 

The faculty for the CSUSB Spain Summer Program are Dr. Arturo Fernández Gibert, Professor of Spanish (afernand@csusb.edu), and Dr. J. David Jerez-Gómez, Associate Professor of Spanish (jdjerez@csusb.edu), both Spanish natives with experience in Study Abroad. They will have the pleasure of accompanying CSUSB students in what was once the court and capital of the Spanish Empire, now a modern and captivating European city.   

Download the Study Abroad in Valladolid Flyer

Information for 2019 provided as reference. Details for future dates may differ.
Dates
June 26 - July 27, 2019
Courses
Lower Division: SPAN 101, 102, 103, 201, 202, 203, 214
Upper Division: SPAN 302, 402, 410*, 515F*
HUM: 340* Cannot be taken simultaneously
Estimated Program Fee
TBD
Excursions
Salamanca
Segovia 
Santander
Advising
Contact
Please, visit the CISP Program website for more information or join us at the meeting to learn about your once-in-lifetime experience in Spain next summer!
Email Emilio Rodriguez or the faculty coordinators, Dr. Arturo Fernández Gibert and Dr. J. David Jerez-Gómez if you have any questions.Study Abroad Office: CE 256, (909) 537-5212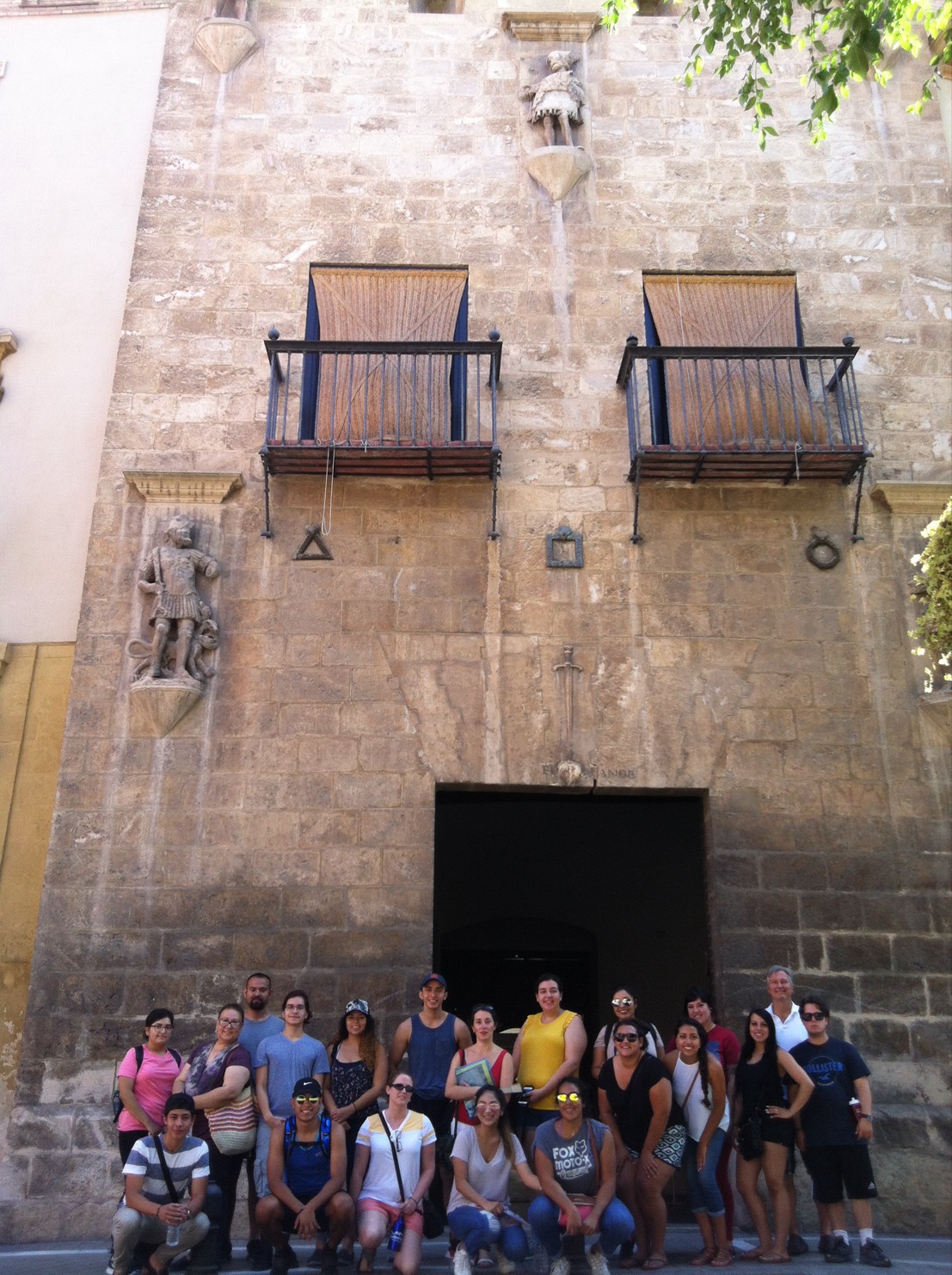 Study Abroad Trip to Spain and Sweden
The Mediterranean Studies Academy faculty lead a Study Abroad Summer program in Granada, Spain, organized by the College of Business and Public Administration. The Department of World Languages and Literatures collaborates offering HUM 340-02: Interpretation and values (taught by prof. Jerez-Gomez), as part of the program curriculum. CBPA offers Management 306: Expository Writing or Administration 590 / 690 (taught by prof. Matthew Habich).

Information for 2019 provided as reference. Details for future dates may differ.

Granada (10 nights); Malaga (1 night); Stockholm (3 nights)
The trip to Spain will be June 30-July 11, and to Sweden from July 12-14, 2019

Students may take ONE or TWO courses, each course will be taught as hybrid and will meet in Summer Session 6W1 (online and face to face instruction).

Led by: J. David Jerez-Gomez, Professor of Spanish and Humanities, jdjerez@csusb.edu

For more details, visit the Program Page.
Download the Slide Presentation.

A minimum of 10 students are required for this program.  Mandatory orientation in May 24, 2019, 2-4 pm
Cultural Excursions
Picasso Museum (Málaga), Workshops at the University of Granada.  Enrichment activities include Cathedral tour, Albaycin tour, Olive oil workshop, Factory visit, Alhambra tour, and Flamenco Show (Granada); Day trip to Córdoba; 2 days Stockholm exploration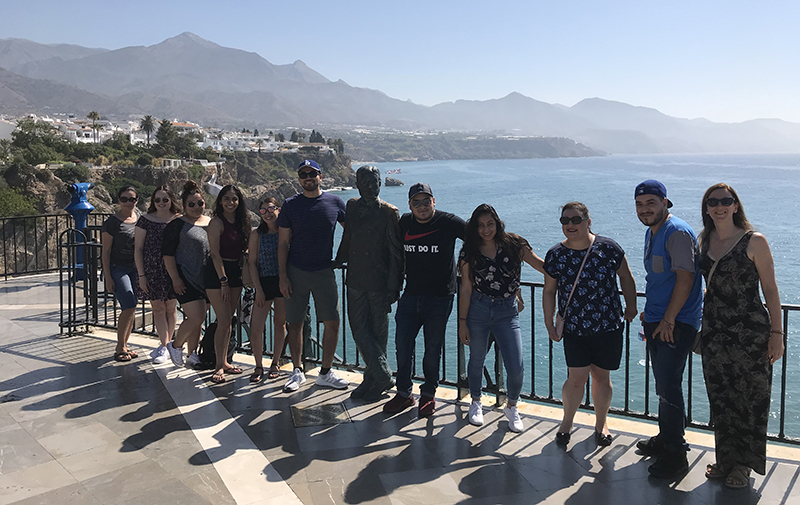 Program Costs
| | |
| --- | --- |
| Program Activities & Fees | $3275 |
| Insurance | $75 |
| Application fee to CGM | $150 |
| Tuition (4-8 units) | $1000-$2000 |
| Total | $3,500 + Tuition |
Includes international flight, local ground transportation, all meals, lodging, activities and visits in itinerary, entrance fees.
(See additional expenses below)
Payments
| Due Date | Amount | Type |
| --- | --- | --- |
| Feb. 1  | $150  | Application Fee to Center for Global Management |
| Feb. 27   | $1350 | First Payment |
| March 27 | $2000 | Second Payment  |
| May 10 | $1000-$2000  | Tuition |
| May 17  | $3500 + tuition  | All Payments Due |
Additional Costs
| | |
| --- | --- |
| Personal Expenses | $115 |
| Passport | $135 |
| Vaccinations | As recommended by CDC |
| Grand Total | $3,750 + Tuition |
Program subject to university approval.
Application Procedures
Fill out online application
Students should start the application immediately NOTE: 5 forms (found in the online application) must be printed and submitted to the Center for Global Management Jack Brown College 404, located on the 4th floor.
If students do not have a passport, they must start the passport process. It takes 4-6 weeks to receive your passport. 
A profile picture must be uploaded.