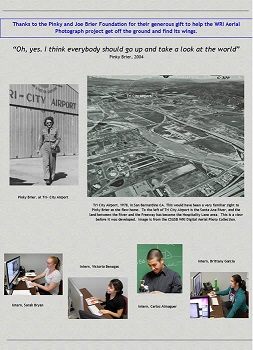 What's New In Historical Aerial Photos
Our collection now includes over 100,000 images! Read our press release here.
Historical Aerial Photos (108,671 digital images)
The CSUSB Water Resources Institute has a large collection of aerial photos. Below is a list of how our aerial photographs are organized, by broad geographic locations. The name in parentheses following the date and name of the area where the photo was taken refers to the collection to which the image belongs. The following collections are currently included in the Archives: Joseph Andrew Rowe (Rowe), Jim Imbiorski (Imbiorski), Natural Resources Conservation Service (NRCS), the Riverside County Flood Control and Water Conservation District (RCFCWCD)t, the San Bernardino County Flood Control District (SBCFCD), Lou Schnepp (Schnepp), San Bernardino County Archives (SBCA), and the United States Department of Agriculture via the San Bernardino County Flood Control District (USDA-SBCFCD). Ours is an evolving collection. If you have aerial images to donate, please contact the WRI at (909) 537-7681.
How to Order Images 
Copies of all the photos held in the collection can be purchased. You will receive a high resolution image without watermarks. The cost is $20.00 for each image. The images will be transferred to a jump drive and sent via the US mail. There is a $20.00 fee for handling and shipping as well.  We will put as many images as we can on each drive. The drives hold 10-20 images and varies according to file size of the image. 

A request for copies MUST be made in writing (email). This ensures the correct image can be delivered to you, as well as track which images are being requested. You must also provide a mailing address. Please email Suzie Earp at earps@csusb.edu

In general it takes 2-3 days from request to shipping. When the drive ships you will be notified.