What is an Artist's Statement?
An artist's statement is piece of writing by you, that helps to explain your artistic work.
CC: Writing an artist's statement by Gwenn Seemel (American painter)
Click on the photo to see the movie clip
When is an Artist's Statement used?
Exhibition purposes, grant applications, teaching position applications, fellowships, and more. It directs your audience to the concerns you consider to be important in the work, and helps publicists, curators, and critics write about the work. Writing about your work may also be integral to your creative process. You may be writing about as specific work, group of works or your body of work developed over a considerable period of time.
Resources
The Language of an Artist's Statment - The ArtLex Art Dictionary offers definitions for more than 3,200 terms used in visual culture, along with thousands of images, pronunciation notes, great quotations and cross-references.

Art & Architecture Thesaurus (Getty Research Institute) - The Art & Architecture Thesaurus© (AAT) is a structured vocabulary for describing and indexing the visual arts.

General Writing Resources - CSUSB College of Education, CE-310 and CE 311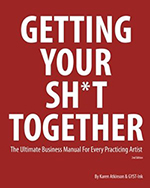 Atkinson, Karen. Getting Your Sh*t Together: The Ultimate Business Manual for Teaching Professional Practices to Every Artist. 2nd ed. Los Angeles, CA: GYST Ink Press, 2014.

Call #: NX 760.A85 2014 

This comprehensive book is informed by decades of experience and years of research into how to perform as a professional artist in the 21st century art world (or worlds). This book is filled with easy-to-follow instructions that will help you do everything -- archive your work, start a mailing list, write a grant, and everything else you can think of. This straightforward book even addresses topics you may not think you need to know about now, but you sure will later! Consider this a handbook for all your artistic endeavors.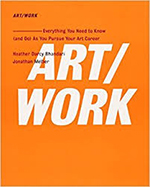 Bhandari, Heather Darcy., and Jonathan. Melber. Art-work: Everything You Need to Know (and Do) as You Pursue Your Art Career. New York: Free Press, 2009.

Call #: N6505.B575 2009 

The most comprehensive guide of its kind, Art/Work gives artists of every level the tools they need to make it in an art world so competitive one dealer likens it to "The Sopranos, except nobody gets killed." Whether you're an art school grad looking for a gallery, a mid-career artist managing a busy studio, or someone just thinking about becoming a professional artist, this indispensable resource will help you build your career and protect yourself along the way.