Virtual Visits Now Offered!
Cody the Coyote would love to see you on campus. However, because our in-person services are limited at this time, we are now offering live virtual visits to CSUSB. We welcome counselors, teachers, prospective students and families to sign up for a visit today.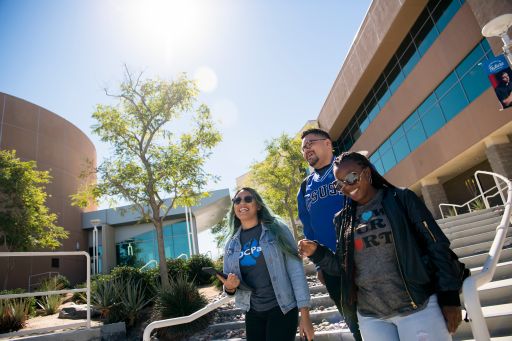 Thursday, October 22, 2020
Transfer in and find your place at CSUSB Palm Desert Campus. Transfer Day is designed to help make your transition from college to university easier for you!
When: October 22, 2020 
Time: 5:00 p.m. - 7:30 p.m.
Where: Virtually via Zoom 
Many students attend more than one college as they work toward obtaining their degree. CSUSB Palm Desert Campus is excited to present Transfer Day! This program is an exclusive program for transfer students students and their families. 
We understand that the choice to continue on to a baccalaureate degree and choosing which college to go to is daunting. However, the transfer process does not have to be difficult. Our staff and students want to help you navigate that journey and make it easier for you.
During our virtual program you'll be able to take a virtual tour of campus. You will also have the opportunity to attend one of our academic sessions where you will meet with faculty from Hospitality Management, Entrepreneurship, Cybersecurity and Kinesiology programs. The Office of Financial Aid and Office of Admissions will be available to answer any questions you might have and you will discover student life, resources, and much more!
This is your chance to explore our Palm Desert Campus and learn about what it has offer. 
CSUSB Palm Desert Campus Transfer Day
CSUSB Palm Desert Campus Transfer Day
(Agenda is tentative and subject to change)

TIME

SESSION

5:00 PM
Welcome
5:05 PM
Virtual Campus Tour
5:27 PM
Financial Planning 
5:49 PM
Transfer 101
6:11 PM
Admissions Highlights
6:33 PM
Native American Resources
7:00 PM 

Hot Majors at PDC

Hospitality  
Cybersecurity 
Entrepreneurship 
Kinesiology 

8:00 PM 
Program Ends
For more information about CSUSB's Palm Desert campus visits and events please contact our following staff:
Alejandra Quintero
Direct: (909) 537-8272
alejandra.quintero@csusb.edu