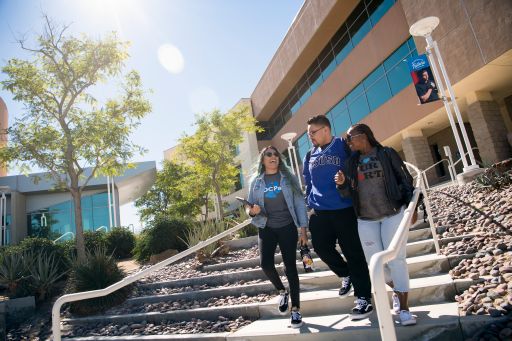 Register for an In-Person Tour!
We are excited to welcome you to CSUSB Palm Desert Campus in-person to see for yourself what life is like on campus! Our 30-minute tour will showcase campus hotspots and the academic colleges specific to your interest.
The health and safety of staff members and visitors are our top priority at this time. Please review the information below, University protocols, and our visitor guidelines before registering for an in-person visit.
Capacity for in-person tours is limited due to Covid-19. If you can't find a tour date that meets your needs, please explore our virtual tours.
Registration is required and is limited to one student and up to four guests.
All visitors must comply with University safety protocols, including wearing masks which are required on campus.
In-Person tour capacities are limited to maintain the health and safety of our guests and campus community. We are working diligently to increase our in-person tour capacity. Please check availability frequently, as spots may open with cancellations. If you are unable to register for your preferred date at this time, we encourage you to check out our virtual offerings or come to campus for a self-guided tour!
CSUSB Palm Desert Campus Tour Policies and Guidelines
Please be aware that in-person programming is subject to change in accordance with changing public health guidelines, and students and families planning to explore CSUSB Palm Desert Campus should familiarize themselves with CSUSB's policies and health protocols before visiting. Detailed information on mask protocols and other health and safety guidance is available through our Return of the Pack website.
All guests, vaccinated or unvaccinated, are required to wear masks during guided tours, and complete the CSUSB COVID-19 Daily Health Screen upon their arrival to campus.
In general, visitors to campus buildings will only be permitted inside if absolutely essential and by appointment only. Meetings should be conducted online or via phone whenever possible.
Tour guests needing mobility and/or auditory accommodations as outlined by the Americans with Disabilities Act (ADA) should email tours@csusb.edu at least five business days in advance of their scheduled tour.
Healthy and Safety Measures 
Visitors are expected to follow all public health guidance from the City and County of Riverside and abide by CSUSB's COVID-19 Prevention Plan and signage. CSUSB guidelines may be stricter to ensure a safe community for all. For more information, visit the university's COVID-19 Return of the Pack webpage.
All visitors must complete CSUSB's COVID-19 Daily Health Screen as a 'guest' on the day of their visit to campus and should not visit campus if they are experiencing any COVID-19 symptoms. 
Anyone with affirmative answers on CSUSB's COVID-19 Daily Health Screen or with a temperature of 100° or above must immediately self-isolate in their personal or on-campus residence and should seek medical attention.
All visitors must properly wear their facemasks or coverings during their scheduled tour program. 
Practice safe hygiene, including hand washing and sanitizing.
Arriving at PDC
Due to limited tour guide staffing, student-led tours will have a 15-minute grace period for late arrivals. If you are more than 15 minutes late to your scheduled student-led tour, we will instead ask you to reschedule your tour. Please plan your arrival to campus accordingly.
Parking permits must be purchased and displayed in your vehicle at all times while it is on campus. You can purchase a day pass ($6) in the nearby parking dispenser in Lot A. Please see campus map to locate parking lot. 
Finding the Outreach and Student Recruitment Office 
The Outreach and Student Recruitment Office is located in the Indian Wells Center For Educational Excellence (IWC) 102.  Our office is located directly across form the Indian Wells Theater. 
Also remember that Coyotes are friendly! If you need any assistance, please ask anyone on campus to direct you toward the Outreach and Student Recruitment Office.