Virtual Visits Now Offered!
Cody the Coyote would love to see you on campus. However, because our in-person services are limited at this time, we are now offering live virtual visits to CSUSB. We welcome counselors, teachers, prospective students and families to sign up for a visit today. 
Schedule Your Virtual Group Visit Today!
We invite groups of over 10 people to explore CSUSB and learn about the many diverse and unique aspects of our institution through our virtual group tour. CSUSB offer virtual group tours for 7th through 12th grade students, community college students, or other community organizations.
Virtual Campus Tours
Our 60-minute virtual campus tour provides a broad sense of campus, academics, and the undergraduate experience through the CSUSB story of one of our welcoming Coyote Ambassadors, which will benefit any prospective applicant.
Please see our calendar for our available visit dates, and select on the date you'd like to request. Please note: A request is not confirmed until you receive a confirmation for our Campus Tours and Visitor Center. All times listed are Pacific Time.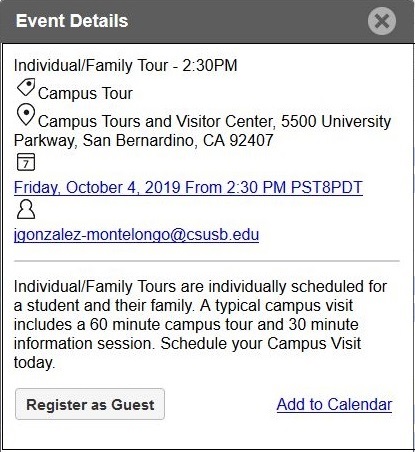 Event Details - The event details include the date and start time, registration link, and a link to a campus tours representative.  Click on the Register as Guest link or Add to Calendar if you use Outlook on your computer.
Complete the guest registration form by providing the requested information and click Submit.  A registration confirmation message will be sent to the email provided.
Web Browser - Due to compatibility issues, at this time, the Google Chrome and Safari web browsers do not support the calendar below. Please use any of the following web browsers to view and schedule your visit: Firefox or Microsoft Edge (formally Internet Explorer).  
Scheduling Requests
Groups are scheduled on a first-come, first-served basis.
Due to high demand for group visits, our office cannot accommodate students between kindergarten and sixth grade. Kindly visit our Robert Frances and Fullerton Museum of Art to schedule a visit for students in this age group. 
Guidelines and Expectations
If you have to cancel or reschedule your visit, kindly notify our staff at least 48 hours in advance. 
Arrive early and on time. Our Coyote Ambassadors are current CSUSB students and they may not be available beyond your scheduled campus visit. We reserve the right to change, reschedule, or cancel any and all parts of your campus visit if you arrive late.
All chaperones must remain with the group at all times.
Students are expected to behave as if in a classroom setting.
Should students not behave, the tour will end immediately.
Please Note
Our Virtual Campus Tour does not provide an in-depth look at our residence halls. If you would like to setup a housing tour, please contact the Office of Housing and Residential Education at (909) 537-4155.