COVID-19 UPDATE
The health and safety of our students, faculty, and staff is our top priority at California State University, San Bernardino (CSUSB). Therefore, the Campus Tours and Visitor Center has temporarily suspended in-person services due to the Coronavirus (COVID-19). Starting Monday, March 23, 2020, staff will not physically be in the office. However, we continue to be excited about your visit to CSUSB and we know you might have questions about campus tours or our admission events. Therefore, our staff will be monitoring both phone messages and e-mail communications remotely. To ensure that we help assist you more effectively, please make sure you clearly identify your first and last name, and email address when leaving either a voice mail or sending an email message (if you are an admitted student, please provide your Coyote ID and Coyote Email). We will respond to your message within 3-5 business days.
Schedule Your Large Group Visit Today!
We invite groups between 10 to 100 people to explore CSUSB and learn about the many diverse and unique aspects of our institution. The Campus Tours and Visitor Center will arrange for your group to attend an information session and campus tour. CSUSB offers group tours for 7th through 12th grade students, community college students, or other community organizations. These tours consist of a CSUSB Admissions Presentation and a walking tour of campus. Groups of 10 to 100 can be accommodated in these morning tours. 
Information Session and Campus Tours
Our 30-minute information session, led by an admission counselor, provides an overview of CSUSB, student life, alumni, the application process and financial aid, with time for a question/answer session at the end.
Our 60-minute campus tour provides a broad sense of campus, academics, and the undergraduate experience through the CSUSB story of one of our welcoming Coyote Ambassadors, which will benefit any prospective student!
Please see our calendar for our available visit dates, and select on the date you'd like to request. Note—a request is not confirmed until you receive a confirmation for our Campus Tours and Visitor Center.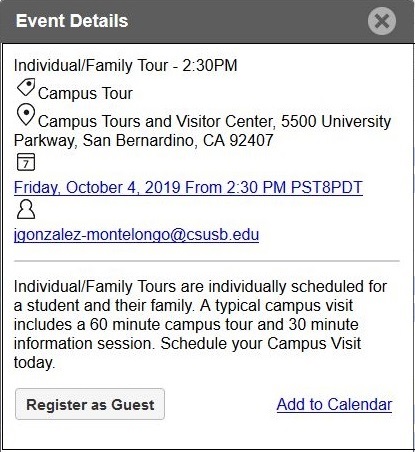 Event Details - The event details include the date & starting time, meeting location, registration link, and a link to a campus tours representative.  Click on the Register as Guest link or Add to Calendar if you use Outlook on your computer.
Complete the guest registration form by providing the requested information and click Submit.  A registration confirmation message will be sent to the email provided. 
Scheduling Requests
Groups are scheduled on a first-come, first-served basis. High demand for large group visits requires schools to schedule early. We recommend you schedule three to six months in advance.
Due to high demand for group visits, our office cannot accommodate students between kindergarten and sixth grade. Kindly visit our Robert Frances and Fullerton Museum of Art to schedule a visit for students in this age group. 
Parking Information
Groups traveling to campus by bus can be dropped off at the entrance of the university. The drop-off location is located at the flagpoles on the main entrance roundabout.
Bus parking is available on campus in University Village lot, located off Northpark Boulevard. View our campus map.
Guidelines
Campus visits happen rain or shine, please plan accordingly.
All group tours must have a 1:10 student to chaperone ratio.
If you have to cancel or reschedule your visit, kindly notify our staff at least 48 hours in advance. 
Our policy is that we serve 7th graders and above, if the office finds out there are lower grades in the group, this will affect future visits to campus.
Expectations
Arrive early and on time. Our Coyote Ambassadors are current CSUSB students and they may not be available beyond your scheduled campus visit. We reserve the right to change, reschedule, or cancel any and all parts of your campus visit if you arrive late.
All chaperones must remain with the group at all times.
Students are expected to behave as if in a classroom setting.
Should students not behave, the tour will end immediately.
Please Note
Our Campus Tour does not include going inside any of the housing villages, if you would like to set-up a housing tour, please schedule your housing tour through the Office of Housing and Residential Education at (909) 537-4155.
CSUSB is a smoke and tobacco free campus. To promote a healthier environment for learning and living, the use, sale and distribution of smoke and tobacco products are not permitted anywhere on campus. Please see our Smoke-Free CSUSB website for more information.