Virtual Visits Now Offered!
Cody the Coyote would love to see you on campus. However, because our in-person services are limited at this time, we are now offering live virtual visits to CSUSB. We welcome counselors, teachers, prospective students and families to sign up for a visit today. 
Schedule Your Virtual Individual/Family Visit Today!
Advanced registration is required to attend a virtual campus tour. Please check our calendar for availability, and select a date to register. To provide a quality tour experience, we cap each tour at 20 guests. 
Virtual Campus Tours
Our 60-minute virtual campus tour provides a broad sense of campus, academics, and the undergraduate experience through the CSUSB story of one of our welcoming Coyote Ambassadors, which will benefit any prospective applicant.
CSUSB Calendar of Tour Events
Below is our calendar of upcoming Virtual Individual/Family tour events.  Here are instructions to register. Please note that the times listed are Pacific Time.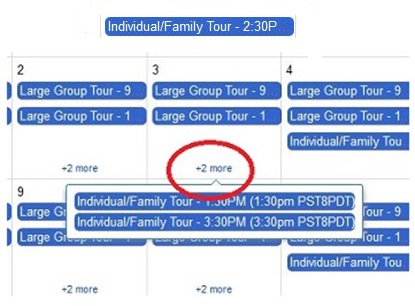 Virtual Individual/Family Tours are intended for prospective students and their families. We allow multiple students and families per appointment to provide everyone a chance to meet other future coyotes. A typical virtual individual/family tour will last approximately 1 hour.  To register for an Individual/Family Tour, click on a blue button for one of the many tours that are offered. 
+2 more - Be sure to click the +2 more links located at the bottom of several calendar dates.  Click on this link to see additional tours available on that date.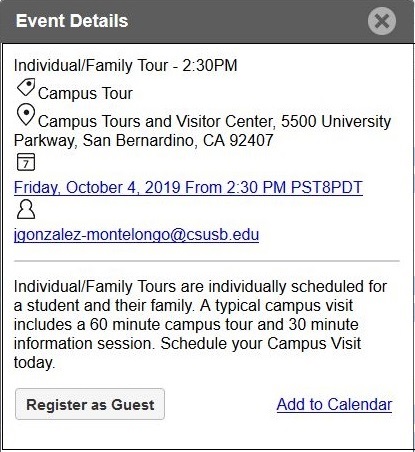 Event Details - The event details include the date & starting time, meeting location, registration link, and a link to a campus tours representative.  Click on the Register as Guest link or Add to Calendar if you use Outlook on your computer.
Complete the guest registration form by providing the requested information and click Submit.  A registration confirmation message will be sent to the email provided.
Web Browser - Due to compatibility issues, at this time, the Google Chrome and Safari web browsers do not support the calendar below. Please use any of the following web browsers to view and schedule your visit: Firefox or Microsoft Edge (formally Internet Explorer).  
Please Note
Our Virtual Campus Tour does not provide an in-depth look at our residence halls. If you would like to setup a housing tour, please contact the Office of Housing and Residential Education at (909) 537-4155.