COVID-19 UPDATE
The health and safety of our students, faculty, and staff is our top priority at California State University, San Bernardino (CSUSB). Therefore, the Campus Tours and Visitor Center has temporarily suspended in-person services due to the Coronavirus (COVID-19). Starting Monday, March 23, 2020, staff will not physically be in the office. However, we continue to be excited about your visit to CSUSB and we know you might have questions about campus tours or our admission events. Therefore, our staff will be monitoring both phone messages and e-mail communications remotely. To ensure that we help assist you more effectively, please make sure you clearly identify your first and last name, and email address when leaving either a voice mail or sending an email message (if you are an admitted student, please provide your Coyote ID and Coyote Email). We will respond to your message within 3-5 business days.
Schedule Your Individual/Family Visit Today!
These campus tours start in our Campus Tours and Visitor Center. The Campus Tours and Visitor Center is located on the first floor of University Hall room 135. We look forward to welcoming you to campus and answering your questions about CSUSB. While you're here, you'll attend an information session and a campus tour.
Information Session and Campus Tours
Our 30-minute information session, led by an admission counselor, provides an overview of CSUSB, student life, alumni, the application process and financial aid, with time for a question/answer session at the end.
Our 60-minute campus tour provides a broad sense of campus, academics, and the undergraduate experience through the CSUSB story of one of our welcoming Coyote Ambassadors, which will benefit any prospective applicant.
Advanced registration is required for the admission information sessions and campus tour. Please check our calendar for availability, and select a date to register. To provide a quality tour experience, we close the tour reservation when we reach 20 guests.
CSUSB Calendar of Tour Events
Below is our calendar of upcoming Individual/Family tour events.  Here are instructions to register for one of our upcoming tour events.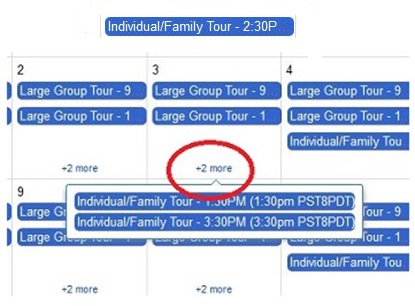 Individual/Family Tours are individually scheduled for a student and their family. A typical campus visit includes a 60 minute campus tour and 30 minute information session. Schedule your Campus Visit today.  To register for an Individual/Family Tour - click on a blue button for one of the many tours that are offered. 
+2 more - Be sure to click the +2 more links located at the bottom of several calendar dates.  Click on this link to see additional tours available on that date.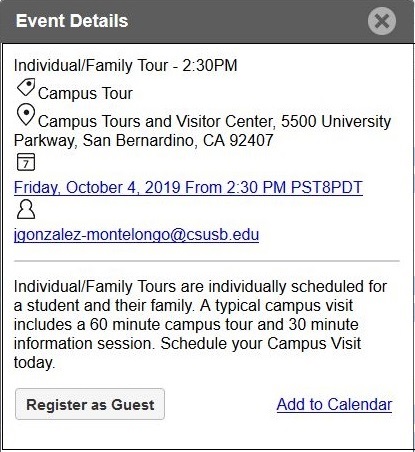 Event Details - The event details include the date & starting time, meeting location, registration link, and a link to a campus tours representative.  Click on the Register as Guest link or Add to Calendar if you use Outlook on your computer.
Complete the guest registration form by providing the requested information and click Submit.  A registration confirmation message will be sent to the email provided. 
Please Note
Our Campus Tour does not include going inside any of the housing villages, if you would like to set-up a housing tour, please schedule your housing tour through the Office of Housing and Residential Education at (909) 537-4155.
CSUSB is a smoke and tobacco free campus. To promote a healthier environment for learning and living, the use, sale and distribution of smoke and tobacco products are not permitted anywhere on campus. Please see our Smoke-Free CSUSB website for more information.