COVID-19 UPDATE
The health and safety of our students, faculty, and staff is our top priority at California State University, San Bernardino (CSUSB). Therefore, the Campus Tours and Visitor Center has temporarily suspended in-person services due to the Coronavirus (COVID-19). Starting Monday, March 23, 2020, staff will not physically be in the office. However, we continue to be excited about your visit to CSUSB and we know you might have questions about campus tours or our admission events. Therefore, our staff will be monitoring both phone messages and e-mail communications remotely. To ensure that we help assist you more effectively, please make sure you clearly identify your first and last name, and email address when leaving either a voice mail or sending an email message (if you are an admitted student, please provide your Coyote ID and Coyote Email). We will respond to your message within 3-5 business days.
Saturday, October 5, 2019
CSUSB is excited to welcome you to PAES Preview, a special day for PAES students and their families.
When: Saturday, October 5, 2019
Time: 12:30 AM – 5:30 PM
Where: CSUSB San Bernardino Campus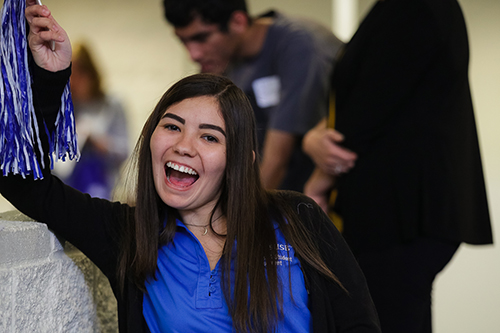 PAES Preview is an exclusive event for PAES students. PAES Preview provides an opportunity to engage with CSUSB students, staff, and faculty. Seniors that participate in PAES Preview will learn about the Presidential Academic Excellence Scholarship and how to become a #Coyote4Life
President's Academic Excellence Scholarship Qualifications:
Must be in the top 1% of senior class
High School must be in San Bernardino County
High School must be a WASC accredited school
High School must offer A-G coursework
This is your chance to explore the university and learn about the academic and student life opportunities we offer. 
Get answers to your questions about:
CSUSB Admissions
CSUSB Majors
Unique CSUSB Academic Programs
Research and Internship Opportunities
Housing and Dining
Financial Aid and Scholarships
Student Activities and Athletics
University Honors Program