President's Academic Excellence Scholarship
University Honors Program
Being a President's Academic Excellence Scholar at CSUSB comes with a multitude of opportunities, including being automatically part of our University Honors Program. With a new Honors facility, including classrooms and program offices, and an Honors Living & Learning Community, and the upcoming conversion from quarters to semesters, the program has been dramatically re-envisioned. The curriculum, co-curricular activities, and student life & support elements of the program have been expanded and more fully integrated to give students a more coherent experience of the program's offerings.
Admissions and Enrollment
PAES scholars are identified at the beginning of their senior year by their high school. The Office of Admissions and Student Recruitment will then communicate with students about their next steps in the admissions and enrollment process.
Step 1: Apply to Cal State San Bernardino October 1 – November 30 at calstate.edu/apply
Step 2: Complete your FAFSA Application — fafsa.ed.gov
Step 3: Pay your enrollment confirmation deposit through your MyCoyote account
Step 4: Send a final transcript to the Office of Admissions and Student Recruitment
Step 5: Sign up for and attend orientation
Step 6: Enroll and attend your first quarter of classes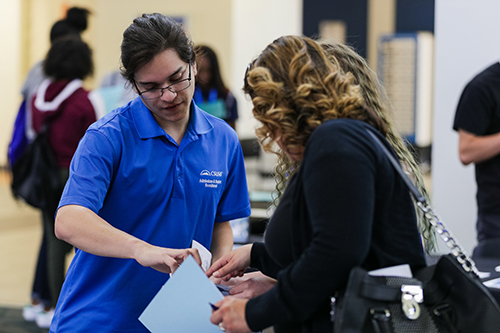 PAES Preview
PAES Preview is an exclusive event for PAES students. PAES Preview provides an opportunity to engage with CSUSB students, staff, and faculty. Seniors that participate in PAES Preview will learn about the Presidential Academic Excellence Scholarship and how to become a #Coyote4Life
President's Academic Excellence Scholarship Qualifications:
Must be in the top 1% of senior class
High School must be in San Bernardino County
High School must be a WASC accredited school
High School must offer A-G coursework
This is your chance to explore the university and learn about the academic and student life opportunities we offer. 
Get answers to your questions about:
CSUSB Admissions
CSUSB Majors
Unique CSUSB Academic Programs
Research and Internship Opportunities
Housing and Dining
Financial Aid and Scholarships
Student Activities and Athletics
University Honors Program
What is PAES?
PAES stands for the President's Academic Excellence Scholarship. It is an award recognizing students from San Bernardino County who graduate in the top 1% of their senior high school class. The PAES award was founded by former president Dr. Albert Karnig and has recognized the most high-achieving students since 1999.