Recycling made easy
Reusing items is the easiest way to have a waste-less Wednesday. Most people will have a tough time living one day without making any trash, therefore following these activities can ease your way into becoming more conscious. Recycling materials and organics can lead to zero waste going to the landfill. These activities reduce the emission of greenhouse gasses and can all be done from the comfort of your home. Together we can reduce emissions, conserve energy, and reduce pollution. For more information about reducing, reusing, and recycling waste in our state visit CalRecyle. 
Today's activities include:
Create an at home Recycling Center.
Step 1: Find three reusable bins, containers, baskets, or boxes and convert them into "recycling" bins 
Step 2: Label each bin 1) Landfill, 2) Recycling 3) Compost 
Step3: Store the containers in a dry area and begin recycling items that you may normally send to landfills
Step 4: Monitor your Landfill bin to see if it collects the smallest volume of waste compared to the other two bins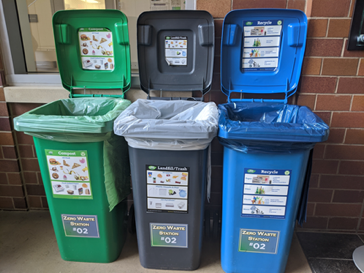 Here are some ways to sort your waste if you live on campus or in the SB or PD cities. Check with your local vendor if you live further away from campus.
The landfill bin is for:
Styrofoam
Juice boxes
Plastic bags and plastic utensils that are not recyclable
The compost a.k.a. organic recycling bin is for:
Food and food-soiled paper that can breakdown over time
The recycling bin is for:
Metal
Glass
Paper
Cardboard
Plastic containers
Earth Day 50th Celebration!
It's a 24-hour live event! Join people around the globe virtually to celebrate this day and learn how you can make Earth Day everyday.