Welcome to PDC Coyotes Achieve Academic Coaches 
The Role of a Coyotes Achieve Academic Coach
Coyotes Achieve Academic Coaches are here to support first year undergraduate students with their transition to the university and make them feel at home in the academic environment by encouraging academic excellence, campus connectedness and engagement, personal growth, and professional development of participating students throughout their entire journey at CSUSB. For general questions, please email, Coyotes.Achieve@csusb.edu. 

Emily Alvarez-Zurita
Email: Emily.Alvarez-Zurita@csusb.edu 
Major: Business Administration, Concentration Management  
Fun Fact: I am obsessed with white shoes, and I enjoy photography! 
If you would like to meet for 30 minutes with a Coyotes Achieve Academic Coach, please contact them via email. 
What is Coyotes Achieve? 
Coyotes Achieve is aimed at closing equity gaps and promoting student success for students from historically marginalized backgrounds. Students who participate in Coyotes Achieve work with Academic Coaches, create academic goals, and gain a sense of belonging to the CSUSB campus community.  Events and activities hosted by the Coyotes Achieve team include a wide variety of topics from academic success to health and wellbeing. Academic Coaches create meaningful relationships with participating students by regular communication, with in-person and virtual meetings both at the San Bernardino and Palm Desert campuses. 
Students will have the opportunity to talk through their college experiences, gain access to campus resources, develop goal setting and time management skills, ask questions, engage in non-academic activities, and much more with peers who have successfully navigated their first year of college. 
Making the Most of Your Coyotes Achieve Academic Coach?
How often can I meet my Academic Coach? 
Students may sign up for an academic coaching session available upon request. Students have the option to meet virtually or in person with their Academic Coach.  
How can I prepare to make the most out of my 30 minutes with my Academic Coach? 
Students may email their academic coach ahead of time regarding what they would like their meeting to be about, or students may come prepared with any question or topic they might want to go over.  
How can I get to know other Coyotes Achieve students? 
You can get to know the other students by coming to our events being held by the Academic Coaches to engage and socialize! 
How can I see/know if I have an Academic Coach? 
If you were part of USTD 1000 in the summer before fall of your first year at CSUSB held by Coyotes Achieve and had a mentor/coach.  
You will be receiving an email confirming you are part of Coyotes Achieve/ have an Academic Coach.  
I'm doing well in all my classes. Do I still need to meet with my Academic Coach? 
Academic Coaches can provide a broad range of resources. If classes are going perfectly and you are already involved on campus, then your Academic Coach can help you with time management, setting goals and achieving them to gain a fulfilling college experience. 
For remote support, you can also utilize the San Bernardino campus Coyote Achieves.  
Upcoming Events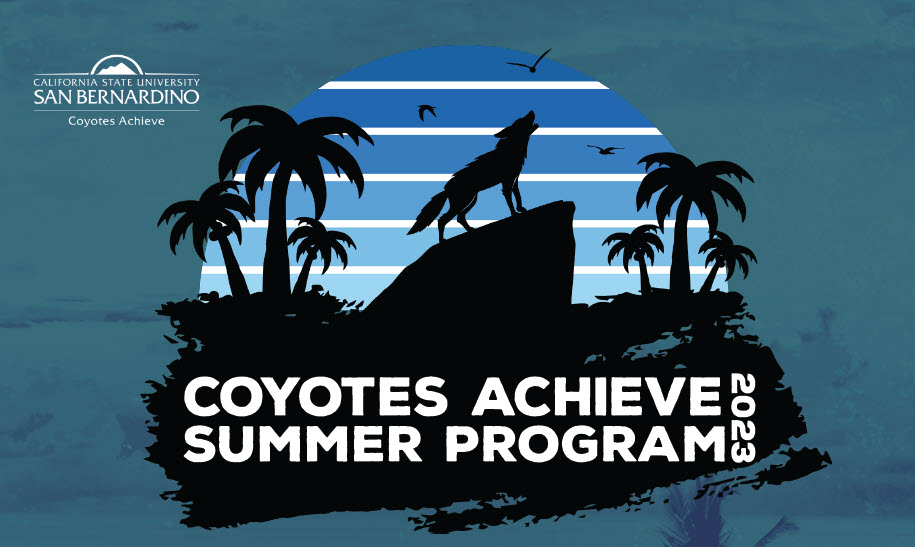 Visit the Coyote Achieve Website to sign up