Welcome to College Possible Catalyze at PDC
Schedule an Academic Coach Appointment via NavigateHow to schedule an appointment
Who is College Possible?
College Possible makes college admission and success possible for students from a low-income background through an intensive curriculum of academic coaching and support. Since its founding in 2000, College Possible has become a leading organization in the field of college access and success with a track record of best-in-class results, rigorous evaluation and innovation.
College Possible is an evidence-based program grounded in four key pillars:
NEAR-PEER COACHING: College Possible is a proud AmeriCorps organization, powered by talented and idealistic AmeriCorps members who serve as near-peer Academic Coaches to college students.
RESEARCH-BASED CURRICULUM: Academic Coaches realize that the path to and through college is complex. The College Possible curriculum encompasses topics such as academic preparation, financial planning and personal development.
PEER SUPPORT NETWORK: College Possible strives to build a community of support among students to serve as an additional source of encouragement for one another.
COMMITMENT TO COLLEGE SUCCESS: The goal of a college degree drives all that College Possible does.
---
The Role of a College Possible Academic Coach
College Possible Academic Coaches provide curriculum-driven, near-peer coaching to a portfolio of students on academic success, personal development and financial management topics to help maximize students' success earning their college degrees. Academic Coaches receive supervisory guidance from the Student Success Studio (S3) Coordinator, and participate in ongoing, year-round training with College Possible.
Academic Coaches extend a unique reach of existing student support services on campus via proactive outreach to students by, helping them make the most of their campus resources via warm referrals.
College Possible Academic Coaches are passionate and dedicated recent college graduates who are serving as AmeriCorps members. A College Possible Academic Coach is a key part of a student's success team on campus and frequently functions as a navigator and connector.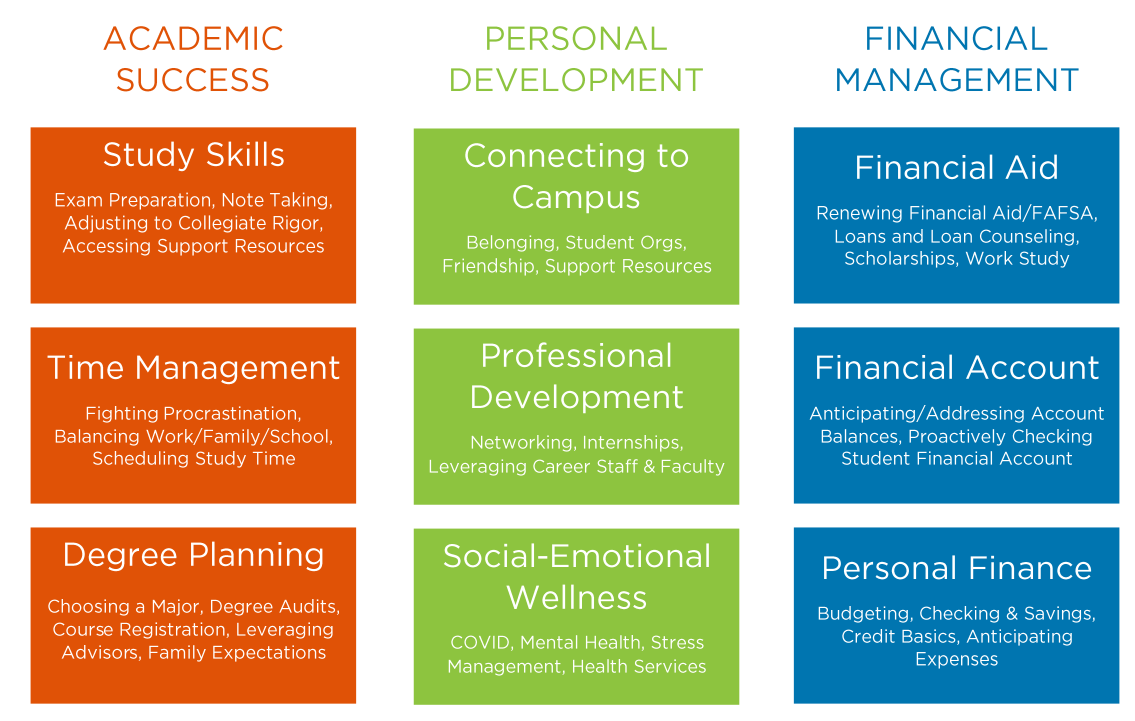 This means College Possible Academic Coaches:
Help students find the right resource to answer a particular question. As recent graduates, Academic Coaches play a key role in helping students know where to turn.
Encourage campus involvement in co-curricular activities. It's easy to lose sight of the importance of connecting with peers and building networks; Academic Coaches can encourage students to join clubs and find networks.
Have a different form of relationship and credibility that supplements existing campus relationships well. A near-peer Academic Coach can be an easy person to ask questions and share college life experiences. Academic coaches help students understand the value of building relationships on campus.
College Possible Academic Coaches are :
NOT Academic advisors. Academic Coaches do not offer guidance on which courses to take or explain major requirements; instead they help students find and engage their academic advisors productively on specific questions.
NOT financial aid counselors. Academic Coaches do not administer financial aid or provide detailed counsel on the full range of available aid options that financial aid counselors do. Instead, Academic Coaches complement the work of financial aid professionals by addressing basic questions for renewing a FAFSA application, seeking scholarships, interpreting an account balance or award letter, and referring students to their financial aid counselors for detailed situations.
NOT a duplication of existing student support services. The campus program lead(s) at your institution collaborates with student support services on campus to ensure Academic Coaches are providing complementary support and not duplicating it.
If you are interested in learning more about which groups of students at CSUSB are being supported by a College Possible Academic Coach, feel free to contact your College Possible campus program lead, Marilyn Lua, Student Success Studio (S3) Coordinator for more information.
---
Making the Most of Your College Possible Academic Coach
What is a College Possible Academic Coach?
Your Academic Coach is a recent college graduate committed to your success! Academic Coaches are integrated into CSUSB to help you connect with campus resources that can enhance your college experience, and are ready to support you in achieving your goal: earning your college degree.
What can my Academic Coach help me do?
Academic Coaches provide support in three main areas:
Academic success
Financial management
Personal development
Whether this means connecting you with the campus writing center, providing guidance for renewing your financial aid application or simply listening to how your semester is going, your Academic Coach is here to help you navigate college and support your overall success.
How often can I meet with my Academic Coach?
There is no limit on how often you can connect with your Academic Coach! Academic Coaches are located in Indian Wells (IW) 202. You are able to visit Monday through Friday. Academic Coaches are also available via text, phone and email. You might even run into them around campus! Throughout the year, you can expect your Academic Coach to ask how you are doing and ensure you have all the resources you need to make the most of college.
How can I prepare to talk with my Academic Coach?
You can bring any materials that might help your Academic Coach identify what resource will be the best fit for you. Your Academic Coach can also offer open office hours and 1:1 coaching where you can stop by their space to chat, get a quick answer or address an immediate concern.
How can I get to know other College Possible students?
Your campus has a College Possible student leadership group called Community Leaders. The College Possible Community Leaders organize and host campus events throughout the year where College Possible students can gather as a community. If you're interested in participating in events, or on the board itself, please reach out to your Academic Coach for more information!
Contact College Possible Academic Coaches
Indian Wells (IW) 202Juan Jose, Academic CoachAlhondra Aguado