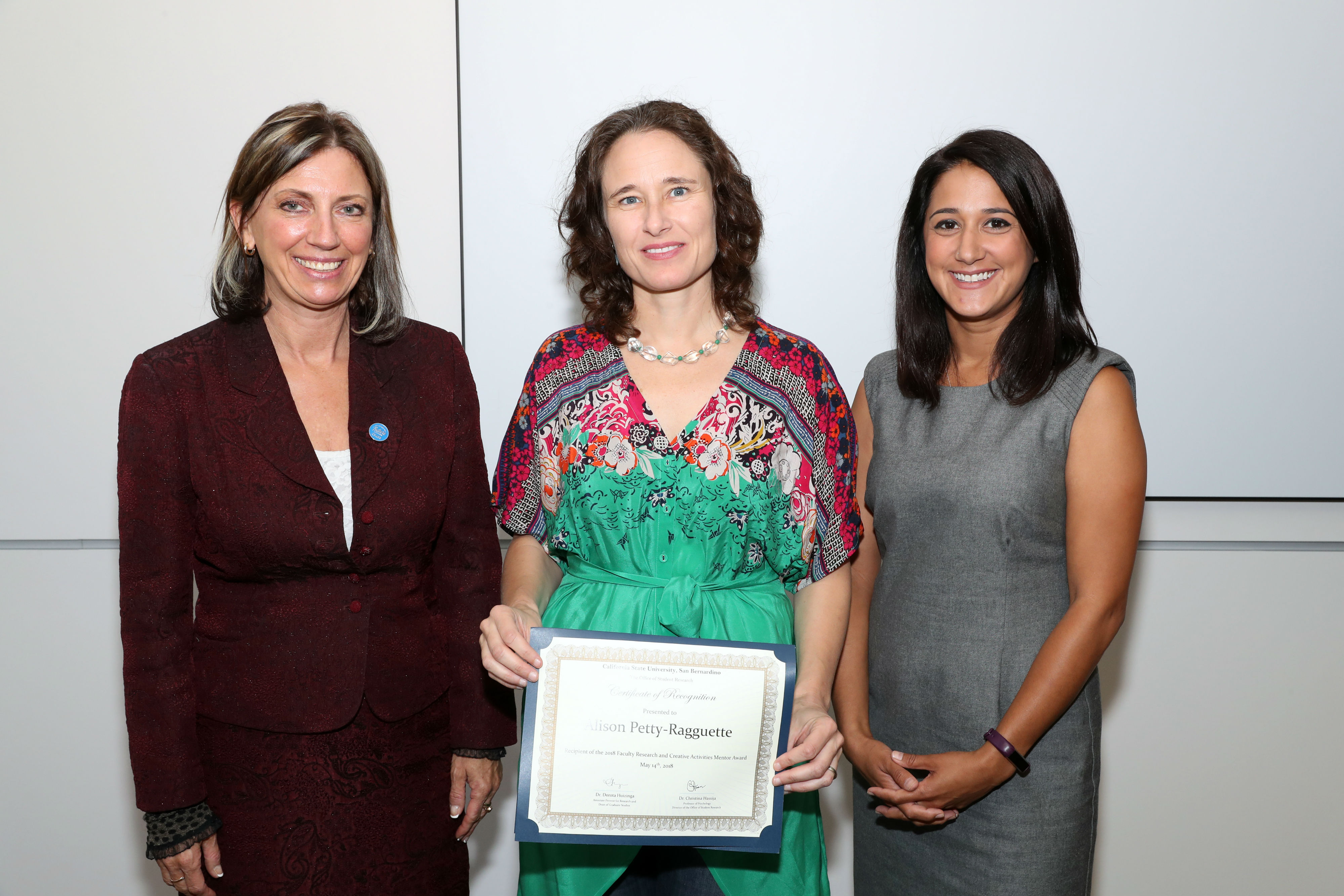 Mentoring students is a vital component of our mission here at CSUSB; it includes offering encouragement and advice on career options and preparing students to meet the highest professional and ethical standards as scholars. In recognition of our faculty, the OSR has created the Faculty Research and Creative Activities Mentor Award.
Award Details
Contingent on the availability of funding, the award will annually recognize the contributions, within the previous two years, of up to five faculty (one per college), whose mentoring is considered exemplary. Each Faculty RCA Mentor Award recipient will receive $2,000. The application review committee will evaluate faculty's contributions to student success and evidence of their mentorship to students in research and creative activities within the previous two academic years.
Mentorship of both graduate and undergraduate students is a broad concept involving all stages of the student educational cycle. Facets of the Faculty Research and Creative Activity Mentor Award include contributions to students' recruitment, retention, and graduation, development of students' research and creative activities, critical thinking, professional skills, career advice and placement, and contributions to a climate which supports a diverse student population.
 
Eligibility
The nominee- must be a full-time tenured or tenure-track faculty member who has been a faculty member at CSUSB for at least two consecutive years. The nominee should not have won the award during the past five years

Nominations Open: November 16th, 2020
Nominations Close: February 16th, 2021
Download Faculty Mentor Award Guidelines
Congratulations to the 2019-2020 Faculty Mentor Awardees
College of Arts & Letters
Dr. Ahlam Muhtaseb, Communication Studies
Dr. Ahlam Muhtaseb is a professor of media studies and the director of the Center for Islamic & Middle Eastern Studies at California State University, San Bernardino. She has a Master's degree in Journalism and a Ph.D. in Digital Communication from the University of Memphis in Tennessee. Her research interests include digital communication, social media, and diasporic communities. Her most recent project is her award-wining documentary 1948: Creation & Catastrophe. The film, co-produced and co-directed with Andy Trimlett, focuses on the year 1948 and its catastrophic consequences on the Palestinian nation which has originated from her field work in the Palestinian refugee camps in Lebanon, Syria, and Palestine. She won the 2019 Rebuilding Alliance "Story Teller" Award. The film also won the Jerusalem International Film Festival's 2019 Special Jury Award in the Feature Documentary category. Currently, she works on a new documentary on the three young Muslims who were murdered in Chapel Hill in 2015 and the state of racism and Islamophobia in the United States.
Jack H. Brown College of Business & Public Administration
Dr. Kimberly Collins, Public Administration
Kimberly Collins, Ph.D. is the Executive Director of the Barbara and William Leonard Transportation Center (LTC) at California State University, San Bernardino. The LTC is a regional transportation center focused on improving innovation in transportation administration and policy through data-driven decision making. In addition to her role at the LTC, she is a Professor of Public Administration at CSUSB and the Faculty Liaison for CLADEA (Latin American Commission for Administration Schools). Kimberly's current research focuses on social equity, sustainability, networks, and democracy in communities, particularly borderlands. She was appointed to the Good Neighbor Environmental Board (a U.S. EPA Presidential Advisory Commission) in 2018 and is the North American Regional Editor for the Journal of Borderlands Studies.  From 1999 to 2009, Kimberly was the Founding Executive Director of the California Center for Border and Regional Economic Studies (CCBRES), located on the Imperial Valley Campus of San Diego State University. She also had an academic appointment from 2007 until 2009 at SDSU-Imperial Valley in the Public Administration Department.
Kimberly received her Ph.D. in 2006 from El Colegio de la Frontera Norte in Tijuana, Baja California. The title of her dissertation work (written in English and Spanish) was "Local Government Capacity and Quality of Life in the U.S.-Mexican Border: The Case of Calexico, California and Mexicali, Baja California / La capacidad del gobierno local y la calidad de vida en la frontera de los Estados Unidos y México: El caso de Calexico, California y Mexicali, Baja California". She received her Masters of Arts in Political Science with a focus on International Relations from San Diego State University. Her Master's thesis was titled "Direct Foreign Investment and Labor Conditions: Case Study of the Mexican Maquilas". She has a Bachelor of Arts in Political Science with a minor in History from the University of California San Diego and a certificate in community economic development from Cornell University.
College of Education
Dr. Lynne Diaz-Rico, Teacher Education & Foundation
Lynne Díaz-Rico is Professor of Education at California State University, San Bernardino where she coordinates the M. A. in Teaching English to Speakers of Other Languages (TESOL) program.  Her books, Course for Teaching English Learners, The Crosscultural, Language, and Academic Development Handbook, and Strategies for Teaching English Learners are widely used in programs of teacher education to prepare teachers for culturally and linguistically diverse classrooms. 
Dr. Díaz-Rico is a past president of California TESOL (CATESOL) and a frequent presenter at CATESOL and TESOL conferences on topics of educational equity, intercultural education, second-language development, and innovative teaching methods.  She is an active mentor of graduate students, frequently co-publishing and co-presenting at statewide and national conferences, She is currently mentoring five international scholars from the College of Extended and Global Education's Khbrat program.
College of Natural Sciences
Dr. Nicole Dabbs, Kinesiology
Dr. Nicole Dabbs is currently an Associate Professor at California State University, San Bernardino in the department of Kinesiology. She received her B.S. and M.S. in Kinesiology at California State University, Fullerton. Her Ph.D. is in Kinesiology from The University of Mississippi. Her research interests include neuromuscular facilitation, adaptation, and recovery during sports performance as well as kinematics and kinetics during sports movements. Nicole is active in her scholarship and has published 24 peer-reviewed manuscripts and 58 published peer-reviewed abstracts in the field of kinesiology. Nicole is proud of the hardworking undergraduate students that have worked with her on research projects in the Biomechanics Laboratory at CSUSB. She is an active member of the American College of Sports Medicine, where she serves as a regional chapter board member. Nicole is also an active member of the National Strength and Conditioning Association where she is the Vice President of the NSCA Foundation and was awarded NSCA Fellow in 2018.  
College of Social & Behavioral Sciences
Dr. Manijeh Badiee, Psychology
Manijeh Badiee, Ph.D., is an Associate Professor of Psychology at CSUSB and a licensed counseling psychologist in California (License# PSY 30484) at Collaborative Psychology Group in Riverside. She teaches undergraduate psychology students as well as graduate students in the Master of Science in clinical counseling program. The courses she regularly teaches are relevant to psychotherapy (e.g., Advanced Clinical Seminar and Counseling Theories) as well as to diversity (e.g., Psychology of Women and Cross-Cultural Counseling). Mentoring is one of her most treasured roles and she feels particularly honored to mentor students at CSUSB. Dr. Badiee's research is on women's empowerment, with a focus on Iranian and Latina women. She routinely provides presentations on diversity-related topics to community members, students, and faculty. She has over ten years of experience counseling clients of various backgrounds and specializes in women of color, clients in ethically non-monogamous relationships, LGBTQ individuals, and/or adolescents. She currently serves as the Diversity Domain Representative for American Psychological Association, Division 29, Society of Psychotherapy.