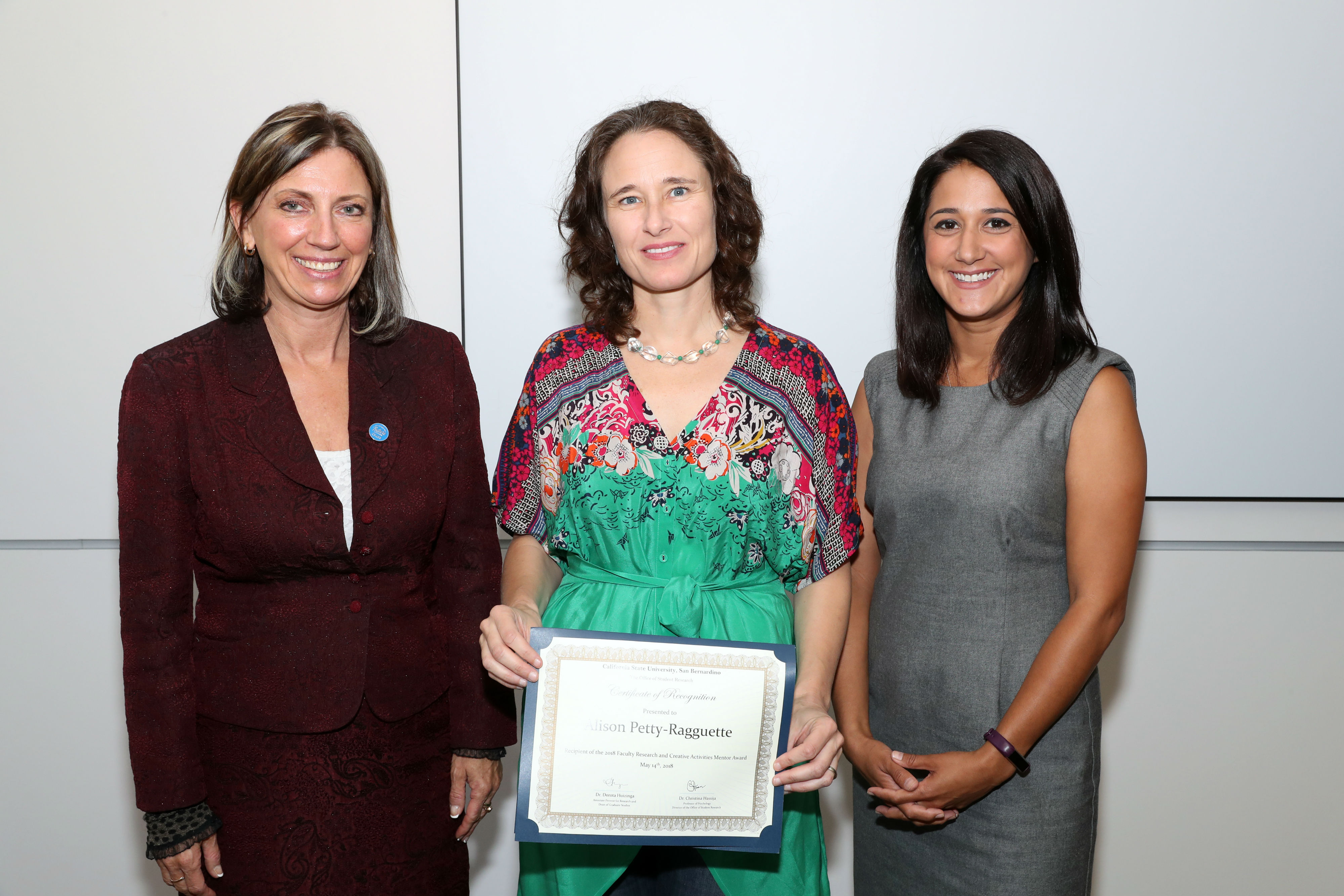 Mentoring students is a vital component of our mission here at CSUSB; it includes offering encouragement and advice on career options and preparing students to meet the highest professional and ethical standards as scholars. In recognition of our faculty, the OSR has created the Faculty Research and Creative Activities Mentor Award.
Award Details
Contingent on the availability of funding, the award will annually recognize the contributions, within the previous two years, of up to five faculty (one per college), whose mentoring is considered exemplary. Each Faculty RCA Mentor Award recipient will receive $2,000. The application review committee will evaluate faculty's contributions to student success and evidence of their mentorship to students in research and creative activities within the previous two academic years.
Mentorship of both graduate and undergraduate students is a broad concept involving all stages of the student educational cycle. Facets of the Faculty Research and Creative Activity Mentor Award include contributions to students' recruitment, retention, and graduation, development of students' research and creative activities, critical thinking, professional skills, career advice and placement, and contributions to a climate which supports a diverse student population.
 
Eligibility
The nominee- must be a full-time tenured or tenure-track faculty member who has been a faculty member at CSUSB for at least two consecutive years. The nominee should not have won the award during the past five years. Nominations should be submitted here. 

Nominations Open: February 14th, 2022
Nominations Close: March 14th, 2022
Congratulations to the 2020 - 2021 Faculty Mentor Awardees
Dr. Meredith Conroy
College of Social and Behavioral Sciences
Department: Political Science
Bio: Meredith Conroy earned her PhD in political science from the University of California, Santa Barbara, and joined CSUSB in 2013. Since joining CSUSB, Conroy has had the pleasure of researching all sorts of political topics alongside students and working with them to help them reach their professional goals. 
Dr. Julie Taylor
College of Art and Letters
Department: Communication Studies
Bio: Dr. Julie L. Taylor is an Associate Professor in the Department of Communication Studies. Her research interests include organizational, policy, and gender communication. Overall, Dr. Taylor takes a community-based approach to her research and teaching. She is also one of the co-directors of the Speaking Center at JHBC, an interdisciplinary collaboration between the JHBC and CAL. Dr. Taylor has published peer-reviewed articles in nationally and internationally ranked journals such as: The Journal of Human Trafficking, Communication Education, the Western Journal of Communication, the Journal of Business and Technical Communication, Connexions: International Professional Communication Journal, among other scholarly journals and outlets. 
Dr. Nasrin Mohabbati
College of Business and Public Administration
Department: Information and Decision Sciences
Bio: Dr. Nasrin Mohabbati is an assistant professor in the Information and Decision Sciences Department. Nasrin received her Ph.D. in Industrial and Systems Engineering from Auburn University in 2019. Her dissertation focused on developing stochastic and robust models to efficiently design the hazardous materials supply chain networks. As a graduate student, she was the recipient of the Frank Sturm Memorial Fellowship in recognition of excellence in multidisciplinary research, and the first awardee of the Dr. Saeed Maghsoodloo Annual Assistantship in recognition of her teaching. She also received several leadership awards such as the 100 Women Strong Graduate Leadership Award in recognition of her leadership roles.
Nasrin's research interests are operations research and data analytics with applications in emerging logistics systems and supply chain management. She has published 6 peer-reviewed journal papers and 1 book chapter and has presented her research in 11 conferences. Nasrin serves in the core team of developing the strategic plan for Southern California Logistics Center of Excellence led by the Inland Empire Economic Partnership (IEEP). Nasrin teaches undergraduate and graduate-level courses in managing the supply chain, global logistics, supply chain analytics, and data-driven decision making. She has mentored 10 students for different research projects and student competitions, in her short time in CSUSB. She believes in empowering each and every student by providing them various opportunities such as getting them involved in research and creative activities.
Dr. Nicole Bournias-Vardiabasis
College of Natural Sciences
Department: Biology
Bio: Received my Ph.D. from University of Essex UK ./Developmental Genetics. Before coming to CSUSB, I was a research scientist at City of Hope Beckman Research Institute. In my 33 years at CSUSB, I have mentored more than 300 students. I have had 100+ in my research lab. Have received a number of external grants including a recent one for 500,000 from the Department of Defense. My most valuable grant has been one from the California Institute of Regenerative Medicine that has supported more than 100 students in the last 11 years. Total money awarded is more than 5 million.
Dr. Roderick O'Handley
College of Education
Department: Special Education, Rehabilitation and Counseling
Bio: Roderick D. O'Handley, Ph.D. is an Assistant Professor in the School Psychology program at CSUSB. He received his B.A. in Psychology from CSUSB in 2011, and his Ph.D. in School Psychology in 2016 from the University of Southern Mississippi. He completed his internship and post-doctoral research fellowship at the Munroe-Meyer Institute for Genetics and Rehabilitation at the University of Nebraska Medical Center.
Dr. O'Handley has experience working in schools, behavioral health clinics, and integrated behavioral pediatric clinics providing care to school-aged youth and their families. Dr. O'Handley's research interests fall under the scope of behavioral assessment and intervention. His specific research interests include the assessment and treatment of social skill deficits, coaching teachers and parents to implement evidence-based interventions, and helping teachers manage classroom behavior using class-wide interventions. Students in Dr. O'Handley's Behavioral Assessment and Intervention Research (BAIR) Lab are actively involved with manuscript reviews for peer-reviewed journals, grant writing, presenting research at university, state, and national conferences, and publishing in peer-reviewed journals.
Dr. O'Handley is especially proud to note the numerous awards, honors, and related accomplishments the 6 students on his research team have earned the past year in recognition of their contributions to research and practice. These include research awards (n=2); Outstanding Student Awards (n=2); university, state-wide, and nationally competitive scholarships and fellowships (n=6); and entry into prominent summer research/clinical or doctoral programs (n=3). Examples of student awards, scholarships, and accomplishments include: CSUSB Student Research Competition winner; the Outstanding Student Award for the School Psychology program at CSUSB; the overall Outstanding Graduate Student Award for the College of Education at CSUSB; the National Association of School Psychologists Minority-ERT Scholarship; the California Association of School Psychologists Cultural, Linguistic, and Diversity Award; and entry into the Summer Research Opportunities Program at the University of Illinois at Chicago.