The Family PACT program is a State program that provides clinical services for family planning at no cost to eligible California residents.  After enrolling in Family PACT, students will receive a teal Health Access Program (HAP) card, which can be used at any provider that offers Family PACT in California.
Students enrolled in the Family PACT program must be eligible at the time of service to receive program benefits.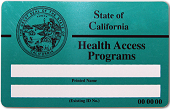 Health Access Program Card
Make sure to bring your card with you for all Family PACT services.
Family PACT hours:  Mon. - Thurs. 9:00 a.m. to 12:00 p.m. and 2:00 - 3:40 p.m.
Hours may vary.
Overview
The Family PACT program provides confidential no-cost family planning services to all qualifying students.  Typical services include:  birth control counseling and methods, condoms, emergency contraception, and reproductive health screenings.
Eligibility
Check the Family PACT website to see if you are eligible.  If you are eligible for Family PACT and family planning services are provided, you may be eligible for free testing, diagnosis, and treatment of sexually transmitted Infections (STIs) and vaginal infections.
How to Enroll or Re-Certify
Please follow the steps below to check your eligibility for Family PACT and to complete the Family PACT application:
Applications are available at the Student Health Center, or download and complete the Family PACT Application (CEC form). 
Additional Tips include:  1) Use black or blue ink only. 2)  If you make a mistake, put one line through the mistake and write your initials next to it.  [For example:   STUDNENT   JC]  3)  Do not scribble, or use white out.
You do not need to make an appointment with the Family PACT enroller to get help completing your application, just bring your application with you.
If you are already enrolled in Family PACT, makes sure to re-certify your Family PACT card before it expires. Your card is active for one year from date of enrollment. To speed up re-certification process follow the above instructions. 
To access Family PACT services outside of the Student Health Center, you can use the "Find Providers" feature on the Family PACT website, in the upper right-hand corner, or call the Family PACT toll-free information telephone line at 1-800-942-1054.
Additional Family PACT Information
What birth control methods are covered by Family PACT?
Condoms
Emergency Contraception
Birth Control Pills
Contraceptive Ring (Nuva Ring)
Contraceptive Shot (Depo)
Contraceptive Implant
Intrauterine Contraceptive (IUC)
Contraceptive Patch*
Diaphragm and Cap*
Spermicides and Sponge*
Natural Family Planning Methods*
Sterilization for men and women*
*Available by referral