Interim Director
Jackie Varela joined the Office of Student Engagement in November of 2017. She received her BS at Georgia Southern University in Biochemistry and Masters of Science at the University of Tennessee in College Student Personnel.  Jackie is a proud member of Kappa Kappa Gamma Women's Fraternity and is passionate about reading, fitness and all things Disney.  She brings 6 years of experience working with fraternities and sororities, leadership development and large scale event planning for students. Jackie is committed to a student-centered advising approach and supporting students in authoring their own college experience. She directly oversees the Interfraternity Council.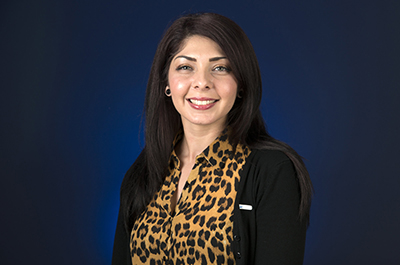 Finance and Administrative Support Coordinator
Dana joined Office of Student Engagement in April of 2014. She came to CSUSB with 10 years of professional experience in the auto industry; giving her a strong sense of the importance of customer satisfaction. Dana enjoys translating that emphasis to the CSUSB campus community whom she has the opportunity to work with every day. Dana makes it her priority to provide a helpful and positive experience to all students, staff, faculty, and off campus guests that visit Office of Student Engagement. Dana provides administrative support to Office of Student Engagement staff as well as student programs including student organizations, Greek life, Commuter/Transfer programs, and campus events. She is also excited to support the campus wide use of the student involvement platform Coyote Connection. Her favorite part of her role here at CSUSB is having the opportunity to watch the student's growth through-out their academic and co-curricular journey and having the opportunity to support that success in any way she can. 

Dana considers herself a true "Cali" girl, in which she is proud to say she was born and raised! She loves cheering for her daughter at her soccer and softball games and going for walks with her children and their little Yorkie Angel.
Damaris Zepeda
Student Assistant
Major: Biology
Class Standing: Sophomore
Interests: I enjoy movies, Marvel, concerts and The Weeknd. I love the beach! I want to travel the world.