Social Justice Summit
February 7th, 2020
Register Here:
The theme of this year's summit is "Vision 2020: Through a Local Lens" in which we aim to encourage presenters & attendees to look at social justice through a local lens and what work they can do to impact our local community. With the 2020 Census upon us, we wanted to encourage our participants to analyze the ways social justice can show up in the community around them.
Learning Outcomes: 
To gain a foundational understanding of social justice issues, identities, privilege & oppression
To identify inequities in our local community and how we can address them
To understand the relevance of social justice in relation to civic engagement
To attain the confidence to continue these conversations around social justice issues & civic engagement outside of CSUSB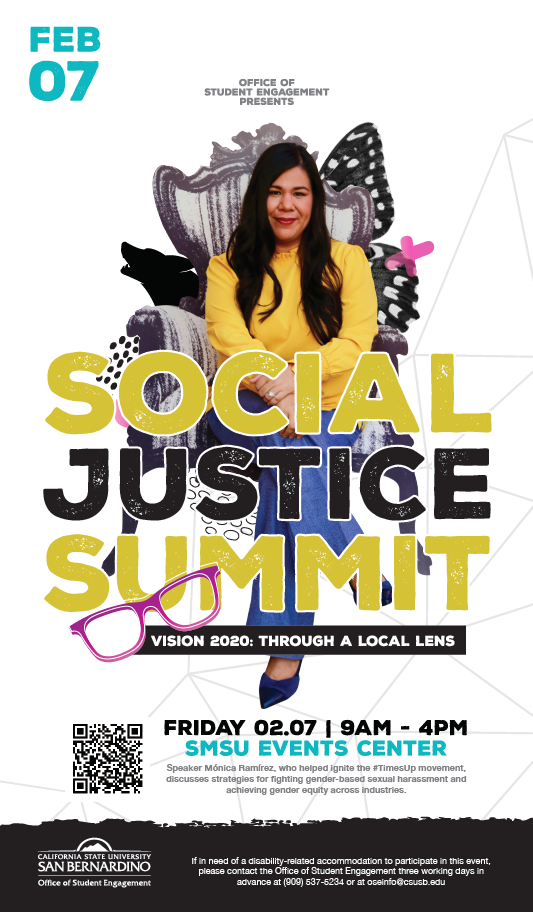 A Look at Social Justice Summit 2019
The Social Justice Summit will encourage students to understand their own social identities as well as of those around them, acknowledge their own privilege & marginalized identities to become allies for diverse & inclusive spaces, develop a sense of agency & obligation in order to change the "narrative" and establish a sense of pride & saliency with their own identities.
Through interactive breakout sessions, engaging activities and a keynote session, we will teach students to embrace their identities and become allies within their community.