Meet EOC Director Fernando Marquez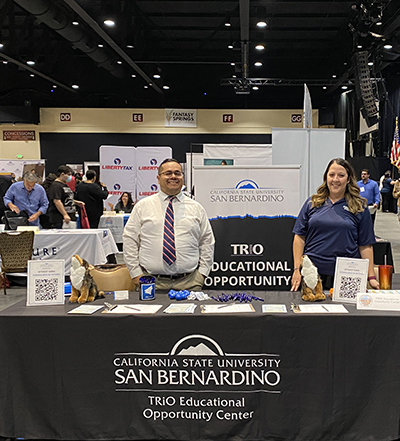 Fernando Marquez is the director of the Educational Opportunity Center (EOC). He joined the Coyote family in April 2022. Prior to CSUSB, Fernando worked at California State Polytechnic University, Pomona, as an Admissions Counselor.  
EOC is CSUSB's first federal TRIO program specifically targeting students in the Coachella Valley. The Educational Opportunity Center is one of the eight federally-funded TRIO programs targeted to serve and assist low-income individuals, first-generation college students, and individuals with disabilities to progress through the academic pipeline.  
In his current role, Fernando oversees and supports his team of staff members, interns, and paraprofessionals. The team is cross-trained to learn the different areas of the department, which helps the team to provide high-quality customer service to the community.  
According to Fernando, each team member has a specialty, and he taps into their talents to accomplish the department's mission.  
"Our ultimate goal is to help adults in this community get more education under their belt," said Fernando. "We want to see more adults from the community earn a high school diploma, and if they already have that, we want to see them pursue higher education."  
In addition, Fernando performs community outreach, which includes conducting presentations with family centers, meeting with community leaders, establishing memorandums of understanding, and handling complex advising cases.  
Fernando describes the Educational Opportunity Center as the "search and rescue team of education." The EOC team supports community members through the process of exploring programs, careers, and majors. The department also provides information about financial and academic assistance to those who want to attend college, assistance to individuals in applying for admission to colleges and universities, and information regarding financial and economic literacy. 
"As long as that person wants to continue their education, we want to sit down with them and support them with that process," said Fernando.   
In addition to college exploration, EOC provides a variety of services, including college and financial aid application assistance, academic coaching, individual advising, group workshops, and referral to educational and community resources. 
For Fernando, the best part about his job is making an impact in the community and collaborating with his colleagues.  
"Just knowing you're making someone's day because you're offering to help them with something that matters to them and it's going to make an impact for the rest of their life is very rewarding," said Fernando. "I also draw a lot of energy and inspiration from a lot of the work that my colleagues are doing and just being able to collaborate with other like-minded individuals who are just as passionate about making a difference for the communities is really exciting."