CSUSB Welcomes Women's Resource Center Coordinator Navneet Singh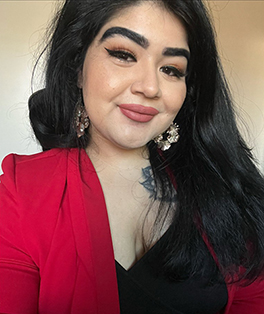 Navneet Singh was a student assistant at the Women's Resource Center (WRC) for a year before she transitioned to her current role as coordinator in October 2022.  
She is pursuing her graduate degree at CSUSB in English and Writing Studies with a concentration in Rhetoric and Composition. At CSUSB, Navneet has had the opportunity to be a graduate assistant for the Public Administration department and teaching associate in the English department.  
As coordinator of WRC, Navneet oversees a team of student assistants. She makes it a priority to check in with her team regularly, guide their ideas for programming, and help them become student leaders.  
For Navneet, students are at the forefront of her role. She also makes it a point to have conversations with students who visit the center. These conversations help guide the programming at WRC and ensures the center is providing events students want and need.  
According Navneet, the best part about her job is being around the students. 
"It makes me feel good that I can actually mentor students," said Navneet. 
When Navneet was hired, she made it a priority to learn about the community and campus resources to establish partnership and provide students with extra support.  
The Women's Resource Center provides students a variety of services, including a feminist resource library, where books are available to take and borrow; free hygiene items, such as pads and tampons; a resource table with information about WRC's community partners; free printing; and access to a Keurig, refrigerator, and microwave. 
"We have a quiet space for students to come in and study," said Navneet.  
The center is a welcoming and inclusive environment for all students. It is a place for students to gather, gain support, and learn tools for social change.  
To access information about the Women's Resource Center, click here