Undocumented Student Success Center Peer Mentors Connect Students to Resources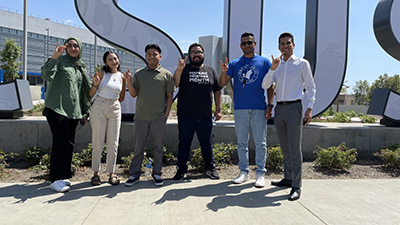 The Undocumented Student Success Center (USSC) welcomes, supports, and empowers undocumented students and students from mixed immigration status families on their educational journeys at the San Bernardino and Palm Dessert campuses. This is accomplished by providing resources and services that meet their unique needs.  
USSC's peer mentor program officially relaunched in fall to aid in this effort. The center has four peer mentors this academic year. The mentors are student leaders who are trained on the resources that are most helpful to CSUSB undocumented students.  
A critical responsibility of the student mentors is to provide university resources to students.  
"We rely on them to help us communicate that information to our students who visit us here at the center," said Jairo Leon, Undocumented Student Success Center Director.  
He added, "I think that's the real value of our peer mentors. They are people that know our university resources, are very approachable to our students, and are ready to refer our students appropriately to me and [USSC's] academic advisor."
Some other responsibilities of the peer mentors include helping USSC with marketing, their reception desk, and being the first face students and visitors see when they enter the center. 
"It's always going to be one of our peer mentors who our visitors encounter first," said Jairo.  
The peer mentors also help design and facilitate the center's programs. 
"When we're thinking about what our community gathering is going to look like, I always invite and involve our peer mentors in that discussion," said Jairo.  
This semester, the peer mentors have helped facilitate nearly 40 events that USSC has hosted or collaborated on with campus partners.  
In addition to programming, USSC offers a variety of services, including free legal support. The center partners with the organization CARECEN to provide this service to students. CARECEN performs immigration intakes to ensure students know their eligibility for any immigration relief opportunities. The center also helps students navigate financial aid and submitting the California Dream Act application.  
At USSC, walk-ins are always welcome. Students can meet with a peer mentor by visiting the center during operating hours. 
To access information about the Undocumented Student Success Center, click here