Student Affairs Celebrates Womxn's History Month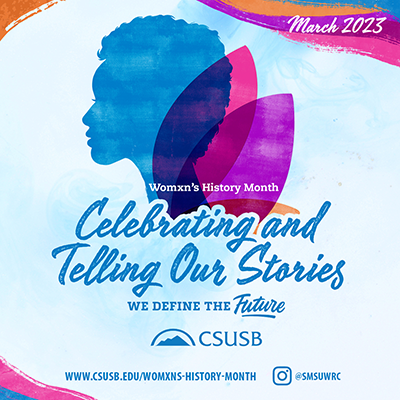 In March, CSUSB celebrated Womxn's History Month with a variety of virtual and in-person events in honor of the courage, accomplishments, and triumphs of women throughout the years. It was an opportunity to teach students about women's contributions to history, culture, and society. Student Affairs proudly participated in the annual celebration by hosting events and collaborating with campus partners.  
This year's theme for Womxn's History Month was "Celebrating and Telling our Stories" to amplify the voices of diverse womxn and recognize their contributions across various sectors and disciplines.  
"I saw some people get really emotional at our kick-off event, which is something that really relates to me," said Navneet Singh, Womxn's History Month committee co-chair and Women's Resource Center Coordinator. "I think that we hold enough inside already, but when the opportunity comes up for us to share with others and have that support, then it's really nice to let go." 
Navneet added, "That's my approach whenever I host programs is to make sure that we have a safe space and that we're talking about things that are going to essentially help us grow and address things that maybe we don't always usually address." 
The month-long series of programs concluded with the annual Womxn's Leadership Conference on March 22 from 9 a.m.-3 p.m. 
To access the full list of events and additional information, click here