Student Affairs Welcomes ASI Executive Director Michael Rister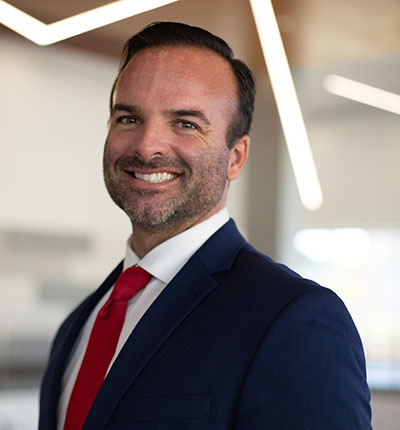 The Division of Student Affairs welcomes Michael Rister as the new Executive Director of Associated Students, Inc. (ASI). His first day was on December 20, 2022.  
Michael has a rich background in higher education. As an alumnus of Cal State San Bernardino, Michael started off his career in higher education as a student assistant in Recreation and Wellness. He worked the first half of his career in student recreation at Loma Linda University, where he served as a lead representative for student programming and recreation development. After several years, Michael was welcomed back to CSUSB to teach Kinesiology courses. Helping students progress through their field of studies, Michael has always been student-focused and strived to help students grow academically and professionally. 
Michael is committed to keeping the student experience as the focal point of his work and assisting students with developing a strong connection between themselves and the CSUSB campus. He wants students to know that ASI is an office for the students.
"It's amazing to watch our student workers come in and not only do their studies, but also design these flyers, design these programs," said Michael. "Our committee members, our board members, are sitting there and making decisions based on the information that comes in. And it's very exciting to see our students do these, I guess you could classify as, adult roles, but they're doing very well in these positions."
ASI provides the following services:
CAB Funding: The Club Allocation Budget offers funding to chartered campus clubs and organizations for on-campus events and conferences.
Graphic Design: The ASI Graphic Design team is made up of talented students who are skilled in providing thoughtful design solutions. The team offers design services for chartered student organizations and clubs on campus.
Programming: ASI hosts events to engage students in curricular and co-curricular activities that foster a sense of community and campus pride.
Howl Squad: ASI's volunteer program offers CSUSB students a chance to get involved in ASI through various leadership opportunities. Students can choose to be part of the event planning process by helping with ASI events or participate in the governance process by serving as a student representative on campus-wide committees. For more information, visit www.csusb.edu/asi/howl-squad.
Scholarships: As a commitment to academic success, ASI offers scholarships through its general fund as well as to the Athletic and Presidential Academic Scholars programs.
This semester, Michael is looking forward to ASI's upcoming events and elections. There will also be a focus on student development and ensuring their programs are in alignment with CSUSB's strategic plan.
ASI collaborated with campus partners to host the annual Late Night that was held on Friday, Jan. 27, from 6-10 p.m. In addition, ASI will host a Valentine's Day event next month and tabling sessions throughout campus, where students can learn about ASI and get free giveaways.
ASI gives students the opportunity to get hands-on experience, gain leadership skills, build a network, and get involved at CSUSB. Call the ASI office at 909-537-5932 or click the link below for more information. Walk-ins are also welcome. Stay connected and follow ASI on social media: Facebook, Instagram, Twitter, and YouTube.