Basic Needs Program Expands to New Department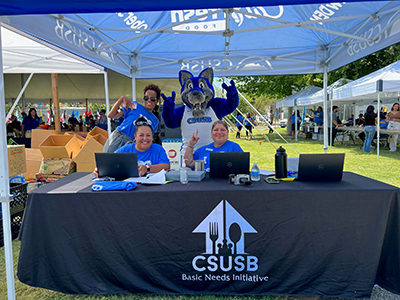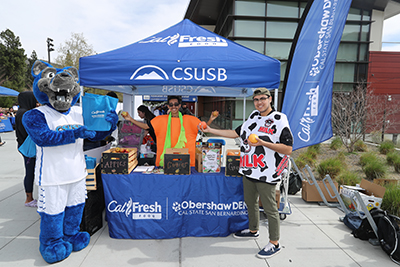 The Basic Needs program has expanded to the new department of Basic Needs and Student Support.

"Due to increasing demands to support the needs of the students, establishing the department of Basic Needs and Student Support will be a key step to creating a comprehensive student-centered ecosystem to scale programming services, enhance support services, and increase staff resources," said Dr. Terri Anderson, Director of Basic Needs and Student Support.

During the 2018-19 academic year, a basic needs assessment was conducted at both the San Bernardino and Palm Desert campuses. The assessment concluded that 37% of CSUSB students experienced food insecurity and 10% experienced housing insecurity. 

"The [COVID-19] pandemic exacerbated existing inequities, compounded basic needs insecurity for many CSUSB students, and further hindered their educational success," said Dr. Anderson. "During the 2021-22 academic year, 1 out of every 3 students who received services for food insecurity indicated they were feeding 2-6 individuals within their household."

Basic Needs and Student Support has big plans ahead. The department would like to implement a new Basic Needs Educational Co-curricular program, expand equity and access, develop a data collection and analysis basic needs and student support dashboard, and scale food and hygiene resources to ensure students have consistent access.

In addition, the department also wants to focus their efforts on overcoming the housing crisis. This will be accomplished by looking at ways to sustain funds to support student housing.

"We desire to provide consistent access for stable and safe housing," said Dr. Anderson.

The department can be broken down into three key areas: food security, housing security, and financial stability. The department provides the following services:
Housing Security
Short term emergency housing
San Bernardino County Community Resource Hub
Food Security 
The Obershaw DEN  
PDC DEN Food Pantry
CalFresh  
Financial Security
Grant programs 
Basic Needs emergency grant
COVID-19 emergency grant
Bridging the Gap Grant
The Obershaw DEN is located in the Santos Manuel Student Union South, Room 224. To access the Palm Desert DEN Food Pantry on the Palm Desert Campus, visit the Health Science Building, Room 118. Students can stop by during operating hours to grab a healthy snack or quick meal.

Stay connected and follow Basic Needs on Instagram @CSUSBBasicNeeds and @CSUSBBasicNeeds_PDC to find out about upcoming events and resources. Call the Obershaw DEN at 909-537-3663 or Palm Desert Campus DEN at 909-537-8173, or click the link below for more information.
To access information about Basic Needs and Student Support, click here