CSUSB Athletics Welcomes New External Relations Team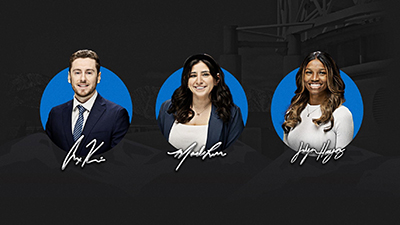 -Alex Kline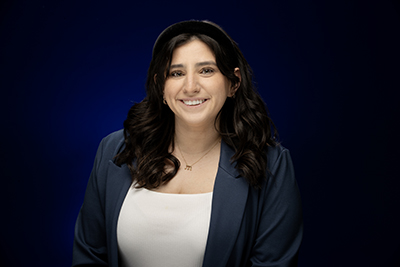 -Madeline Luna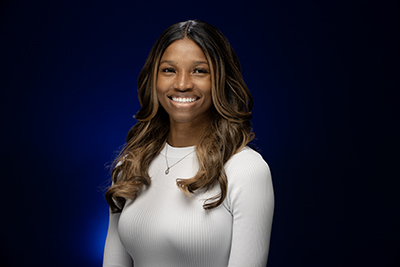 -Jalyn Hayes
Cal State San Bernardino Athletics was excited to welcome three new members to its administrative staff – Alex Kline, Madeline Luna, and Jalyn Hayes. Together these three will oversee nearly all aspects of game day promotions and execution under the supervision of Deputy AD/Senior Woman Administrator Dr. Chelsea Herman.

"CSUSB Athletics has made great strides in recent years with brand recognition, in-game production, digital content, game day operations, and communication efforts," said Dr. Herman. "Alex, Maddy, and Jalyn were strategically selected from a qualified pool of candidates for their individual talents, high energy, passion, and commitment to the student-athlete and fan experience."

She added, "In a short time, all three members have stepped in and made an immediate impact. The future is bright, and I could not be more excited to welcome these Champion People to the Yote family."

Alex Kline
Assistant Athletics Director, Communications and Marketing – started October 2022
 
In his role at CSUSB, Alex will oversee all aspects of sports information and marketing for the Athletics Department's 10 programs. His responsibilities include updating csusbathletics.com with the latest news, schedules, rosters, scores, statistics, and historical records. On the marketing side, he will manage the department's game day promotions, graphic designs, and social media strategies. Alex will also assist with game management for all home events, supervising dozens of student staff, including the production of the live stream on the CCAA Network.

"I am both honored and extremely excited to join the CSUSB Athletics staff as the Assistant Athletics Director of Communications and Marketing," said Alex. "Coming from a marketing background, I hold tremendous value not only for the information that is being shared, but how that information is being presented."

He added, "With this in mind, I hope to help unify the Athletics department's brand image across all mediums through enhanced graphics and creative content. By doing this, it will allow our department to better share the successes of our student-athletes. I look forward to working with the amazing coaches and administrative staff at CSUSB to continue telling the story of our accomplished student-athletes." 

From 2020-2022, Alex was an assistant in Concordia University Irvine's (CUI) sports information department. While at CUI, he introduced a social media strategy that enabled their following to grow 25% over the course of 18 months, 7% more than any other school in the PacWest Conference during that same period. This growth played a significant role in Concordia being named the 2021-22 PacWest Conference Sports Information Department of the Year. In addition to contributing to the Athletics department, Alex earned a Master of Business Administration (MBA) from Concordia in May 2022.

Alex graduated from Cal Poly Pomona in 2019 with a bachelor's degree in Business Administration with an emphasis in Computer Information Systems and a minor in Marketing Management. He was also a member of the Bronco baseball team, making it to two College World Series and playing numerous games at Fiscalini Field against Cal State San Bernardino.
 
Madeline Luna
Game Operations and Facilities Coordinator - started November 2022
 
In her role at CSUSB, Madeline will lead work direction for all sporting events with an emphasis on fan and game day experience. She will also be responsible for the execution of logistics, facilities maintenance scheduling, supervision and training of support staff on game management, and event setup and breakdown.

"As the Game Operations and Facilities Coordinator, my goal is to be able to continue cultivating the championship environment that we have here at CSUSB," said Madeline. "Our goal is to create this environment for student-athletes, coaches, administration, students, friends and family, and for anyone else that comes to our campus."
She added, "I'm excited to be a part of such a talented and youthful external relations team that strives for excellence. Those around me help push me to be better at my job each and every day and have so much wisdom that I can learn from."
 
Madeline served as the Athletic Administrator of Game-Time Management and Facilities at Concordia University Irvine from August 2021-May 2022, where she was the liaison for CUI's 24 athletic teams and visiting opponents. Most recently, Madeline worked at Texas A&M International University, where she was the Assistant Sports Information Director. She led student workers, managed all social media accounts, conducted website management, and was responsible for schedules, rosters, statistics, and the history of their 11 teams.
 
Madeline started her career in Athletics as an undergraduate at the Vanguard University of Southern California (VU), where she was the Social Media Manager of the VU Lions Instagram and Twitter for over two years. In addition to being a part of the VU Lions media team, Madeline was a member of the women's soccer team from 2017-2019. During her time at Vanguard University, Madeline provided live statistics, promotions, in-game photos, and videos to all social media platforms for at-home viewers.
 
Jalyn Hayes
Athletics Communications and Marketing Coordinator - started December 2022
 
Holding similar responsibilities to Alex, Jalyn will assist with all aspects of sports information and marketing for the Athletics department's 10 programs. This includes providing the latest news, schedules, rosters, scores, statistics, and historical records on the Athletics website. On the marketing side, Jalyn will continue to make contributions to the department's game day promotions, graphic designs, and social media strategies.

"This year, I look forward to stepping up the overall game and fan experience at CSUSB," said Jalyn. "We want to improve all aspects of Athletics, including unifying our brand, putting on one of the best (if not the best) productions weekly, and being a force in [Division II] on and off the field."

She added, "I am really looking forward to working with this new team that's been developed. Everyone is so talented in their own individual craft, and in the few weeks we've been together, it's already been a massive impact on the department. It makes me excited to see where we'll be by the end of the school year and the year following that."

Jalyn began working for CSUSB Athletics as a Graphic Design Intern before continuing as a Graphic Design student assistant and Marketing Specialist. She worked to create promotions, digital and print media, and department communications. Jalyn also assisted in the visual redesign of the Student Athlete Academic Success Center and storage room. This work continued throughout her time at CSUSB as a student-athlete. Jalyn played on the Women's volleyball team (2018-2021) and was a member of the undefeated NCAA Division II national championship team in 2019. She graduated in May 2021 with a Bachelor of Arts in Graphic Design and Marketing with a minor in Sports and Entertainment Marketing.
 
Most recently, Jalyn worked as a Content Insertion Specialist with Disney Steaming Services. There, she broadcasted and monitored event feeds, coordinated commercials, and published events to the various streams.