CSUSB Welcomes First Peoples' Center Coordinator Carlos "Two Bears" Gonzales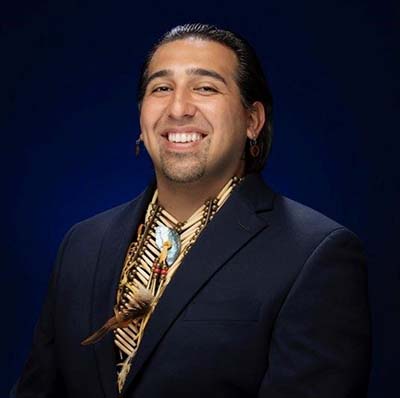 Meet Carlos "Two Bears" Gonzales! He joined the Coyote family in August as the Coordinator of the First Peoples' Center.

"Being offered the job here was more than being offered a coordinator role," said Carlos. "It was very meaningful in the sense of being able to represent the culture and represent my tribe that once roamed these lands too."

Cal State San Bernardino sits on the territory and ancestral land of the San Manuel Band of Mission Indians (Yuhaaviatam). Carlos is of the Gabrielino Tongva tribe, who once roamed the same ancestral lands CSUSB is on.

The First Peoples' Center is dedicated to supporting the academic, personal, and professional success and development of indigenous students, while celebrating their traditional heritage. The First Peoples' Center also provides students who identify as American Indians, Alaska Natives, and Native Hawaiians with a place to find a sense of community and support.  

"Being a hub for the greater campus community, both indigenous or not indigenous, is very important to me," said Carlos. "You don't need to be indigenous to be here."

He added, "We need our allies just as much as we need each other."

In his role, Carlos serves as a support system to students and provides resources to help them achieve their goals. This is accomplished by providing a welcoming space at the First Peoples Center' for students to come and learn about the indigenous culture, grab a snack between classes, or use some of the many services available.

At the center, students have access to a computer lab and free printing, free snacks and drinks, a cultural library, and comfortable environment to study, relax, and meet-up with friends.

Carlos also ensures students have access to therapeutic resources to use in-between classes, such as stencils, painting supplies, and beading materials. According to Carlos, the native community lead the country in alcohol and drug abuse, domestic violence, and suicide, which has affected his family personally. Therefore, he makes it a priority to check-in with students because of the importance he places on mental health.

"I want this place to feel like a home for students whether they are indigenous or not, because I truly believe in mental health and helping students that may be struggling with classes or at home."

Programming is another important aspect to his role. Carlos ensures that the First Peoples' Center's events are both fun and educational. After the California Native American Day and the San Manuel Pow Wow events at CSUSB, the center had an increase in visitors who were interested in learning more about the indigenous culture. Carlos and his team of student assistants welcomed the opportunity to share information and continue the conversations.

In November, the First Peoples' Center hosted events in honor of Native American Heritage Month, including basket weaving workshops on Nov. 1 and 15. Each event provided the center an opportunity to educate the campus community about the indigenous culture and history. For example, at the events, participants learned not only how to make the baskets, but also why the baskets are made and how they are used.

At CSUSB, there are indigenous students from different countries and throughout the U.S. that frequent the First Peoples' Center.

"The representation is from all over the map in here," said Carlos. "Through laughter and communication, we are all learning from each other, learning what others have been through."

Stay connected and follow the First Peoples' Center on Instagram @FirstPeoplesCenter_CSUSB.
To access information about the First Peoples' Center, click here