Students Attend Annual HACU Conference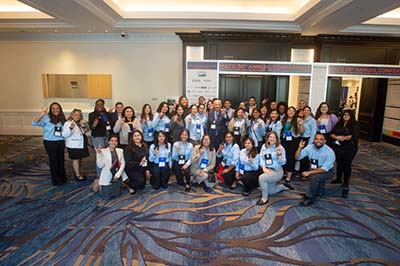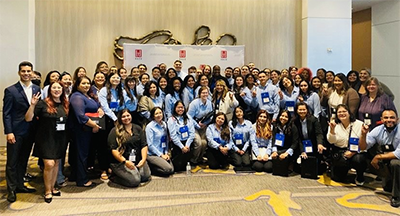 The Career Center prepared 70 students for the 36th annual Hispanic Association of Colleges and Universities Conference (HACU) held on Oct. 8-10 in San Diego by providing a variety of professional development activities prior to the event. The three-day conference gave students the opportunity to attend workshops, a career/grad school fair, employer info sessions, luncheons, dinners, and networking activities.  
"The HACU professional conference and Career Center preparation series leading up to the program, provided students with access to not only participate in the conference but an invaluable opportunity to confidently expand their network, pursue professional career opportunities, and further explore graduate programs," said Dr. Tiffany Bitting, Director of the Career Center. "Experiencing HACU alongside our students and colleagues further cultivated our CSUSB community while representing our campus nationally."
She added, "I am excited for the opportunities HACU will present to our students and for what is to come for HACU 2023!"

This year, 2,500 students from various colleges and universities across the country were expected to attend. The conference gave students the opportunity to secure internships and full-time employment by networking with hundreds of potential employers. Titled "Championing Hispanic Higher Education Success: Rebuilding a More Resilient and Inclusive America," this year's  event was the first in-person conference since 2019.

Prior to the conference, the Career Center held a series of activities to prepare students for the event. Students attended the following:
Three one-hour Zoom meetings
A Grow with Google training that included 6-7 hours focused on interviewing, job searching, cover letters, resumes, and elevator speeches
One-on-one appointments with a counselor to work on resumes
An in-person meet and greet with CSUSB President Dr. Tomás D. Morales
In addition, there were Zoom office hours available to students twice a week a month prior to the conference. Students also received preparation for professional attire and connected with each other using the mobile app GroupMe.

To attend the conference, students applied for the HACU Conference Award provided by the Career Center. This year's award covered travel, meals, conference registration, and the professional development activities for the conference.