Get to Know PDC Physical and Visual Disabilities Specialist Rosie Garza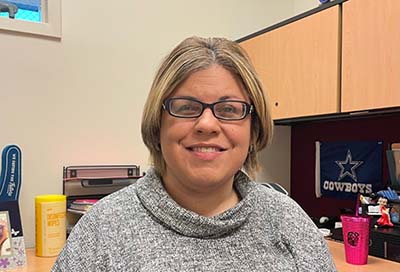 Meet Rosie Garza! She is the Physical and Visual Disabilities Specialist at the Palm Desert campus for Services to Students with Disabilities (SSD). She joined the Coyote family in 2004 and has held different roles in SSD and Workability IV, starting off as a student assistant, then transitioning to graduate intern and services coordinator before taking on her current role.

Rosie is an alumnus of Cal State San Bernardino, earning her bachelor's degree at PDC and master's degree at the San Bernardino campus, and has been able to witness first-hand the expansion of the Palm Desert campus.  

"When I started as a student assistant out here at the Palm Desert campus, we only had one building, so I've seen it grow to what it's become," said Rosie.

Rosie has worked in different capacities in higher education for the past 20 years and has experience providing disability, advising, and vocational counseling.

As a Physical and Visual Disabilities Specialist, Rosie plays a pivotal role in maintaining and coordinating the daily office operations of the PDC SSD office. She assists PDC SSD students in developing strategies to deal with their disabilities and advance their academic performance. Rosie ensures that PDC SSD students have their assigned accommodations in place each semester. In addition, she works closely with PDC faculty and staff to ensure accommodations are provided in the classroom and to promote equal access throughout the campus. Rosie is a strong advocate for all students with disabilities on the Palm Desert campus.

"If [students] have any issues going on, I'm the middle person between them and the faculty," said Rosie. "Sometimes I assist in advocacy roles to help [students] make sure that they know about other resources on campus and connect them with other departments."

Over the years, Rosie has been recognized for her work at CSUSB, earning the President's Distinguished Divisional Service Award 2010-2011 and the CSUSB Outstanding Staff of the Year - Student Affairs Award in 2011.

She is also a contributor to SSD's e-newsletter and writes articles about issues that affect people with disabilities. In a recent article, Rosie discussed the work of SSD.

"The SSD staff works closely with the CSUSB campus community to raise awareness about the need for equal access and encourages students to advocate for their rights," Rosie stated in the Fall 2022 newsletter. "In order to provide fair and equitable services and support for our students with disabilities, one of our primary missions at SSD is to advocate, ensuring that faculty, staff, and the administration are aware of students' needs and address them so all students can enjoy a fulfilling and rewarding collegiate experience."

Services to Students with Disabilities provides accommodations to students at the Palm Desert and San Bernardino campuses who have short- or long-term disabilities. Some of the accommodations available include, but are not limited to, note-taking services, alternate media, accessible furniture, and assistive listening devices.

Accommodations are determined and approved by SSD counselors based upon the documentation submitted with the student's application packet, and an interactive process with the student's assigned counselor.
Stay connected and follow SSD on social media: Instagram and Twitter.
To access information about Services to Students with Disabilities, click here