Veterans Success Center Ranks Best for Vets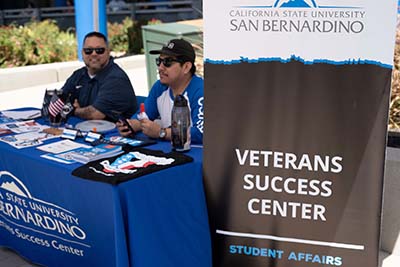 The annual Military Times list has once again ranked the Veterans Success Center (VSC) as a Best for Vets: College for the eighth year in a row. This year, the VSC earned the number 10 spot. More than 300 schools were analyzed to determine the premier institutions for veterans and military service members.
"It is an honor to be designated Best for Vets for 2022," said Agustin Ramirez, Director of Veterans Success Center. "Historically, CSUSB has recognized the importance of supporting our military-affiliated students."
He added, "Our Veterans Success Centers at San Bernardino and Palm Desert are examples of our campus' commitment to these students and future alumni. It is fitting that we're being acknowledged as a leading institution in the state and the nation for serving this community." 
Each year, Military Times, an independent news outlet, conducts the largest and most comprehensive ranking of schools for military service members and veterans. Military Times utilizes a number of factors to determine the top universities, including military-specific resources, financial assistance, and admissions and registration policies. Student success metrics was the most important factor in determining the ranking of schools on this year's list.
"I would like to highlight that Best for Vets is an assessment of not just the wonderful work we do at the Veterans Success Center but also of all of our services and programs for our military-affiliated students — everything from our infrastructure and academic policies to our cultural celebrations," said Agustin. "These are collective efforts with broad support across many departments and divisions at CSUSB."
He added, "And it's not just about veterans and service members. It's also about dependents, and spouses, and those who have ties to the military, too. We support them from pre-college to post-graduation. We assist them with their benefits. We celebrate their contributions and achievements and recognize the cultural enrichment they bring to our campus community. That's why we're rated top 10 in the nation and number one in California."
Stay connected and follow the Veterans Success Center on social media: Facebook and Instagram. 
To access information about the Veterans Success Center, click here