Pre-College Programs Prepare Students for College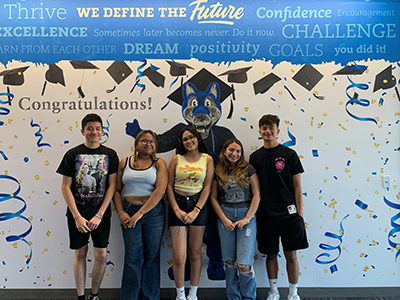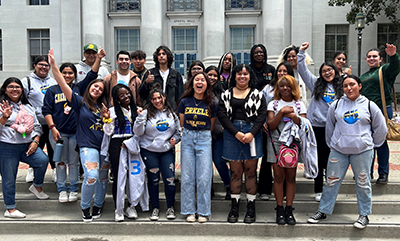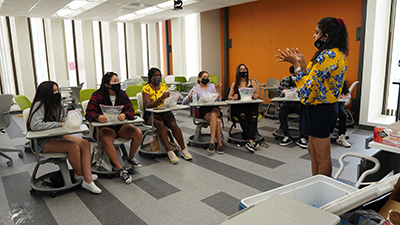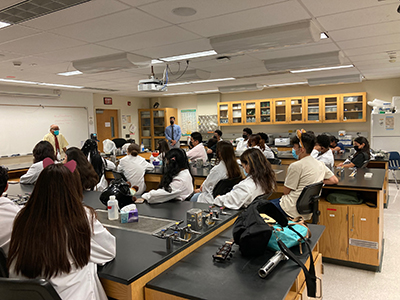 The Division of Student Affairs Pre-College Programs hosted summer programs to help prepare students for college. Each provided support services, resources, and social experiences. 

Office of Pre-College Programs
Residential Programs
There were two residential programs held July 17-21, one of which was a collaborative effort between Educational Talent Search (ETS) and the California Student Opportunity and Access Program (Cal-SOAP). More than 40 middle and high school students participated in the residential program. 

The second residential program was titled Senior Boot Camp, which Cal-SOAP, Educational Talent Search, and First Star Academy collaborated together to host. This was the first year the Pre-College Programs collaborated on the summer residential program, which consisted of more than 60 high school seniors. The goal was to immerse the students in academic and social experiences to prepare them for college life. Students attended daily college applications and readiness classes and engaged in networking opportunities.

The four-night stay at Coyote Village allowed the students to develop independent living skills, as well as build self-confidence. All expenses for the program, including meals and housing, were free.
California Student Opportunity and Access Program
Algebra Institute 
The residential programs were part of the five-week Algebra Institute hosted by Cal-SOAP. More than 60 middle and high school students participated in the program, which consisted of a mix of Cal-SOAP and Educational Talent Search students. Throughout the program, students participated in academic support activities and college- and career-readiness workshops. 

The college readiness workshops focused on important topics, such as financial aid and college and scholarship applications. There was also a workshop facilitated by the Plus Me Project that focused on writing/storytelling, which taught students how to write a personal statement and answer personal inquiry questions.

The career readiness workshops were performed by CSUSB students in the Cybersecurity, Counseling, and School of Nursing programs and provided students an introduction to the different fields. 

Throughout the Algebra Institute, students learned foundational math skills and participated in STEM workshops, where they had the opportunity to build drones. 
 
Melt outreach and workshops
Cal-SOAP provided outreach to high school seniors to help prepare them for college. They answered students' questions, connected them to resources, and informed them about available workshops they could attend prior to fall. Cal-SOAP provided the workshops to students virtually, and they covered a variety of topics, including time management, financial literacy, and career exploration. The students were contacted through different forms of communication, such as phone calls or email. 
Educational Talent Search
During the summer, Educational Talent Search offered several free programs to more than 150 incoming high school freshmen and seniors to keep them engaged and help them prepare for the upcoming academic year.
Educational Talent Search is a Trio program funded by the U.S. Department of Education and is designed to help low-income and first-generation middle and high school students continue to the next grade level, graduate from high school, and enroll in and complete a college education. 
Each summer program provides students with academic and social knowledge and skills to transition to the next school year and kick start confidently.
Rising Stars Enrichment Camp 
In June, ETS freshmen attended a two-day enrichment camp at CSUSB to prepare them for a successful transition into high school. They received Early Edge Math instruction, developed vision boards, received mentoring sessions from upperclassmen student leadership, and went on a cultural enrichment and educational field trip to Knott's Berry farm.
 
Northern California College Tour
High school seniors got the opportunity to tour five colleges in Northern California in July. The colleges included California State University, Sacramento; California State University, San Francisco; University of California, Berkeley;  University of California, Santa Cruz; and Stanford University. They received admission presentations, academic program overviews, and were exposed to college campuses. All expenses were covered for the four-day trip.
 
Virtual Enrichment Summer Workshop Series and Advising
In July, ETS hosted enrichment workshops every Wednesday to engage and support students who couldn't join in-person programs. The covered topics assisted students in acquiring valuable skill sets needed to prepare them for college and to maintain self-care.

Upward Bound
Summer University
Upward Bound hosted Summer University (Summer U) from June 13-July 28. A total of 69 students enrolled in the program from Arroyo Valley, Carter, Eisenhower, Pacific, and San Bernardino high schools. Summer University consisted of the following components: a residential week; instruction in math, english, science, foreign language, and art; Stem Cell Academy (in partnership with biology/natural sciences); Centers of Research Excellence Science Technology (CREST); E-sports and STEM modules; and college and career readiness.

This year, the theme for Summer University was "Endless Summer: Our Journey to Success." Through Summer U, Upward Bound aims to provides students an intense academic experience, as well as an introduction to taking college courses and living on campus. The experience is intended to help Upward Bound participants envision themselves as successful students on a college campus.

The goal of Summer University was to prepare students academically to take courses for the 2022-23 academic year and to ensure they develop the essential skills to become self-sufficient, problem-solvers, critical thinkers, and lifelong learners.