200 Student Affairs Professionals Attend Annual Staff Development Conference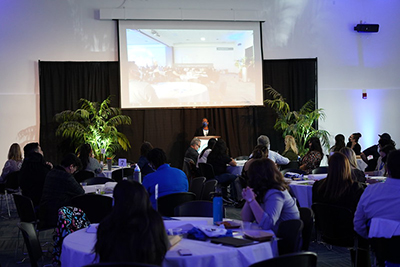 The annual Division of Student Affairs Staff Development Conference was held on Aug. 12. The event had a great turnout with 200 Student Affairs professionals and paraprofessionals in attendance. This year's theme was "Navigating Together: Sustaining Ourselves and Our Students." The conference provided Student Affairs professionals the opportunity to learn from their peers, who shared knowledge, expertise, tools, and resources. 
As part of the Student Affairs professional development series, the conference provided attendees the opportunity to gain ideas, strategies, and tools to better serve students. It contained a dynamic keynote presentation, three concurrent sessions, and round-tables. Dr. Lisa Wolf-Wendel, professor of Higher Education at the University of Kansas, delivered the keynote that was titled "The Structure of Student Affairs Work." In addition, Dr. Paz Olivérez, Vice President for Student Affairs, provided paraprofessionals with an orientation to the Division of Student Affairs, which was titled "Your Role, Your Future."
"The DSA Staff Development Conference is an annual event developed and delivered for and by the Division of Student Affairs," said Dr. Olivérez. "This year, we aimed to provide staff and paraprofessionals in the division with the opportunity to learn from scholars who discussed the conditions in higher education that led to the birth and evolution of the field of student affairs, as well as providing both theoretical and practical insights on how to sustain ourselves as we continue to serve students with diverse needs, experiences, and identities in an ever-changing environment."
Dr. Olivérez added, "The annual conference is also an opportunity for the division to come together prior to the start of the school year to connect with colleagues and continue to grow our skills in support of student success."
Throughout the event, attendees enjoyed breakfast and lunch, networking opportunities, and opportunity drawings. The Division of Student Affairs staff awards were also presented at the conference. Student Affairs professionals were honored with the emerging leader, empowered excellence, faculty partner, outstanding employee, outstanding team project, student centeredness, and community partner awards. 
Stay connected and follow the Division of Student Affairs on social media: Instagram, Flickr, and YouTube. 
To access information about the Division of Student Affairs, click here