Get to Know the ASI President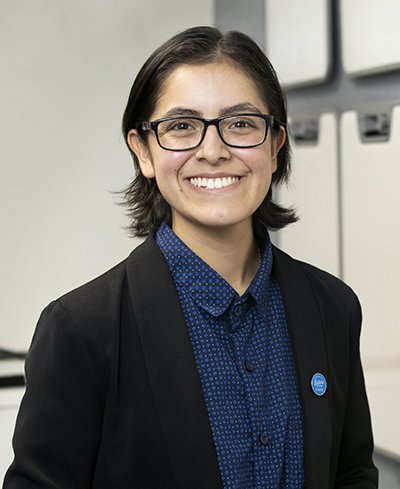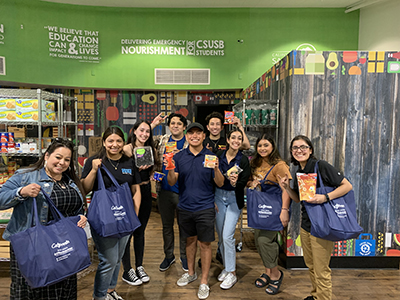 Meet Paola Galvez! She is the new Associated Students, Inc. (ASI) President. Paola, a fourth-year mathematics major and philosophical logic minor, held multiple positions in ASI before earning her presidency. She was an advocate in legislative affairs, Vice President of Finance, and Executive Vice President. She served in each role for a full academic term. 
Paola was inspired to run for President because of the impact she could make on the local, state, and federal levels. As President, Paola serves on the Cal State Student Association (CSSA) and is given the opportunity to meet with student representatives every month from all the 23 California State University campuses. In addition, she serves as a voice for CSUSB students, communicating their needs and concerns to CSUSB staff, faculty, and at the CSSA meetings. 
"One of my goals is to make that connection with the students and let folks know in my classes who I am and what I'm willing to do to serve them and listen to their concerns and questions," said Paola. "I think the community part itself is really pivotal for me because it's what keeps me going, all of these conversations that I get to have with people and to know that what we're doing here is making an impact and is enhancing their collegiate life – It fills my heart."
Paola took on her role on July 1 and will serve as the ASI President for the 2022-23 academic year. In her role, Paola serves as a spokesperson for ASI and chairs its board of directors, which is composed of CSUSB students, faculty, and staff. 
She makes it a priority to share with students about ASI and how they serve the CSUSB student body. Paola also lets students know about the different involvement opportunities ASI provides. Students can gain hands-on experience by working in the department or serving on the numerous campus-wide committees seeking student representation year-round. 
Paola has a few initiatives planned for the academic year, one of which is to enhance school spirit at CSUSB. 
"I would love to see some sort of a pep rally, something to really motivate our students," said Paola. "Because I feel like that is a key factor in enhancing students' education and motivating them to keep pursuing even on the most difficult days in their classes or the most difficult tests is knowing that they have an institution that's standing behind them and that's cheering for them."
She would also like to increase voter engagement on campus and share the impact it can have in the community. 
"I'm really proud of our students for really rocking it last year, and they did an amazing job with voter engagement," said Paola. 
Call the ASI office at 909-537-5932 or click the link below for more information. Stay connected and follow ASI on social media: Facebook, Instagram, Twitter, and YouTube. 
To access information about ASI, click here