Your University Student and Family Transition Program Welcomes Students to CSUSB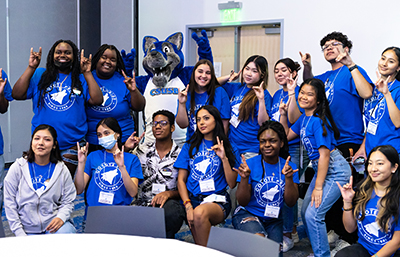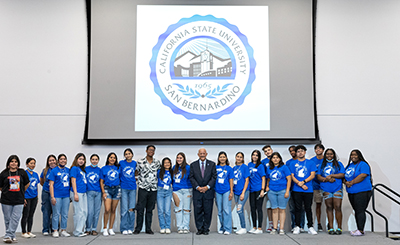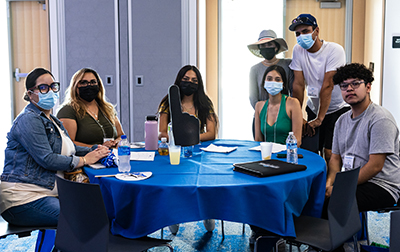 The Division of Student Affairs welcomed the inaugural cohort of the Your University Student and Family Transition Program (YourU) held Aug. 16-17. The free two-day program was for incoming first-year, historically underserved students and their guests/families. It was also open to new commuter and residential students to provide a smooth transition to the CSUSB community. 
The collaborative initiative was spearheaded by Dr. Daria Graham, Associate Vice President of Student Affairs and Dean of Students, and made possible with the support of CSUSB staff, faculty, administrators, and alumni. 
"It has been a joy to see students that participated in the Your University Student and Family Transition Program still connecting and spending time together on campus," said Dr. Graham. "I have seen students in the affinity centers, dining hall, and just walking across campus that continue to share their appreciation of the relationships they created during YourU.  
She added, "I have connected with parents and family members who remembered the more than 50 CSUSB departments and programs that showed their support during the two-day experience.  YourU is another example of CSUSB's commitment to provide resources that strengthen the student experience and their success." 
During the program students were: 
Introduced to integral support services at CSUSB
Learned about campus resources
Met fellow CSUSB students, faculty, staff, and administrators
Became familiar with campus
Connected to a student organization or program
The first day of the program featured activities for both students and their guests/families, such as panel discussions and presentations. In addition, parents and families were able to connect with campus resources and learn how to best support their students at CSUSB. Day two was for students and concluded with a dinner and pinning ceremony that welcomed the new Coyotes to the CSUSB family. 
Stay connected and follow the Division of Student Affairs on social media: Instagram, Flickr, and YouTube. 
To access information about the Division of Student Affairs, click here